"This letter was left here for you. Yes, you!!"
06.19.2017
Blog
By Ren Cooper, Marketing Assistant
Here at the National Postal Museum, we love letters. Obviously! As poet and cleric John Donne once wrote, "…more than kisses, letters mingle souls." One of our steadfast security officers came upon an unexpected object that had slipped into a crack within the mud wagon: a letter. How fitting for a museum dedicated to the preservation, study, and presentation of postal history!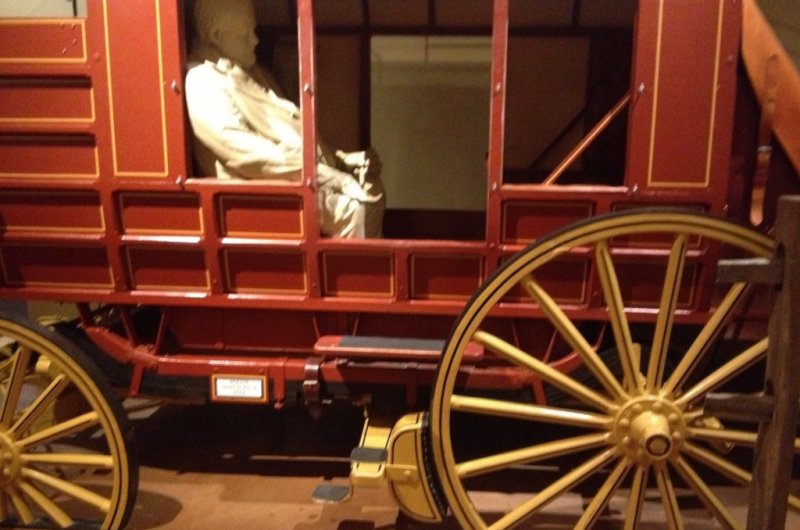 The mud wagon is part of the National Postal Museum's Moving West exhibition, which details how the development of overland mail routes helped drive settlement of the newer territories between the Mississippi River and the West Coast in the mid-1800s. Mud wagons and stagecoaches transported people, goods, and mail across the dusty land as part of Congress' investment in federal mail contracts, through which private companies then created and maintained mail routes. (Visit a digital version of the exhibition.) Museum visitors are welcome to climb into our mud wagon and listen to accounts of the arduous travel, excerpted directly from the diaries and letters of actual passengers.
The Office of Protective Services first checked the letter for any harmful substances. As detailed in our United States Postal Inspection exhibition Behind the Badge, suspicious mail is taken incredibly seriously in this day and age. Any anonymous mail sent to federal offices is thoroughly screened; since this letter was not mailed, our security team was extra diligent in their inspection. Once it was cleared, we poured over the contents delightedly.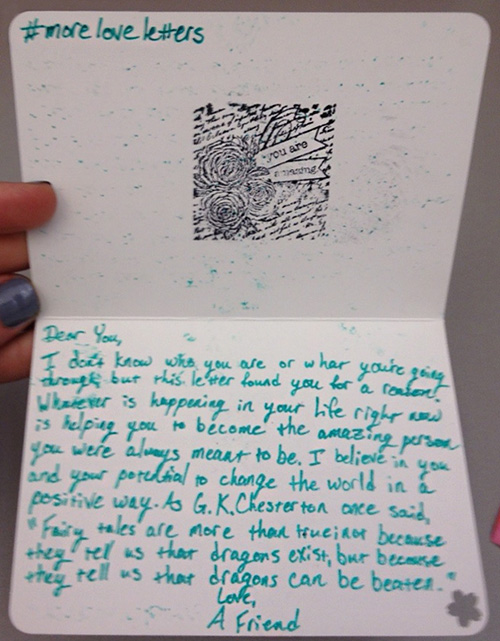 The letter reads:
Dear You,

I don't know who you are or what you're going through, but this letter found you for a reason. Whatever is happening in your life right now is helping you become the amazing person you were always meant to be. I believe in you and your potential to change the world in a positive way. As G.K. Chesterson once said, "Fairy tales are more than true; not because they tell us that dragons exist, but because they tell us that dragons can be beaten."

Love,
A Friend
In the top corner, we noticed the hashtag moreloveletters, which can be traced to Hannah Brencher, the creator of "The World Needs More Love Letters." In 2010, Brencher began writing anonymous letters of love and encouragement, and leaving them at libraries, coffee shops, and other public spaces for strangers to find. She was struggling in her personal life, and found that this undertaking filled her with hope.
After mentioning the pursuit on her personal blog, Brencher's inbox was flooded with heartfelt requests for letters from people who were also having a hard time. They supplied their addresses, and Brencher, having never met them, sent individual notes of support and kindness. In addition to the specific requests, and the random ones she continued to leave in public, Brencher encouraged her blog readers to take to pen and contribute their own anonymous love letters to the world, which they did. Thousands of letters, a TED talk, and a memoir later, the More Love Letters movement is clearly thriving, as demonstrated by our pleasant surprise!
So, Friend, thank you for your letter! It has been passed through the hands of staff of the National Postal Museum, thereby reaching dozens of people; we think our digital visitors will appreciate your thoughtful words, as well. We hope that during your visit here, you stopped in to see the Post Secret: the Power of a Postcard. This exhibition features the Post Secret ongoing community art project, through which strangers are invited to mail postcards containing true secrets that have never been shared before. Founder Frank Warren has received over 500,000 postcards since its conception in 2004, many of which on currently on display at the National Postal Museum.
The relationship between anonymity and community is fascinating and complex. How profound that the unexpected compassion shown by an utter stranger can be the most humbling, the most uplifting! We don't know who you are, Friend, but we appreciate you – your lovely choice of notecard with its colorful envelope, the heart sticker and flower cut out, the cheerful stamp you are amazing, your choice of quotation, your slightly-slanted green handwriting. All these personal touches are discerned, and cherished, as souls are mingled!