A Century Old Modern Romance
05.22.2018
Blog
By Jessica Henn, Collections Assistant, Women In Military Service for America Memorial Foundation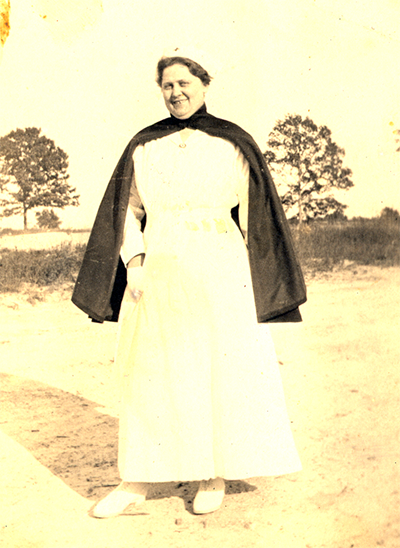 While working on the In Her Words: Women's Duty and Service in World War I exhibition, currently on display at the National Postal Museum, I read many documents belonging to the four featured women. None quite resonated with me as much as the diary of Army nurse Lulu Belle (Wolfe) Smith. I took to calling it "a very slow and ill-detailed romance novel." The story unravels gradually, with details slowly being revealed over weeks and months. One must sift through days of mundane details to get to the veiled drama underneath. Hidden within is a story of love, loss, death, and letters gone astray.
Sometimes Nurse Wolfe gives us details, but we mostly just catch glimpses of the full story, which ends rather abruptly and messily. While stationed at Base Hospital No. 48, Mars-sur-Allier, France, Wolfe receives news from home that her father has died and that her romantic interest, Ira, (possibly her fiancé, though she never explicitly says) has been reported missing in action. She soon meets Dunnie, a man who was integral to her ability to cope with her situation. Not long after meeting Dunnie she is transferred to a different hospital on the French Riviera and they begin corresponding. Her diary shows how important that correspondence was to her. Her morale is tied to her correspondence; references to her emotional state are almost always mentioned in conjunction with the receipt or lack thereof of letters. Much of this story, however, is left to the imagination – we do not have any of the letters between Wolfe and Dunnie, we do not even know whether the nickname "Dunnie" refers to a first or last name or what ultimately happened to him. Yet her diary makes it abundantly clear that he was an extremely important person to her. Their letters were a lifeline for Wolfe, buoying her spirits while grieving the loss of her father and Ira, alone in a foreign country. Here is that story, condensed.
December 24, 1918 – "Beaucoup" letters + mother's Xmas package. (Sad news) …Ira reported missing in action.  Surely feel sad to-night, X-mas eve party – did not go.
December 25, 1918 – Received [letters]… Opened one of them only to read the sad news that father and Mabel are dead. Died on Nov. 22nd. I am heart broken + its anything but a Merry Christmas for me.
January 11, 1919 – Girls came home from Nice so I was on duty quite late. "Dunny" helped me a great deal, also wanted me to go for a walk. Becoming real fond of him.
January 13, 1919 – Had informal dance in evening. "Dunny" + I went for nice walk. Beautiful moonlight night.
January 15, 1919 – Note from "Dunny," he + I went for nice long walk. Like Ira in so many ways.
January 17, 1919 – In evening Dunnie + I went for walk. Quite exciting as we were stopped by an M.P. + yours truly was somewhat nervous.
January 19, 1919 – Out for walk w/ Dunnie. Terrible fog + we were unable to find our way. Exchanged a good many confidences. Both of us had fit of the blues but we felt much better before going back to hospital.
January 20, 1919 – Received good news that I may be among seven chosen to go to Riviera. Lovely time w/ Dunnie in "No Man's Land" sitting on bunch of twigs. Terribly cold + I'm dreading to leave Dunnie.
January 21, 1919 – Orders came to leave for Menton… Boys feel badly about going + I surely hate to leave them, especially Dunnie. He was in my room + we had quite a pleasant time. Out w/ him in evening on our little twig bench. Do so hate to leave him – he's such a dear.
January 22, 1919 –Certainly felt bad about leaving Dunnie + it was hard to say goodbye.
January 24, 1919 – Sent card to Dunnie. I miss him horribly + long for a letter.
January 29, 1919 – Two letters from Dunnie… Happy to get them.
February 1, 1919 – Woke up to find a letter awaiting me from "my Dunnie." He has left for Le Mons + expects to sail for home – Feb. 2, 1919. Oh! How I wish I were along but such is life in this man's army.
February 9, 1919 – Nice letter from Dunnie which made me very happy. Written from San Sueze + he's homeward bound.
February 15, 1919 – Feel terribly bad to hear Ira has been reported killed instead of missing. Don't know what to think as one boy says he has talked to him since Armistice was signed. Can only hope for best.
February 20, 1919 – Am so worried about not hearing from mother that I had a little crying spell. Should simply die if anything should happen her. …Wrote to mother + Dunnie.
March 4, 1919 – Four letters, one of which told me the sad news that Ira was killed in action on Oct. 15th. Feel dreadfully bad about it.
March 9, 1919 – Horribly blue + lonesome. No one to go out w/ so stayed in + wrote letters. Miss Dunnie horribly + long for him + home.
March 10, 1919 – Wrote letters + went thru trunk. Read some of Ira's letters + looked at his pictures. Can't believe he is gone.
March 12, 1919 – Am terribly happy to-night for I got seven letters, one from mother + three from Dunnie. In evening…wrote to Dunnie.
March 13, 1919 – Letter from Dunnie saying he was to sail Oct. March 15th. How I wish I were along.
March 22, 1919 – Letter from Dunnie. He is at Brest + expects to sail March 17 or 19th.
March 27, 1919 – A letter which I wrote Ira on Oct 8th was returned to-day, saying he was killed on Oct. 15th. I feely [sic] terrible for I really loved him.
March 31, 1919 – Real blue [letter] from Dunnie. Never realized the poor boy would miss me so. I wrote to him.
April 2, 1919 – Feel dreadfully blue this morning and long for Ira. After all I care just as much as ever for him but it's hopeless now. Wrote Ira's mother.
April 10, 1919 – I wrote to Dunnie. Feel horribly blue + want a letter from he and mother very badly.
April 11, 1919 – Blue and lonesome to-night for somehow I've missed Ira horribly, would give anything in the world if he were alive.
April 12, 1919 – Nice letter from mother and I'm so relieved to know everyone was well at that writing. …Feel lonesome and do so want a letter from Dunnie.
April 14, 1919 – I got ten letters + surely was excited. Disappointed there wasn't one from Dunnie.
May 2, 1919 – Received a lovely letter from Dunnie saying he landed safely in the states on April 10th + it sure made me happy.
May 12, 1919 - Letters from Dunnie... Dunnie had been home and was sure one happy boy. 
May 19, 1919 – Told we may sail in a couple of days + only hope it's true. Few more days to Home and Dunnie.
June 10, 1919 – Left Kerhuon at 1:40 and got to the pier about 3pm. Waited in Red Cross until about 4 pm when we were loaded on the ferry boat + taken to the ship. All put on board Prinz Friederich Whilhelm [sic]. Everything lovely and clean but the boat is much smaller than Olympia. 32,000 troops on board. Boat pulled out @ 6:10 pm.
June 19, 1919 – Awoke at 4:30 + up about 5. Hurried on deck to watch for first sight of land which came to view about 6:30. Dropped anchor about 7 am. …Mayor's welcome committee met the boat + amid wild cheers were drawn into Pier 15 at Hoboken.
June 24, 1919 – Got final papers + believe me I'm happy to be able to breath the free air once again. …Found letter from Dunnie. Left shortly after 1pm for Newark. Feel a little blue when I say goodbye to the girls.
June 28, 1919 – Reached home about 3:30pm. Everyone mighty glad to see me + we had quite a few callers. Great fun opening trunk + etc.
June 30, 1919 – Three letters + pictures from Dunnie.
July 1, 1919 – Disappointed that no letter came from Dunnie.
July 7, 1919 – Don't know what has happened to Dunnie as no more letters come.
July 8, 1919 – Can't imagine what has happened to Dunnie.
July 9, 1919 – Letter… from Dunnie. Surely am sorry his letter went astray – as he was to have come to see me last week.
July 10, 1919 – Letters from Nan and Rita telling me a Memorial is to be held for Ira on Sunday.
July 13, 1919 – Went direct to Episcopal Church in Woodbridge + met all the family there. Everyone nice to me. Very nice service but I felt mighty bad. Still care an awful lot for Ira but it's useless now.
July 15th, 1919 – Had six letters, one of which was from Dunnie. He expects to come to see me July 27th.
July 19, 1919 – Received discharge + $145.92.
July 24, 1919 – Still no mail from Dunnie so guess he's angry for sure.
July 29, 1919 – Mama still feels badly so I had Dr. Cole see both her and Hazel today. …After supper worked Ouija + wrote letters. Wish I'd hear from Dunnie. 
August 4, 1919 - Disagreeable day. Mother feeling miserable + I don't feel very good myself. …Received several business letters + one from Dunnie. Greatly disappointed in him.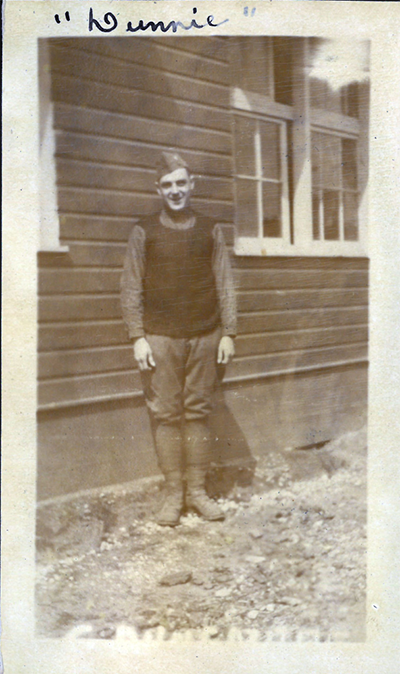 Wolfe and Dunnie were not exempt from the well-known difficulties of long-distance relationships. In the end the strain of letters going astray, length of time between letters, and other issues wrought the disintegration of the relationship with frustratingly few details about what happened. With that cryptic "greatly disappointed in him," Dunnie is never mentioned again for the remaining four to five months remaining in her diary. July 27th came and went with no reference to Dunnie and no explanation as to what happened. At least one letter from Dunnie clearly went astray so she did not know he wished to meet her in early July, but did her letter agreeing to see him on the 27th go astray as well? Did he send her an unkind letter thinking she was "ghosting" him? Did she ever respond to his last disappointing letter? These questions will never be answered. Despite the unresolved ending, the importance of their correspondence is evident. Letters were her only connection to the people she cared about, and thus she treasured her correspondence. While her relationship with Dunnie ended unsatisfactorily, it was still what sustained her through her time stationed in France.
For more information, see the In Her Words: Women's Duty and Service in World War I  exhibition on view at the National Postal Museum through August 5, 2018.