A Difficult December, Part I: Setting up a Route
12.11.2018
Blog
By Nancy Pope, Curator & Historian, December 11, 2018
2018 marks the centennial of airmail service in America. Initially, the planes flew just one route to and from New York to Washington, D.C. (with a stop in Philly to refuel). But Post Office Department officials were determined to add another route from New York to Chicago, Illinois despite tremendous danger and a lack of supporting infrastructure. In a three-part series, Nancy Pope shares the captivating history of these pioneering flights.
The airmail service that began on May 15, 1918 and was transferred over to the Post Office Department's control on August 12, 1918 was going so well that postal officials decided to create regular airmail service between the nation's top financial centers, New York and Chicago. In early September, Eddie Gardner had barely escaped death to prove that it was possible to fly the mail between the two cities in one day. Second Assistant Postmaster General Otto Praeger wanted to set up regular flights along that 750-mile route at a time when his planes had a range of only 280 miles and Gardner's flight was the only one of four attempts that flew between Chicago and New York in a single day.
One reason for Praeger's eagerness was continual Congressional doubt as to the necessity of the airmail service. Praeger believed he could win Congress over by expanding the service. Praeger had bitten off more than he could chew.
Praeger assigned John Jordon the Herculean task of locating and securing airfields for the new route. Since no planes, not even the new de Havilland DH-4s, could fly the entire 750-mile trip between the two cities, airfields had to be secured or built along the flight path. If a city already had an airfield, Jordon had to negotiate for permission to allow the Post Office to use it. If a town did not have one, he had to locate a usable space. The prospective airfield space had to be level (or able to be leveled quickly) and approximately seven square acres in size, including room for a hangar.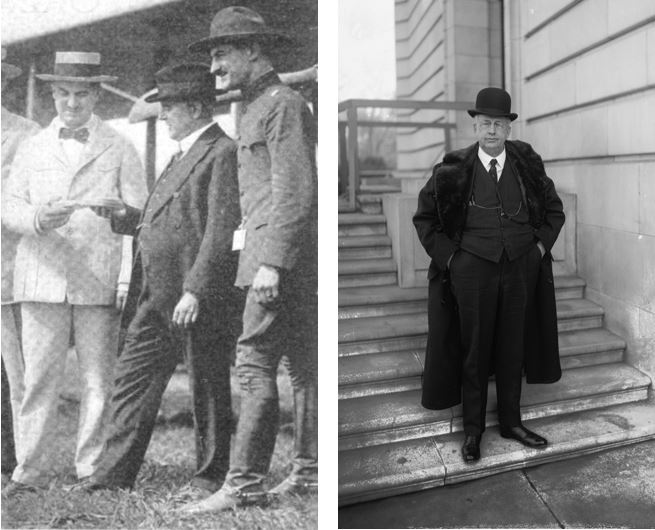 As if finding airfields was not difficult enough, there was an additional requirement. There was to be no cost to the Post Office for the airfields. Airmail Superintendent Benjamin Lipsner instructed Jordon to contact local postmasters in each town in order to secure introductions to officers of the local Chambers of Commerce and wealthy businessmen and arrange for newspaper publicity for the service. "Bear hard on the great advertising the City will get from its selection as one of the first aero mail routes and on the tremendous demand for faster mail service by bankers and business men," wrote Lipsner. He also instructed Jordon to cultivate "enthusiastic women of wealth; they are everywhere, and have in many cities the very fields we want, and as a rule are more quickly dealt with if of the right caliber, than men." [1]
Praeger was anxious to start the new route. Only days after Eddie Gardner had risked his life to fly the mail from Chicago to New York in a day, Praeger told editors of "Aerial Age" magazine that the Post Office would be flying mail between the two cities daily by the next month (October). Even Praeger must have realized that the Post Office needed more time. Soon after the war ended on November 11, Praeger was pressuring the War Department to provide the Post Office with planes. In those discussions, he offered a new date for the service: December 1.
In November, Praeger sent one of his original postal pilots, Maurice Newton, into rural Pennsylvania to organize rural engineers and workers along the airmail flyway. They were to survey proposed emergency landing fields. The fields needed to be at least seven acres in size, easy to clear and grade if not already flat and clear on as many sides as possible for ease of takeoff and landing.
Some airfields were easier to obtain than others. Augustus Belmont, the owner of the Long Island, NY racetrack the Post Office was already using for its New York to Washington, DC service allowed them to continue using it for no cost. The citizens of Cleveland donated land for an airfield at Woodland Hills Park and contributed $10,000 in public funds to build a hangar. Private benefactors donated $8,000 to complete the facility.
Chicago was a different story. The city permitted the Post Office to use Grant Park as an airfield, but refused to provide funds to support construction. Lipsner, a former Chicagoan, convinced the Chicago Association of Commerce to provide $14,000 and local businesses provided an additional $8,650.
On the New York to Chicago route, the Post Office Department planned on stops to refuel and exchange mail at Bellefonte, PA, and Cleveland and Bryan, OH. Those airfields were ready, as well as emergency landing fields along the way, but in order for the plan to work, pilots had to find the airfields. That would be more challenging than expected.
"Postmen of the Skies" is now open at the National Postal Museum. The exhibition celebrates the world's first regularly scheduled airmail service and the brave pilots who risked their lives flying the mail.
---
[1]Letter from Lipsner to Jordon, the Post Office Department files at the National Archives, Record Group #28