A Difficult December, Part III: The Route Begins
12.18.2018
Blog
By Nancy Pope, Curator & Historian
2018 marks the centennial of airmail service in America. Initially, the planes flew just one route to and from New York to Washington, D.C. (with a stop in Philly to refuel). But Post Office Department officials were determined to add another route from New York to Chicago, Illinois despite tremendous danger and a lack of supporting infrastructure. In a three-part series, Nancy Pope shares the captivating history of these pioneering flights. Catch up on Part I - A Difficult December: Setting Up a Route - and Part II - A Difficult December: Planes and Personnel.
On December 18, the first flights on the New York - Chicago airmail route began, just as Second Assistant Postmaster General Otto Praeger had ordered. From New York, pilots would make stops at Bellefonte, PA, Cleveland and then Bryan, OH, before landing at Grant Field in Chicago. Pilot Leon "Windy" Smith took off from Belmont Park, Long Island, to cheers from the gathered crowd. The cheers had barely stopped before the crowd watched as he returned, his de Havilland-4's Liberty engine overheated. Workers switched his mail to another plane and Smith took off an hour late. He lost his way among Pennsylvania's Alleghany Mountains and landed in a field near Pennsylvania State University, not far from his intended destination of Bellefonte. Friendly people helped him out by giving him directions and before long he was back in the air, heading to Bellefonte.
Praeger ordered Edward Johnson, the pilot waiting at Bellefonte for Smith's New York mail, not to wait for Smith, but take off as scheduled at 9 a.m. On his way to Cleveland, Johnson also got lost, landing a few miles from the airport where he spent the night. So much for the westbound airmail that first day.
The pilot at Grant Park, Chicago, was scheduled to leave eastward at 10 a.m. Unfortunately, he didn't have a plane. Pilot Lyman Doty had been flying it to Chicago the day before and crashed while trying to land at Defiance, OH. A woman holding a baby had run onto the field to see the plane land and Doty swerved to avoid her and crashed into a fence. Chicago airmail officials found and readied another plane and pilot Carroll Eversole took off just after 4 p.m., long after the gathered dignitaries and crowd had left. As night approached, he landed at the only available field, Ashburn Field, just south of Grant Park. The first day of Praeger's grand experiment ended with a whimper.
The complete bust of Praeger's prized New York to Chicago route hit him hard. As the New York Tribune noted, the service had fizzled. The article stated that it had left "a trail of broken or lost aeroplanes across the country from Belmont Park to Defiance, OH." Praeger's pride did not allow him to place blame where it belonged - on a rushed service without adequate preparation. Instead, he ordered pilots back into the air the next day.
Eversole had spent the night at Ashburn Field and so took off from there the next morning. He crashed on takeoff. His mail went onto a train to New York. Additional pilots Fry and Taylor left New York on December 19. One ended up out of gas miles from Bellefonte and the other hadn't been heard of by the time the evening papers went to press. No westward flights were attempted, as there were no available airplanes to be used.
The next day, Praeger again sent two planes from New York with mail for Chicago. Both returned to the field with engine trouble. Praeger was running out of planes. Remember Edward Johnson, who had left New York on December 18? He was still trying to reach Chicago. By December 20, he had only gotten as far as Bryan, OH.
Praeger sent only one pilot out from New York on December 21. Dean Lamb managed to fly from New York to Bellefonte, PA without any problems. Unfortunately, Lamb had never flown over the Bellefonte to Cleveland portion of the route and so asked for a map from the field manager. The manager said he had asked Praeger's office several times for maps, but were never given any. Lamb took off anyway. Unsurprisingly, he did not reach Cleveland.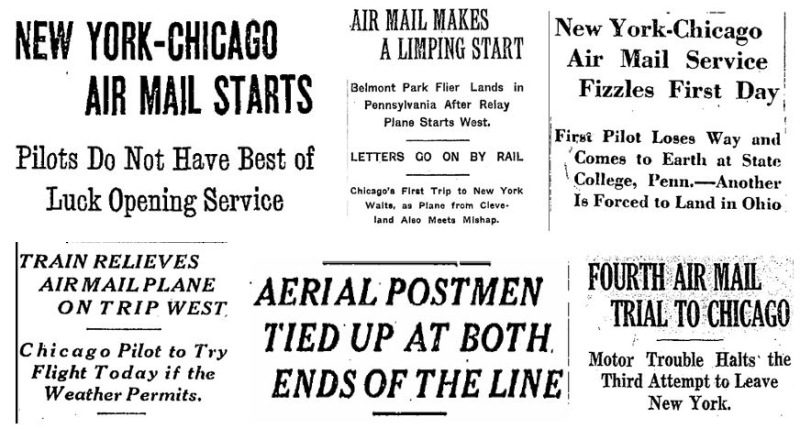 Maurice Newton, who was in charge of the Cleveland to Chicago portion of the route, reported that planes and pilots were scattered all over the place. "I am all at sea as to what to do because of the planes not getting where I send them." Praeger finally yielded and suspended the service for 10 days to regroup.
Praeger blamed the Liberty engines used in the de Havilland-4 airplanes the army had transferred over for airmail use. The engines and planes had problems, but so did the routes and some landing fields. In the rush to get everything operational by December 18, planes were not tested, nor routes flown for familiarization. The problem was Praeger and Burleson's insistence on starting the service in December.
Undeterred by the utter failure of any mail to reach New York or Chicago by air during the days the service was in operation in mid-December, Praeger announced only a short suspension of the service, which he said would begin again on December 28.
Among the many problems pilots complained about with the de Havilland-4 aircraft was the relatively weak landing gear. The wheels and gear had problems with slightly hard landings. What would happen in hard landings? The service found out on December 28 when Lyman Doty made one at Belmont Park. The right axle snapped, struts collapsed and his plane slid along the field on the bottom of the fuselage before it crumpled into a heap. Doty was seriously injured. Praeger suspended the service indefinitely.
The closest Praeger came to admitting that his department had not made sufficient preparations for the service and tried to start it too soon came the following year. In January 1919, he announced that the Post Office Department would open the New York to Chicago airway later that year (without offering a date). He told a reporter, "Very few people realize what an undertaking this is ... the task is stupendous."
Before trying the route again, the Post Office Department took the time it needed to study the route, ensure the proper fields were ready, the planes secured and useable, and that pilots had time to fly and get to know the routes they were assigned. By July 1, 1919, the New York to Chicago route was up and running. Check back next summer to learn how it went...
"Postmen of the Skies" is now open at the National Postal Museum. The exhibition celebrates the world's first regularly scheduled airmail service and the brave pilots who risked their lives flying the mail.