The Smithsonian National Postal Museum strives to make its offerings and facilities accessible to all our visitors. Please notify the tour or program offices if you would like to request accommodation services during your visit.
General Information
Service animals and power scooters are allowed in the museum.
All video presentations within exhibitions are captioned.
The museum restrooms have accessible units.

Sign language, oral interpreters, and assisted listening devices may be requested with advance notice for tours and events. One week advance notice is recommended, but not required. Call (202) 633-5535 (voice) or email: NPMTours@si.edu to make arrangements.
Parking
There is street parking near the museum.

All-day paid parking is available right next to the museum at the Union Station. Access to the parking garage via H Street NE. For more information about Union Station Parking Garage, call (202) 898-1950 or visit their website. 
Entrances
There are two accessible entrances to the museum with ramps:
First Street & Massachusetts Avenue NE Entrance. This entrance is on Level 2 of the museum.

Currently, the lower level door is not available.

- North Capitol Street Entrance via US Post Office. This entrance is on Level 1 of the museum.

Enter the North Capitol Street entrance of the Post Office and proceed all the way through the Post Office until you get to the far wall.
Turn left to go to the museum entrance.
Currently, this door is only open on Fridays and Saturdays.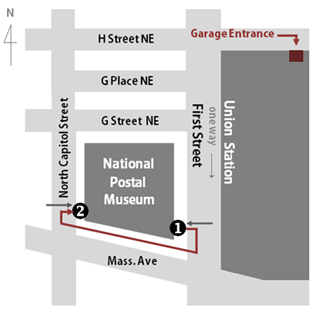 Wheelchair Accessibility
Wheelchairs are available on a first-come, first-served basis.
To borrow a wheelchair, go to the museum's information desk and request a loaner.
The information desk attendant may send you to the nearby Security Desk for the wheelchair.
Tours & Self-guide Option
Visual description tours are available for visitors with visual impairments. One week advance notice is recommended, but not required. Call (202) 633-5535 (voice) or email: NPMTours@si.edu to make arrangements.
The National Postal Museum wants its website to be accessible to the widest possible audience. We make every effort to be compliant with the United States Access Board Section 508 Refresh Standards including the Web Accessibility Initiative's Web Content Accessibility Guidelines (WCAG). At present, this website:
has descriptive text equivalents for all images and graphics
can be successfully read with screen readers
can be read and navigated with text-only browsers.
Resources
Browsers
If you wish to change the size of the text, the font, or the background colors and/or graphics, some Web browsers have controls that will allow these adjustments. Please see the Help menu on your browser for instructions.
Adobe Acrobat PDF Files
PDF format is used to preserve the content and layout of our hard copy publications. People using screen-reading devices may read documents in PDF by downloading the standard Adobe Acrobat Reader.