Western States

Corporate Tour, Western States
00:00
Mark Lemberger:
Hi, I'm Mark Lemberger, President of Western States Envelope and Label.
00:05
We're proud of the many products and services that we're able to offer our customers,
00:09
and we're also very proud of the many people here who work hard every day
00:13
to help to bring you those products and services.
00:15
I hope you enjoyed the video.
00:37
The story of Western States Envelope begins
00:39
on Water Street in Milwaukee, Wisconsin in 1908.
00:42
George French Moss, eager to put his own
00:45
personal stamp on the envelope business, founded Western States Envelope
00:48
and started gathering business by calling on printers in other states.
00:52
His mode of transportation?
00:53
A caboose and freight trains.
00:56
The company grew with Moss establishing
00:58
a profit-sharing plan for his employees before 1914.
01:01
Through two world wars, a depression, and two major relocations,
01:06
Western States Envelope has survived
01:07
almost 100 years thanks to hard-working employees and satisfied customers.
01:13
Today Western States is the sixth-largest envelope manufacturer in America
01:18
with five full-service manufacturing plants, four warehousing facilities,
01:22
and more than 1,600 products ready for shipping.
01:26
Let's give you a look around a couple of our manufacturing facilities.
01:29
Madison, Wisconsin is the home of Western States Envelope's label making facility.
01:34
Here we can make any type of label there is from mailing labels, to bumper stickers.
01:39
Any label can be made in up to 12 different colors and of course
01:42
are made to high quality standards and exact specifications.
01:47
All the work here at Western States is done right in house
01:50
where our expert team can design your labels and envelopes
01:52
using the latest in computer to play technology.
01:56
We can create an entire electronic layout for you
01:58
from files sent via the Internet.
02:01
This high-tech approach ensures high quality
02:03
and that each order is custom made and ready when you want it.
02:06
Quality control is the rule at Western States Envelope
02:09
so we check your order numerous times to ensure the product meets our,
02:13
and more importantly your, high standards.
02:16
Now let's look at our corporate headquarters in Butler, Wisconsin.
02:20
In our pre-press Department our team uses the latest technology
02:24
to design and create the printing plate for your envelopes.
02:27
Not only do we take your files and proof them back quickly
02:30
but we make all of our own printing plates and we also mix
02:34
our own flexographic inks as well in what we call our ink kitchen.
02:39
Doing this ourselves saves us time which in turn saves you money.
02:43
Printing plates in ink don't do much good without paper to print on
02:47
and we make sure we've always got plenty.
02:49
In are receiving department rolls of paper are brought in directly
02:52
from the paper mill to the tune of millions of pounds of paper every week.
02:57
This method of direct line saves Western States and Label the cost of buying from a middleman.
03:02
And, you guessed it, we pass that savings on to you.
03:06
Once in the plant these massive rolls of paper
03:08
can be fed straight into the machines for longer runs of envelopes.
03:12
Or cut into flat sheets for later, or die cut for customers with smaller orders
03:17
or for those who need it in a hurry.
03:19
Western States has several different ways to make an envelope for you.
03:23
Whether your order is large or small, specialty stock,
03:26
printed or blank, or just a little out of the ordinary.
03:29
With around-the-clock production and state-of-the-art equipment
03:33
Western States makes envelopes and labels specific to our customers needs.
03:38
Our level of quality and consistency is aimed to assist your own productivity.
03:42
The SLE is one of our recent additions.
03:45
This machine can take a stack of die cut paper and turn it
03:48
into 500 large format envelopes in a minute.
03:52
If you think that's fast, the SR can create
03:55
commercial envelopes from either a web or die cut
03:58
at the astounding rate of 1,000 per minute.
04:01
Both the SLE and the SR have an adjustable servomotor
04:06
that stores information from each run on a hard drive and
04:09
can then be reused at a later date for repeats.
04:12
Both these groundbreaking machines were developed right here at Western States.
04:17
The two SWs that Western States Envelope
04:19
are 2 of the first 12 of these machines ever made.
04:22
Built in 1998 these mechanical marvel's manufacture the whole envelope from start to finish.
04:28
Paper is fed into the SW directly from a role at one end and finished envelopes ready to
04:33
be packaged come out the other.
04:35
With two feeding points and unsurpassed speed, these machines never have to be shut down.
04:40
This amazing piece of technology prints four color flexographic inks
04:44
over a one-color flexographic ink, inline.
04:47
The SW can cut two window holes on the face of the envelope and then cover those holes
04:52
with window film without ever skipping a beat.
04:54
While the SW is moving through 1450 envelopes per minute
04:58
an electric eye overseas as precision sprayers administer
05:02
the adhesive that will hold the sides of the envelope together.
05:05
If the adhesive isn't sprayed just right visual alarms will alert the worker, and each envelope
05:10
that didn't measure up will get marked as well.
05:13
It's this kind of speed and this kind of quality control that ensure the most efficient and
05:17
economical way to produce envelopes.
05:20
And remember, when we save money you save month.
05:24
Each of our customer service representatives and each of our sales representatives
05:28
undergoes a two-year training program that gives them
05:31
the expertise to answer any of your technical questions.
05:34
If you're calling to check on the status of your order
05:38
or to see what we have in stock,
05:39
our representatives have all your information right at their fingertips.
05:44
It's all provided by a community of dedicated people
05:47
committed to giving you the best product they can.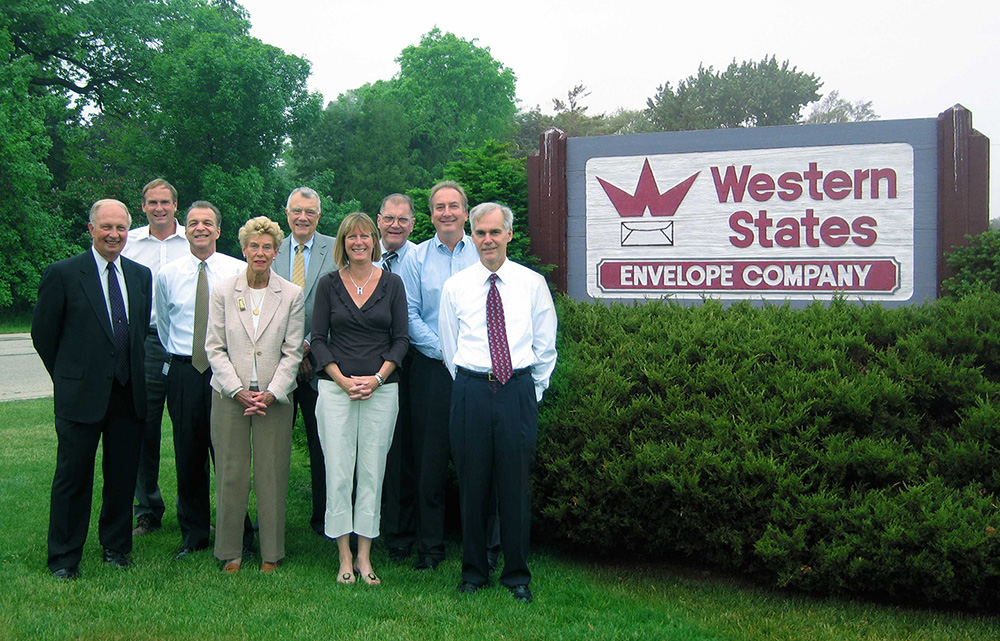 Board of Directors celebrating 100th anniversary
The Board of Directors celebrating Western States' 100th anniversary, circa 2008: (from left) Gordon Westphal, former President; Steve Bayerlein, great-grandson of the founder; Mark Lemberger, President; Carol C. Bayerlein, granddaughter of the founder; James Petrie, company legal counsel; Beth Wilson, great-granddaughter of the founder; George F. Moss, grandson of the founder and Chairman of the Board/CEO; Doug Bayerlein, great-grandson of the founder; and Tom Rewolinski, V.P. Operations / Finance.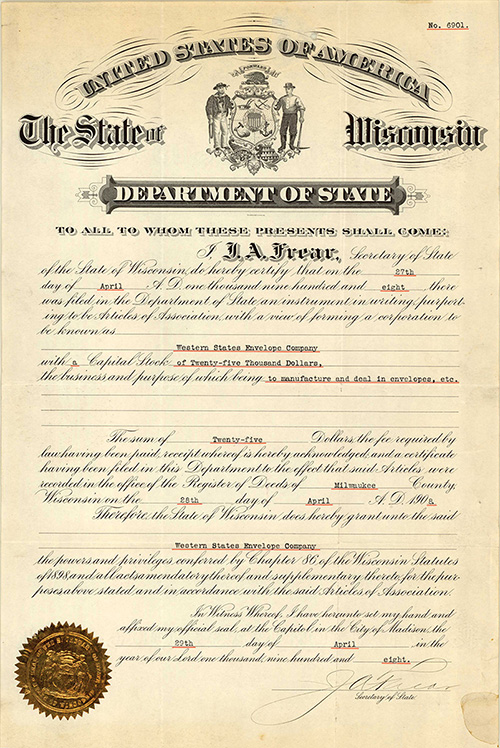 Western States at Work
Ever since Moss opened for business in 1908, Western States has been a company filled with big ideas, energetic employees and the industry's latest production equipment.
Western States flourished in the late 1900's by making production technology a priority and became an "Industry Mecca" for the latest envelope printing and production equipment, such as:
A new open side rotary machine in 1931 with a lightning-fast production speed for its time of 17,000 envelopes per hour.
In 1945, Western States is the first company to introduce infrared lamps to "quick dry" envelope gums.
An RW (Rotary Window) folder is installed in 1954.
A BOE (Booklet Open End Machine) prototype is purchased in 1992, a first in North America, servicing larger runs in less time.
The first SW (Side Seam Web) press was installed in 1996 that produced 1,200 envelopes per minute.
The World's first SLE (Servo Large Envelope) folding machine is purchased and installed in 1999.
A revolutionary prototype DT (Digital Technology) label press is installed in 2000 offering unmatched digital printing and laser label die-cutting capabilities.
An SR (Servo Rotamatic) press with 6-color envelope printing capabilities helps expand offerings in 2007.
We manufacture envelopes from 1 11/16" x 2 ¾ " to 21" x 27" on machines as old as the 1960s to present-day. Our equipment is anywhere from 10 ft. to more than 85 ft. long!
Rolls of paper go through several stages on many machines before becoming envelope products such as sheeting, shearing, printing, die cutting, folding and gluing. In fact, a roll of paper at one end of a machine can produce over 20 finished printed envelopes per second at the other end. Built into every envelope are modern manufacturing techniques such as continuous improvement, lean, cellular and quick response.
Western States Envelope, 1941
00:05
And how to give your customers
00:07
more for their money in service and satisfaction.
00:10
Many printers have established through Western State's service,
00:14
a bigger envelope business than anyone would believe possible.
00:18
They have learned that the envelope factory salesman
00:21
takes away this good business only because he calls regularly and ask for the envelope order.
00:28
Even small communities use an average of one envelope for person per day.
00:33
Millions of envelopes go through the mails.
00:35
Millions more used inside of offices, stores, factories, the establishment of your customers.
00:41
Dealing directly with the envelope factory
00:43
is the first suggestion for getting a greater share of this terrible business.
00:47
You save time and money.
00:49
You obtain a broader service.
00:51
You do business with a fully informed salesman.
00:54
Usually your Western States representative
00:57
give you the information you need right on the spot without writing in to the factory.
01:02
He knows style, paper stock, estimating.
01:05
He is your envelope specialist,
01:07
interested only in helping you to build your envelope volume,
01:11
and drawing upon far greater resources than any middleman can offer.
01:16
Sell color, sell special envelopes, sell mill run,
01:20
retail assorted catalog envelopes, work all the angles for extra profit.
01:25
There are three ways to work with Western States on your envelope business.
01:29
First, run on your own presses made up stock envelope from Western States,
01:35
using Western States layout service when you need some special design to please your customers.
01:41
Or, in most cases, select one of the many stock corner card designs available on payment of a small deposit.
01:53
Second, and this applies to almost all two-color jobs, you can print the flat sheet.
02:00
Using a sheet layout furnished by the factory for die cutting with the least weight
02:08
and deliver the sheets for the factory for die cutting, folding, gumming, and sealing.
02:13
Here, for example, is a big production job manufactured from a lithographer sheet.
02:21
Die cutting is the first operation.
02:23
The cutting department following the original sheet layout
02:26
now does its stuff, handling each lift with the care and skill necessary
02:30
to get a clean, accurate breakout.
02:35
Folding, gumming, and sealing come next.
02:38
On high speed automatic machines which ran day after day for months on this one job.
02:45
This special adjustable open-end envelope
02:48
is used for packing chocolate served at soda fountains.
02:53
Precision gumming gives it the necessary security.
02:56
This job is typical of a valuable Western States service to printers and lithographers.
03:02
Third, if you get an order for 10,000 or over
03:04
it pays to have a job mill printed at a cost so low
03:08
you can compete and with direct, fast service.
03:15
All three services of course depend for success
03:19
on advanced equipment and methods.
03:22
To assure quality, save your type and time,
03:26
give greater satisfaction to customers printing from rubber plate
03:31
is one development along this line.
03:34
After making and vulcanizing the molds on their own equipment,
03:38
Western States operators get up to a quarter of a million impressions,
03:43
fine and clean, with effects which cannot be duplicated with electrotype.
03:47
The matrix is kept on file for use on repeat orders.
03:52
Die-cut sheets are printed on rotary presses.
03:55
Small, high-speed presses provide quick service on small jobs.
03:59
Envelope manufacturing begins with cutting roll stock
04:02
into sheets on a special paper mill machine.
04:05
This saves money on paper and avoids waste by cutting sheets of the exact size to fit the job.
04:15
Some users want peep-proof envelopes with an inside tint to keep the wrong people from reading their mail.
04:21
Here is the machine that applies the tint by an
04:24
aniline process which runs up to four colors.
04:27
The tinted sheets are kept in stock in standard sizes.
04:33
Watch the breakout on this die cutting operation for window envelopes.
04:37
It gives the accuracy required by strict postal regulations.
04:42
Continuous roll gumming, the latest advance in the felt brush gumming process
04:47
pioneered by Western States, gives hand gumming quality with machine uniformity.
04:53
No other envelope factory serving and protecting the printer
04:57
offers this advantage enabling you to print right over the gum and get a clean impression.
05:04
Either the small high-speed automatic machine
05:07
for straight line productions running 13,000 an hour,
05:10
or the larger quick adjusting type of machine for shorter runs,
05:14
gives you the same result, a printing surface that is as smooth as plate-glass.
05:19
All the lumps are evened out so you can't smash your plates or type forms.
05:24
Yep, this improved process puts on more gum than older methods and gives a more secure seal.
05:35
Even the boxes are specially made, compact and solid for easy handling
05:40
with deep dust proof tops for perfection and non-soiling covering for fine appearance.
05:46
But you do business, not with machines, but with men.
05:51
For more than 35 years Western States has held to a policy of sincere cooperation with printers.
05:59
President George B. Moss Jr. continues the family tradition.
06:04
Visible evidence of this policy is a 66 page pricebook
06:08
you get to help you build up your envelope business.
06:11
No other envelope factory has such a policy.
06:14
No middleman can give you anything to match this service.
06:19
By dealing directly with envelope specialists,
06:22
you not only get more information and more accurate information,
06:26
you also get faster service from Milwaukee, center of a network of rail, truck, air,
06:31
and water transportation serving the entire Middle West.
06:35
Even 500 miles away delivery is generally on the second morning.
06:40
Extra volume and profit on special envelopes is one advantage
06:44
of a close working relationship with Western States.
06:46
This group of specialists at the factory
06:49
can make you an envelope to hold almost anything.
06:52
Drawing on their experience and an amazing collection
06:55
of samples, they engineer an envelope to fit your job.
07:00
But with over 600 dyes to choose from,
07:03
including adjustable frames for certain types of envelopes,
07:06
a special envelope need not be a costly one.
07:10
This assortment of dyes, unequal anywhere,
07:13
make hundreds of special jobs into standard jobs.
07:16
For example, you must have a certain type of flap,
07:19
with a good printing surface, for certain mailing machines such as the postage meter,
07:24
Western States has the right dye in stock.
07:37
Another envelope feature you can profitably sell is color
07:41
because it doesn't more profitable selling job for your customers.
07:44
In direct mail advertising the right color combination
07:48
of ink and paper stock may boost returns 5 to 18 percent.
07:53
Consider for example the scientific color harmonies you get with glow tone.
07:59
A glow tone envelope stands out in the morning's mail.
08:02
It gets preferred attention and starts the sales
08:05
message off on the right foot.
08:10
Another service you can profitably sell is
08:13
the work of the Western States Hand-Made department.
08:16
Here you can have special envelopes made up in small lots,
08:19
even 500 at a time for all sorts of odd shaped enclosures.
08:24
And you get fast service which makes a hit with your customer in an emergency.
08:28
This department handles an amazing variety of custom work for printers
08:32
such as gumming window screeners, special die-cutting,
08:36
gumming insurance riders, making up self-cover envelope order forms,
08:40
inserting special reinforcement for wire tie-ons.
08:47
All this special work is extra business added to your
08:51
regular profitable volume on stock envelopes.
08:56
There are dozens of envelopes styles, each has its varied uses.
09:00
Together they show what you can do to make your envelope business
09:04
a real factor in your success, profits, and customer goodwill,
09:08
when you concentrate on one good source and make full use of its facilities.
09:16
A visit to the Western States plant where you always find a warm welcome,
09:21
gives you more interesting sidelights.
09:24
After all there's no mystery about envelopes for
09:26
hundreds of Western States customers,
09:28
it's a simple, smooth, profitable business
09:32
that helps them build loyal accounts instead of just taking orders.
09:36
By giving more for the money in service and satisfaction,
09:40
you can do what others have done in cities of all sizes, in plants of all types.
09:45
So we suggest, start now and remember that invitation.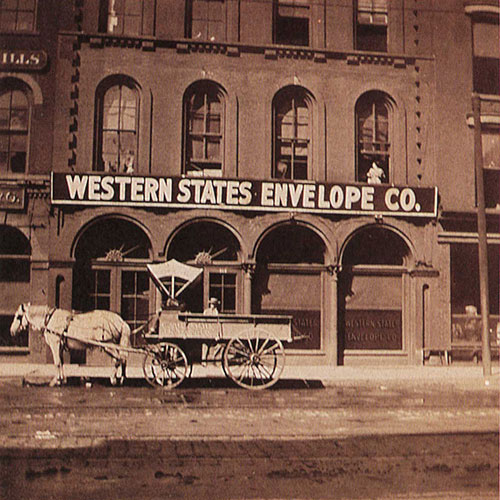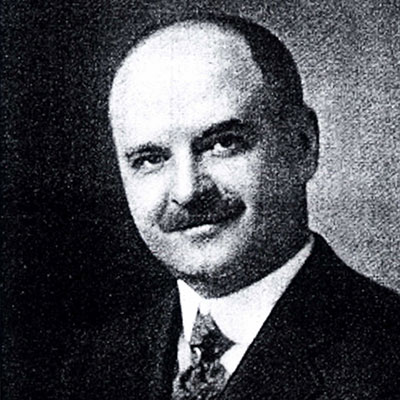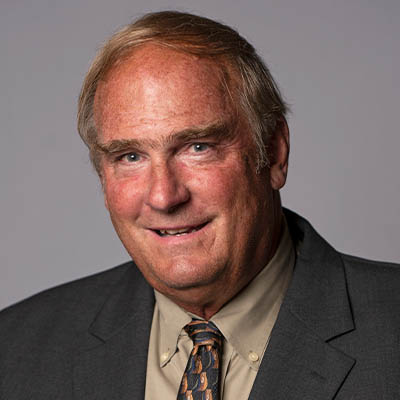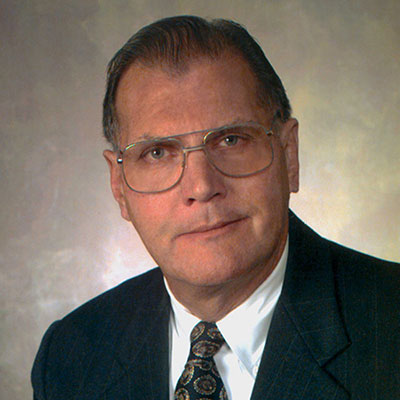 Making an Impact
Our products touch the lives of people all over America every day. The momentary pause before opening an envelope is often a moment filled with excitement and hope. We are privileged to produce the outer package that contains everything from news regarding births, weddings and college acceptances to savings coupons and love letters.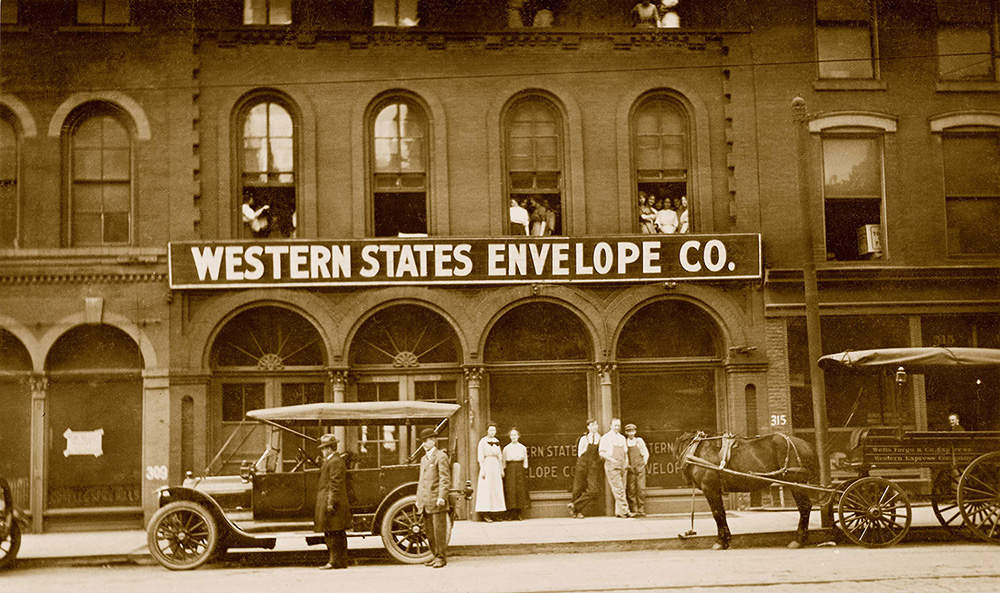 Teddy Roosevelt in car in front of Western States warehouse
This 1913 souvenir postcard from Milwaukee depicts George F. Moss' driving former President Teddy Roosevelt in his car while President Roosevelt was shot. The heavy manuscript in his pocket deflected the bullet, so he made his planned speech before going to the hospital for treatment.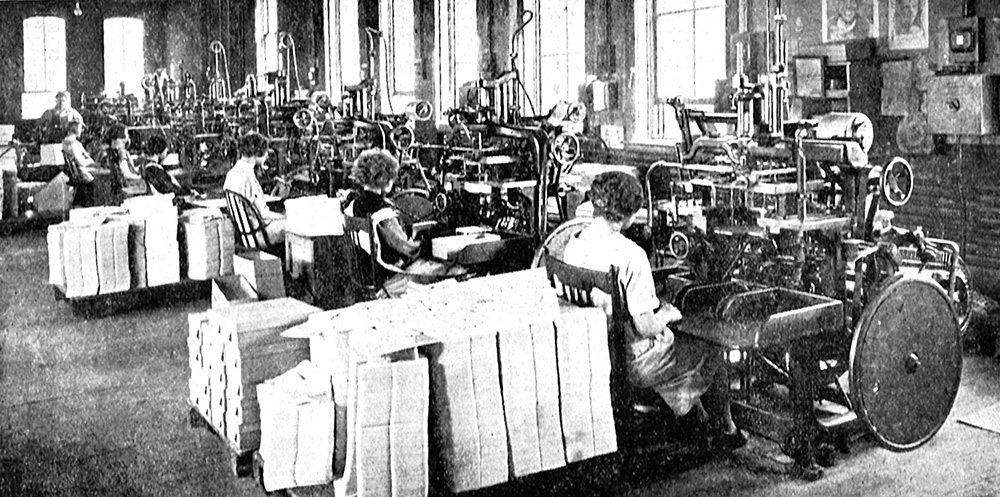 Employees operating rotary-type envelope machines
Circa 1928: Rotary-type envelope machines were installed and "hand quality gumming with machine uniformity" was possible.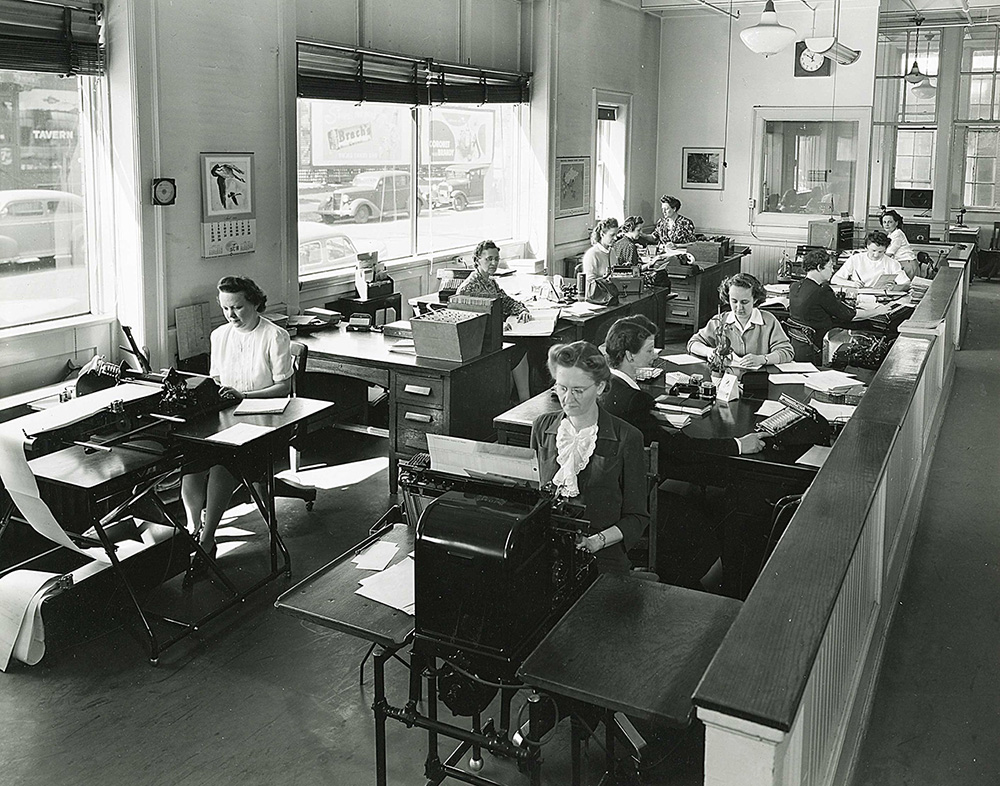 Western States Envelope Office
Circa 1943: The busy Western States Envelope Office on West Pierce Street in Milwaukee, Wisconsin.
Looking Ahead
Tomorrow for Western States is shaped by the foundation of yesterday and today. Though the industry landscape and customer demands are ever-changing, our same commitment to forward thinking remains. Moss's same dream, courage and dedication that formed Western States in 1908 will carry us well into the future.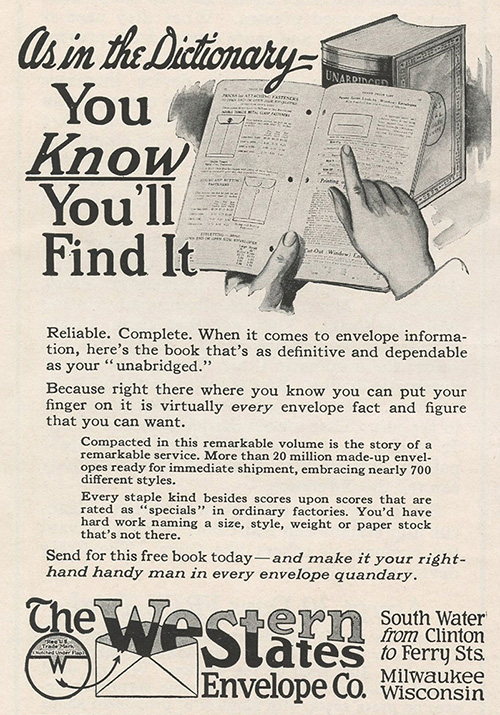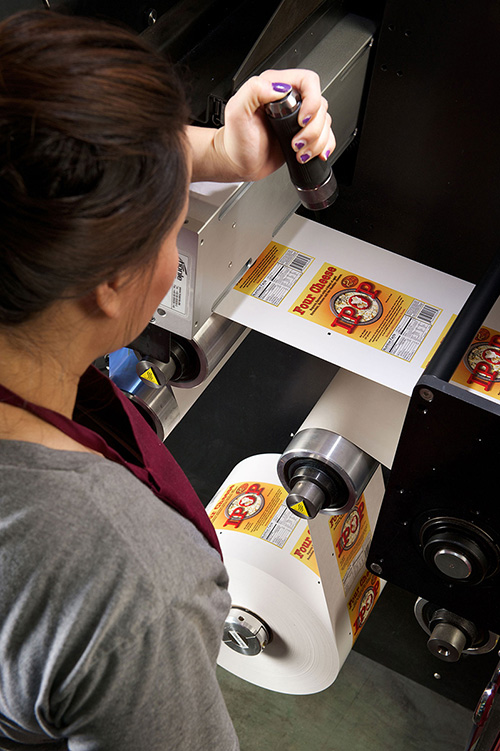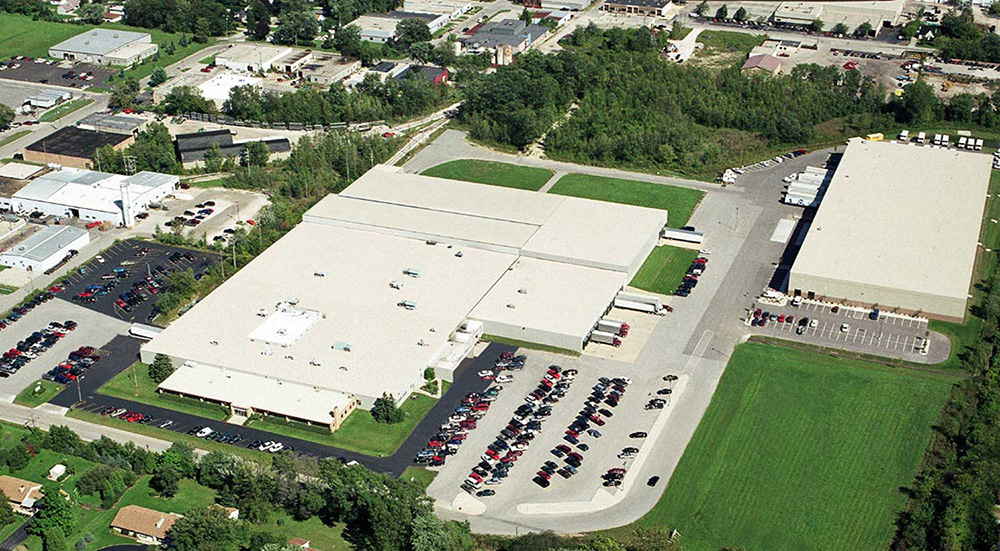 Office and manufacturing facility
Ariel view of the home office and manufacturing facility in Butler, Wisconsin.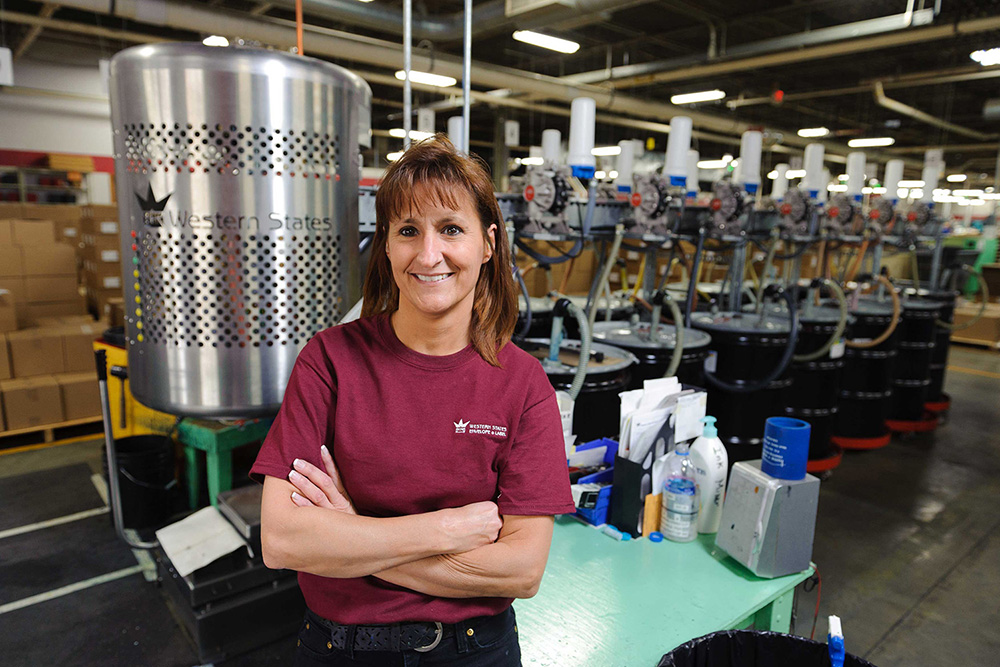 Water-based ink equipment
Recyclable water-based ink equipment added in 2015 to reclaim valuable resources.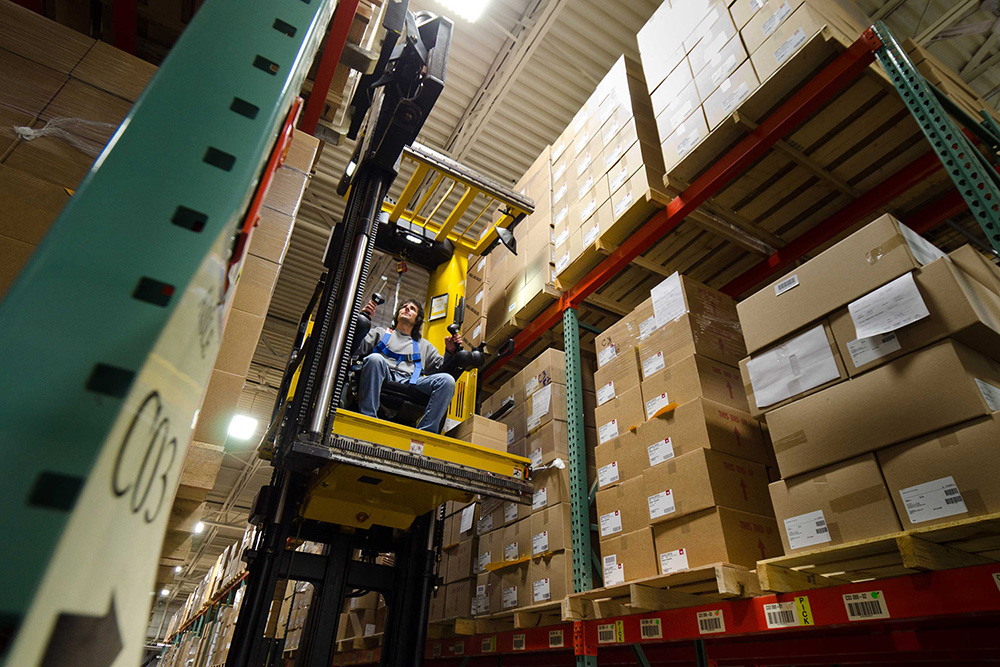 Warehouse in Butler, Wisconsin
Expansive stock offerings at the Butler, Wisconsin warehouse ready to pick and ship.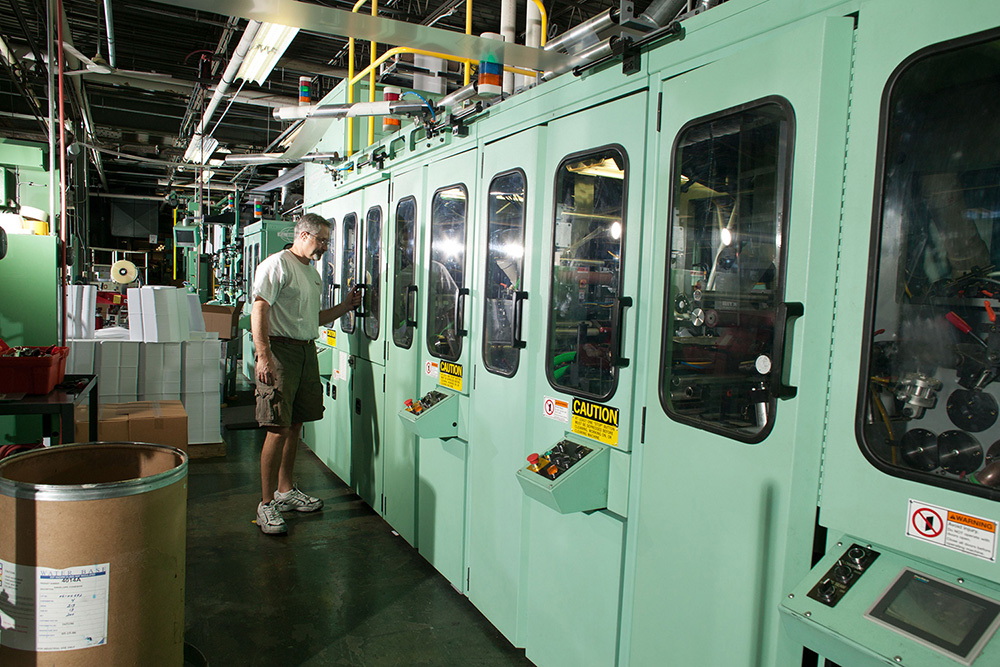 State-of the-art envelope manufacturing equipment
SR (Servo Rotamatic) state-of the-art envelope manufacturing equipment, delivers commercial style envelopes at up to1,200 per minute with repeated quality.
View video ►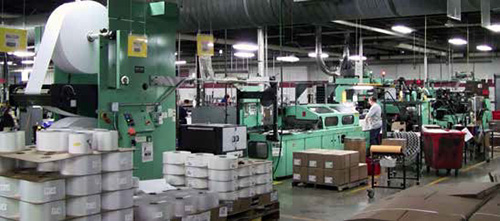 Booklet-style envelope machine
BOE (Booklet Open End) This 63-foot wonder produces 24,000 large booklet-style envelopes an hour with improved print capabilities, inside pockets and windows.
View video ►

DT Label Press
DT Label Press with Laser Die Cutting and 4-Color Process Print Capabilities.
View video ►


Servo Rotamatic equipment
SW (Servo Rotamatic) 6-Color Inline Envelope Printing and Manufacturing Equipment.
View video ►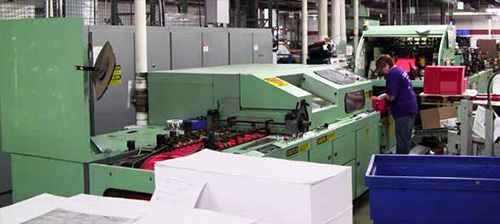 Servo large envelope machine
SLE (Servo large envelope) machine. With an adjustable servo motor, this machine delivers speeds of up to 500 envelopes per minute. The stored information can be recalled for repeat orders creating reliable and consistent envelope production.
View video ►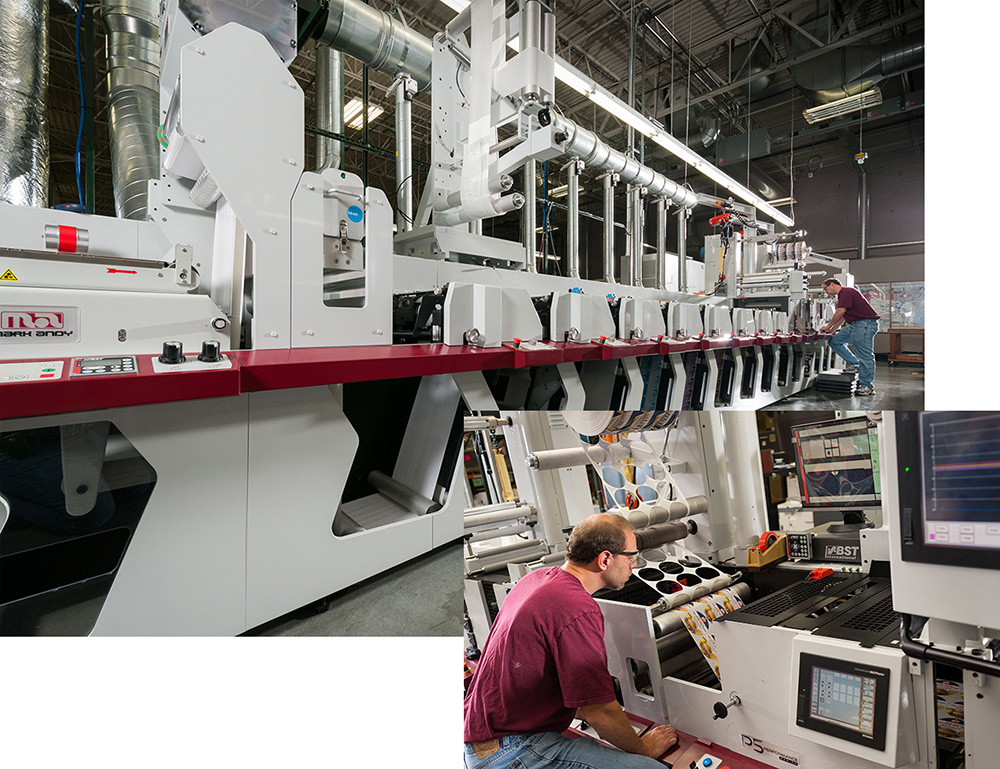 Flexographic P5 label press
New Flexographic P5 label press delivers unlimited flexo print performance with unrivaled flexibility.
View video ►