And the Winner Is...
01.24.2011
Blog
The $2.40 Priority Mail stamp honoring the 20th anniversary of the Apollo moon landing, issued July 20, 1989, is the winner of the National Postal Museum's poll to determine a stamp to represent the USA in the Stamps Around the Globe international exhibit of the new William H. Gross Stamp Gallery.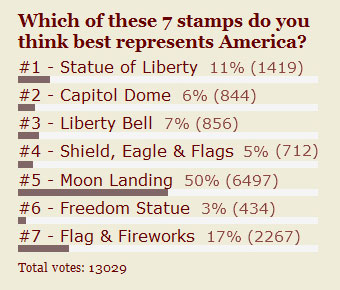 The on-line poll opened on December 13, 2010 and closed on January 20, 2011. A total of 13,029 votes were cast, with 6,497 votes for the winning stamp.
Many industry websites and blogs promoted the poll, encouraging their visitors and constituents to cast votes.
Votes were received from 59 countries around the world! A total of 211 different referral sites brought voters to the poll, including 217 Facebook and 87 Twitter referrals.
Additionally, the museum's award-winning Arago website received more than 10,000 visits from voters wanting to learn more about the seven stamps in the contest.
The Stamps Around the Globe exhibit will explore geography, ancestry, history, culture, the environment, and other global topics and themes through interpretive displays of stamps and other philatelic items from around the world. The collections will include a permanent exhibit of important international stamps as well as rotating exhibits of other key materials. The exhibit will feature original objects and interactive displays—including a map of the world with sliding windows that reveal stamps and other objects associated with each region.