Air Mail Service Began:
June 3, 1919
Air Mail Service Ended:
October 10, 1919
Assignment:
Belmont Park, New York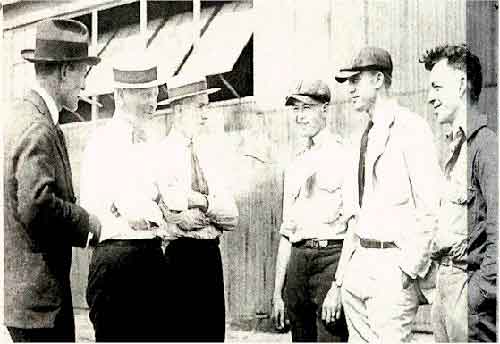 Nicknamed "Pop", pilot Charles Hugh Anglin joined the Air Mail Service on June 3, 1919. Anglin is best remembered today less for his flying abilities than for his work on behalf of airmail pilots during their July 22-26, 1919 strike.
On July 10, 1919, flying on the Bellefonte, Pennsylvania – New York route, Anglin ran into low clouds and heavy rain over the Alleghany mountains. Unable to get through underneath, he climbed over the clouds and tried to fly by compass. After forty miles, Anglin descended to check his location at 700 feet. Unable to recognize anything, he landed near Sellersville, Pennsylvania. While trying to take off, he hit a row of bushes and turned over, smashing his propeller, radiator and rudder. Damage was also sustained by the upper wings and left side landing gear. Fortunately, Anglin was unhurt.
Demerits were always in the back of the pilots' minds. They could be "de-rated" for almost any offense. Since they made money on how many hours they flew, being "de-rated" or losing flying hours was a costly penalty. When Anglin ignored the landing tee at Bellefonte, Pennsylvania and landed downwind, he ran out of field before the airplane stopped and hit a fence. For this action, he was "de-rated" five flying hours. His supervisor called it an "extremely light penalty" for that landing.