Are Stamps Art: The Design Process
08.01.2018
Blog
By Luke Tokman, Katzenberger Art History Intern, August 1, 2018
The National Postal Museum is pleased to host our very first Katzenberger Art History intern Luke Tokman. Luke is working this summer on a project with our Research Chair Susan Smith, titled "Are Stamps Art?"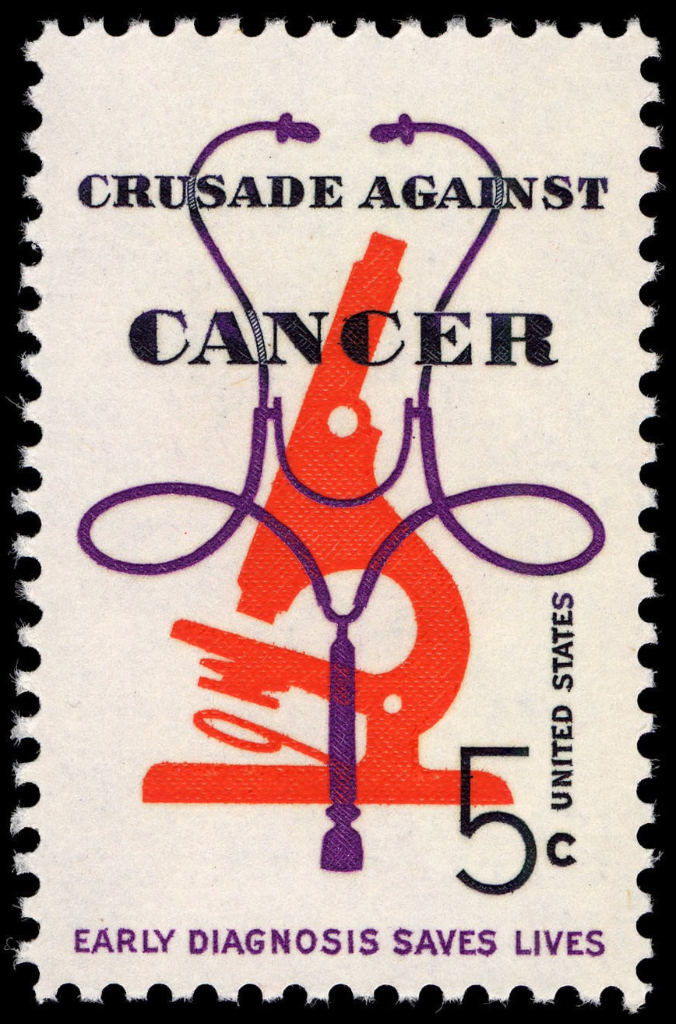 My goal this summer is to create a comprehensive bibliography of every reference to postage stamps as art or design objects since 1840 (when the Penny Black – the first stamp – was released). I'm hoping to better understand how stamps have been discussed over time by the philatelic, art, and design communities.
Personally, some of my favorite stamps are from the 1960s. I found this one (right) in a book that just arrived on loan. It was designed in 1965 by Stevan Dohanos, a social realist artist. He's an interesting figure for my project because his work is celebrated by both the design/illustration and "fine" arts communities. I love this stamp because of its simple contrast in color and form. The juxtaposed symmetrical and asymmetrical forms (the purple stethoscope and orange microscope) balance the composition. Plus, it was for an important campaign-- the first cancer awareness stamp released by the USPS.
One of the best resources at the Smithsonian is the wealth of primary resource documents that anyone can access by appointment at our various libraries. The National Postal Museum has a large collection of correspondences, design, and press release materials for American stamps. Using this stamp's Scott number (1263), I was able to locate the museum's compendium of information related to the stamp's production 53 years ago. These correspondences reveal how collaborative the design process truly was. It appears that the cancer crusade stamp was first proposed 24 years before it was produced. Some of my interesting finds include a proposal for a Marie Curie commemorative cancer stamp in 1941 and the 1965 stamp's black-and-white photo negatives.
All photos are from the stamp design files of the Third Assistant Postmaster General files of the National Postal Museum Library. sil.si.edu/DigitalCollections/npm/essays.cfm