Astronaut Edwin "Buzz" Aldrin Celebrates His 80th Birthday Today!
01.20.2010
Blog
By Alexander Haimann, Collections Specialist
On January 20, 1930, legendary Gemini 12 & Apollo 11 Astronaut Edwin "Buzz" Aldrin was born in Montclair, New Jersey to Marion Moon and Airforce Colonel Edwin Eugene Aldrin. Dr. Aldrin can claim numerous professional accomplishments that by themselves are notable, but none will be as remembered by history as his participation in the Apollo 11 Mission to the Moon.
On July 16, 1969, less than seven months after the first astronauts traveled to the Moon aboard Apollo 8, three American astronauts - Neil Armstrong, Edwin "Buzz" Aldrin and Michael Collins - launched off from the Kennedy Space Center in Florida. For their mission to be a success, they would have to go three steps further than their Apollo 10 colleagues. First, two Apollo 11 astronauts would have to land the Lunar Module on the Moon's surface, then actually get out and walk on the Moon. Finally, following their Moonwalk, the two astronauts would have to launch off the Moon's surface and re-link back up with the orbiting Command Module.
On July 20, 1969, Buzz Aldrin along with fellow astronaut Neil Armstrong climbed into the Lunar Module. Following separation from the Apollo 11 Command Module, with astronaut Michael Collins still aboard, the Lunar Module descended towards the Moon's surface. The plan changed quickly when it became clear that they were coming down a few miles away from their planned landing site. With the planned fuel allotment for this part of the mission running out, Armstrong, with Aldrin's assistance, manually landed the Lunar Module at a new site, Tranquility Base.
Six hours after successfully landing, Armstrong and Aldrin opened the Lunar Module's hatch and climbed down to the surface of the Moon. Armstrong's famous words as he made the first steps on the surface, "That's one small step for man, one giant leap for mankind" have indelibly marked this incredible achievement in human history.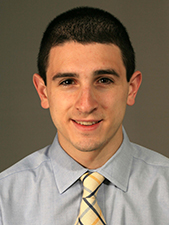 About the Author
Alexander T. Haimann, Collections Specialist & Web Projects Developer at the Smithsonian National Postal Museum, collects and writes primarily about the stamps and postal history of the U.S. during the first one hundred years of stamp production (1847-1947). Additionally, he develops internet based education projects and exhibits for the National Postal Museum. He is a member of the Board of Directors of the American Stamp Dealers Association, the Chair of the American Philatelic Society's Young Philatelic Leaders Fellowship and the publicist for the United State Philatelic Classics Society. His national and international society memberships include the American Philatelic Society, United States Stamp Society, Collectors Club of New York and the Royal Philatelic Society London.