Baseball at the National Postal Museum
02.20.2019
Blog
February 20, 2019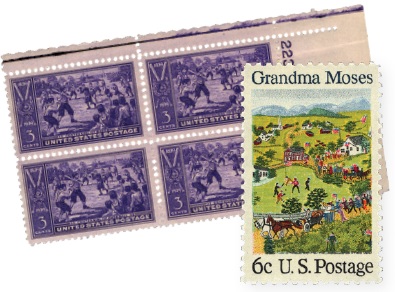 The first professional baseball club in America – the Cincinnati Red Stockings – was established in 1869. Two years later, in 1871, the National Association of Professional Base Ball Players was officially formed, thereby becoming baseball's first "major league." In commemoration of these two significant sesquicentennials of baseball history, the National Postal Museum is excitedly preparing for a new exhibition which will be open from 2020 through 2022.
For many Americans, it isn't truly summer until they hear the first crack of the bat and cheer on their favorite big league or neighborhood team from the bleachers. To young fans, an endless supply of hot dogs and peanuts or singing "Take Me Out to the Ball Game" during the seventh inning stretch might be more memorable than whatever is happening on the field. Baseball is home to the smells, tastes, and sounds of summer.
Beyond game day rituals, observers have found a significance to baseball that transcends play. Walt Whitman famously observed that the sport mirrors "the snap, go, fling of the American atmosphere" and ranked it as equal to the Constitution in importance. Nearly a century later, cultural historian Jacques Barzun concurred when he wrote, "Whoever wants to know the heart and mind of America had better learn baseball."
Exhibition Overview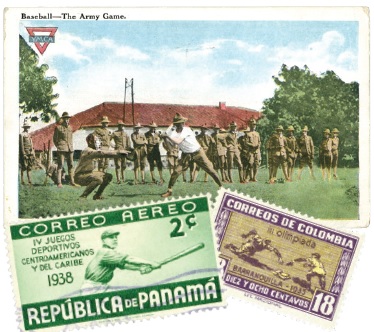 For the first time, the National Postal Museum presents a blockbuster exhibition exploring America's national pastime. Featuring hundreds of U.S. and international stamps commemorating great players and historic moments, and drawing on original artwork and archival material from the United States Postal Service's esteemed Postmaster General's Collection, Baseball approaches the story from a unique, worldwide perspective. The display of stamps and mail will be complemented by dozens of objects loaned by other Smithsonian Institution museums, the National Baseball Hall of Fame, law enforcement agencies, and private collectors. Baseball will have broad appeal to collectors of stamps and memorabilia, family audiences, and diehard fans. Up to 1.5 million visitors will see Baseball onsite and more will experience it online, presented in English and Spanish through a collaboration with the Smithsonian Latino Center.
Origins of the Game looks at early U.S. baseball-themed stamps and the myths they reflect about the origins of the sport. The Centennial of Baseball stamp gave tacit federal recognition to the now-discredited claim that Abner Doubleday invented baseball in 1839 at Cooperstown, New York. Similarly, a 1969 stamp honoring Anna "Grandma" Moses shows July Fourth, her painting of a small-town Independence Day baseball game, reinforcing myths about the sport's rural American origins when it was, in fact, a big-city game that evolved from British antecedents.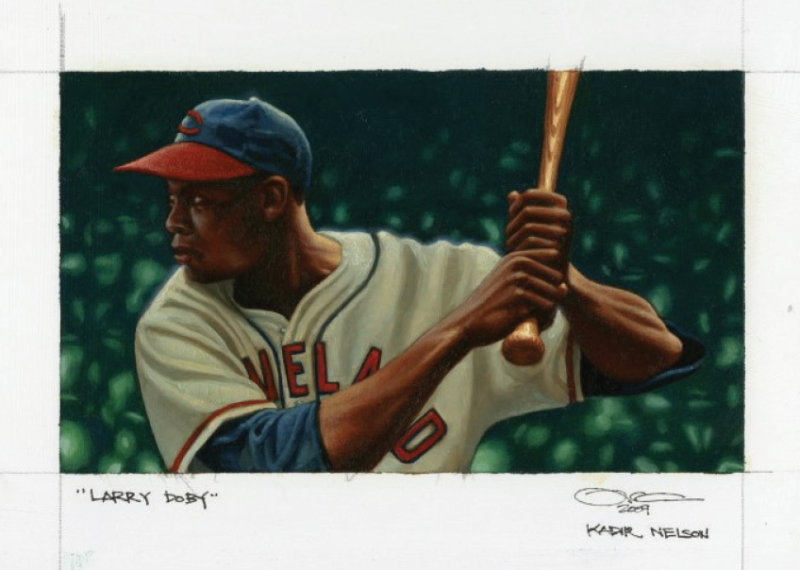 Forever (45¢) Major League Baseball All-Stars Larry Doby approved artwork. United States Postal Service, Postmaster General's Collection.
Instrument of Diplomacy and War examines baseball's global spread in the late nineteenth and early twentieth centuries. With modest equipment needs, baseball was played by American soldiers on military posts around the world and quickly adopted by local people. International baseball stamps will be complemented by uniforms and memorabilia from the baseball world tours of the early twentieth century as well as military-issued equipment.
Agent of Segregation and Integration takes its inspiration from U.S. Poet Laureate Donald Hall, who described a passion for baseball as "a kind of citizenship perhaps more authentic than anything which can be on a piece of paper." African Americans were denied the opportunity to play major league baseball until 1947, however, so they formed their own professional leagues and teams-in the process reaffirming their "Americanness" to a country that refused to acknowledge their equality. Watching and playing baseball helped immigrant groups break down ethnic walls and show their determination to integrate into American communities. Europeans learned baseball in this country, but most Latino immigrants come already knowing and playing the game, making them one of baseball's fastest growing audiences and comprising more than 25% of professional baseball players.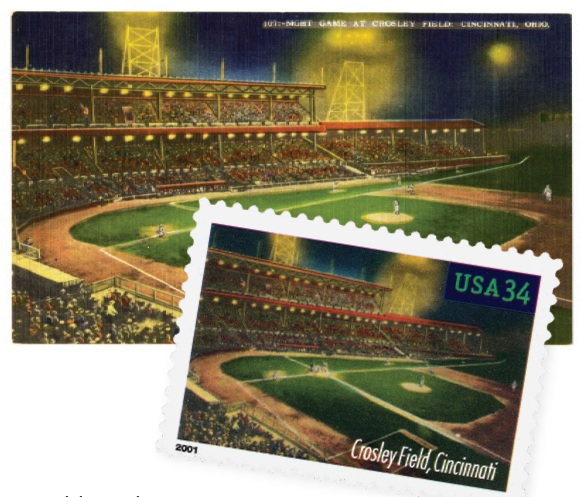 "Night Game at Crosley Field, Cincinnati, Ohio" postcard, c. 1935. 34¢ Legendary Playing Fields, 2001.
Legendary Playing Fields explores the sense of community that fans get from the familiar surroundings of a favorite baseball park, whether it's a classic stadium like Wrigley Field or a newer green cathedral such as Nationals Park. In the early years, stadiums were generally built on undesirable land in the worst parts of town. One of Washington, D.C.'s earliest baseball grounds, Capitol Park, was located in an underdeveloped working-class Irish neighborhood dubbed Swampoodle for the tendency of its unpaved streets to flood-on a plot of land that today is the home of the National Postal Museum. Baseball explores the history of this and other parks, including production material for the 2001 USPS Baseball's Legendary Playing Field stamps paired with signs, seats, architectural elements, and other artifacts from the stadiums pictured.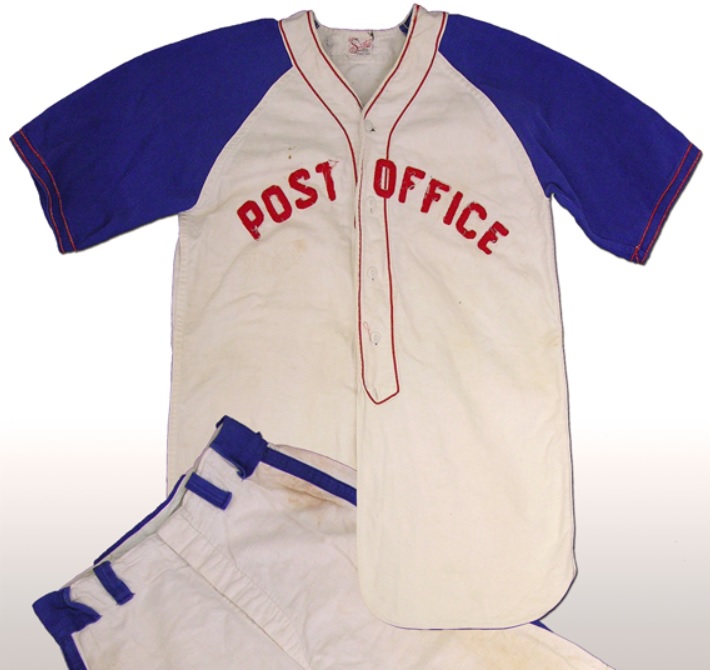 Post Office baseball team uniform, circa 1950s.
Over the next several months, we'll be sharing behind-the-scenes details about this exhibition as it comes to life – including the installation process, preservation treatment of priceless objects, and the development of educational curricula and interactive programming, just to name a few. We'll also be chronicling the National Postal Museum's curators' trips around the globe to acquire rare items loaned by donors and other cultural institutions in support of the exhibition. We're excited about our new exhibit and hope you'll join us on our deep dive into this beloved game, and all that its history represents both nationally and internationally.