Bike to Work Day: Letter Carriers Peddle to Deliver the Mail
05.17.2019
Blog
By Nancy Pope, Curator and Historian, May 17, 2019
Happy Bike to Work Day! Helping carriers bring mail to our homes and businesses has seen postal officials experimenting with a variety of vehicles. There have been four-wheeled vans, trucks and the boxy Long Life Vehicles; three-wheeled Mailsters; and two-wheeled motorcycles and bicycles. Carriers have used bikes to help carry the mail since the 1880s. Some bikes had baskets to carry the mail, and when they did not, carriers pedaled along with leather mailbags strapped over their bodies.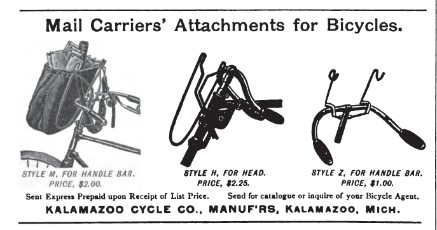 Rural letter carriers were responsible for purchasing their own clothing and equipment, including vehicles. Carrier newsletters and magazines often had advertisements for the goods they needed to buy, including attachments to turn the front of a bicycle into a holder for the leather mailbag.
While some rural carriers used bicycles, they were far more commonly used in cities. Both letter carriers and special delivery messengers used bikes to help deliver the mail. In many cities, Special Delivery messengers did not have their own bikes but had to borrow those that were furnished for the city carrier service.
Bicycles were especially popular in areas where the roads were good and carriers were allowed to ride their bikes on the sidewalks, which helped them more easily and quickly access households and their mailboxes. If a city was large enough, a mechanic would be on hand to help repair damaged bikes and change tires. If not, carriers might be out of luck unless they could fix the problem themselves or wait for a replacement bicycle.
Carriers were often put on bikes when a postmaster decided that a route had gotten to large for the carrier to cover on foot. Santa Fe, NM got its first bike-mounted city carrier in 1904 when Oscar Klein was given a bicycle to cover his expanding route. Waterbury, CT on the other hand, had at least one carrier using a bicycle in 1892. Wichita, KS's postmaster gave one of his carriers a bike in 1894, the same year that city carrier Sherman of Jersey City, NJ received his bicycle. Louisville carriers received bikes in 1895, but after three years of using them, the postmaster got rid of them. He stated that carriers had complained that the bikes were not useful in bad weather, muddy streets, crowded roads, and had a tendency to break down.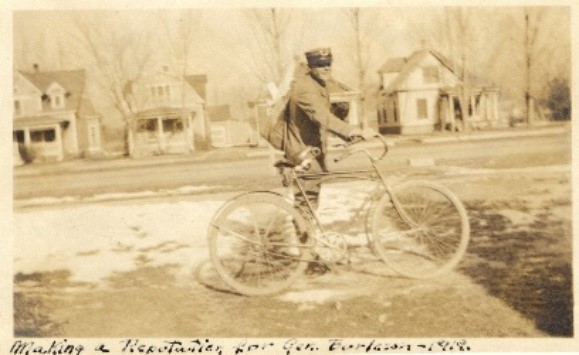 A Special Delivery mail messenger with his bike and, as the photograph notes, a delivery for Postmaster General Burleson in 1919.
Carriers had to be cautious as city traffic was often deadly. Carrier R. Klaunig was riding his bike in New York City in 1894 when he collided with a horse and carriage. The wheel cut him severely and as he lay wounded in the street, the carriage driver whipped his horse and drove away as fast as possible. Perhaps the first bike carrier hit and run accident. Waterbury, CT carrier James Kelly was struck while going uphill by a civilian cyclist flying downhill at top speed in 1897. Kelly's arm was broken as a result. Carrier W.L. Smith was not as fortunate. The St. Paul, MN carrier's bike crashed into a streetcar in 1900. His feet were crushed and had to be amputated. Three years later, carrier Thomas Spalding was riding his bike on Pennsylvania Ave. in Washington, D.C. when a horse-drawn ice wagon knocked him over. Among those who rushed to his aid was a man who stole his gold watch. James Halligan of New Haven, CT, was very badly injured in a crash in that city in 1903. Fortunately, he recovered from his injuries and continued to serve as a bicycle carrier.
It should be no surprise that dogs challenged letter carriers on bikes just as they do today to carriers on foot. In Norwich, CT, special delivery carrier Albert House was trying to make a delivery by bike when a dog sprang at him, biting him on the hand while he was on his bicycle. The same dog had attacked carrier A.A. Guile while he was riding his bike in the area the week before.
One carrier who did quite well with his bicycle was Terrytown, NY's William Kingsland. In 1913 he was lauded for traveling 75,000 miles by bike in twelve of his fifteen years of service as a city carrier.
Washington, D.C. carriers were among the first to use bicycles, thanks to their proximity to the Post Office Department headquarters. Carriers were subject to the same regulations as other riders, and in D.C., that included having lights on their bicycles for use after dark. In 1891, an African American carrier, Hugh Gulick, was charged with not having a light on his bicycle. As he was busy delivering the mail, the officer did not arrest him at the time, but did charge him with the crime. When he was brought into court, Judge Kimball reminded him that everyone—government official or not—had to carry a bell and a lamp on their bicycles. Gulick was fined as a result. It is unknown if his postmaster purchased a light for Gulick's bike after that. Also in Washington, bike carrier George Salon was arrested for speeding in 1897, the policeman estimating that he was going about 20mph. Salon pled that he was in a rush to get to the post office for work, but the policeman noted he was going in the opposite direction. Salon was fined $5.
City carriers not only had to worry about quickly getting mail to the right doors, but also keep an eye on their bikes so thieves would not steal them. Twenty-year-old Charles Wallace grabbed James Carraher's bike from the side door of a Washington, D.C. post office in 1910 and rode straight to a second-hand bicycle dealer to try and sell it. He was quickly caught and pleaded that it was just a one-time thing; he opined that he was from one of Pittsburg's most respected families and would never do it again. The judge was not impressed and sentenced Wallace to four months in jail. When James McMahan attacked and stole carrier Earl Leaycraft's bike in Bloomfield, NJ in 1911, a policeman who witnessed the attack shot and wounded McMahan as he tried to escape.


This city carrier's bicycle in the museum's collections dates from the late 1950s. It has a wire basket for the carrier's bag and is brightly painted the red, white and blue color scheme that was instituted in the 1950s for postal vehicles and mailboxes. The handles are imprinted as patent #2,618,986, "handle bar grip" by the Hungerford Plastics Corporation of Rockaway, NJ. The patent notes that these handle bar grips were to be used "on bicycles, lawn mowers and other implements having handles required to be grasped by an operator when in use."
There are carriers still using bicycles in a few spots around the United States. St. Petersburg and Miami Beach, FL and Sun City, AZ are among those where folks can still find a bike-riding carrier bringing them the day's mail. While gas vehicles replaced bicycles for decades, there was a short comeback of the two wheeled transports during the 1970s gasoline shortages. But as the volume of letters and similar light mail declines while package volume continues to grow rapidly, bicycles just don't have the carrying capacity that most city carriers need today.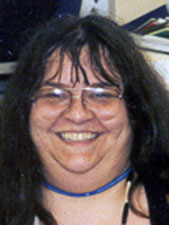 About the Author
The late Nancy A. Pope, a Smithsonian Institution curator and founding historian of the National Postal Museum, worked with the items in this collection since joining the Smithsonian Institution in 1984. In 1993 she curated the opening exhibitions for the National Postal Museum. Since then, she curated several additional exhibitions. Nancy led the project team that built the National Postal Museum's first website in 2002. She also created the museum's earliest social media presence in 2007.