Bus, Not Horse, Power
05.25.2010
Blog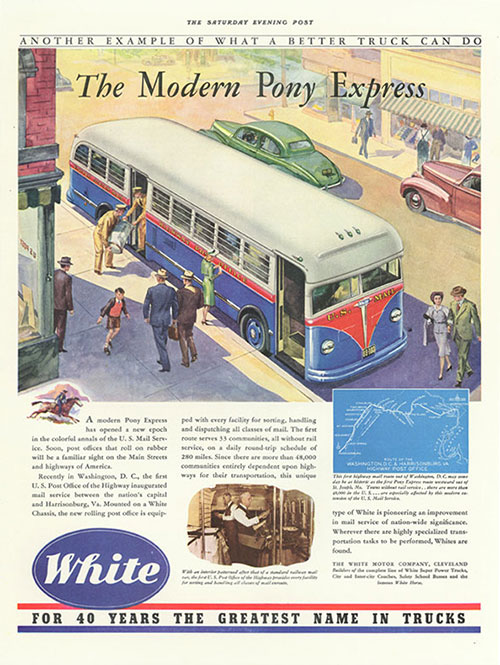 By Nancy Pope, Curator and Historian
This advertisement, for the White Motor Company, was published in a number of magazines, including the May 24, 1941 issue of "The Saturday Evening Post." The company touted their longevity, "for 40 years the greatest name in trucks" appears at the bottom of the page, and used their connection with the U.S. Post Office Department to promote itself. The bus that appears in the advertisement was used in the Highway Post Office (HPO) bus service. As railroad passenger traffic declined, railway companies were pulling more and more trains out of service. As a result, the Department began to outfit buses with mail sorting equipment for use on lines as Railway Mail Service to some towns was cut.
The advertisement refers to the first HPO bus, which was put into service that year. That bus, manufactured by the White Motor Company, is in the collection of the National Postal Museum. The ad references America's most famous mail moving service, the Pony Express, at the top of the image. Although the Pony Express was not operated by the U.S. Post Office Department, it has become connected to the system in popular memory. The ad also includes a map of the first HPO route, which operated between Washington, DC, and Harrisonburg, Virginia.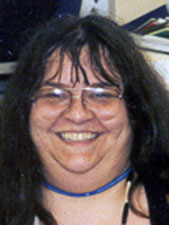 About the Author
The late Nancy A. Pope, a Smithsonian Institution curator and founding historian of the National Postal Museum, worked with the items in this collection since joining the Smithsonian Institution in 1984. In 1993 she curated the opening exhibitions for the National Postal Museum. Since then, she curated several additional exhibitions. Nancy led the project team that built the National Postal Museum's first website in 2002. She also created the museum's earliest social media presence in 2007.