By Melissa Roberts, Intern
When I found out I had gotten an internship at the National Postal Museum I was excited because it combined two things I love- museums and mail. My project, as an intern, has been looking at Contract Airmail (CAM) artwork. Most people are slightly confused when they hear that, so here is a little background.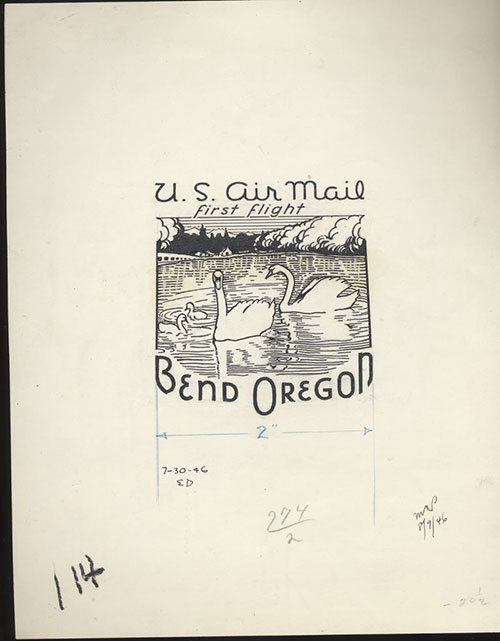 In the early days of U.S. Airmail, the Post Office Department had planes, hired pilots and delivered mail; however, in the late 1920s, the Department began contracting out to different airlines. There were over a hundred airmail routes in the United States, each covering a specific geographical location. In order to distinguish cities along a specific route, a symbol was chosen to represent the city. Some cities chose important buildings or works of art to represent them, while others chose an animal native to the area or a type of plant grown. Each city's symbol was then used as the design element for cachet art for First Day Covers (envelopes carried on the first trip of the route) prized by some stamp collectors.
My project has been looking at the museum's collection of CAM art to identify original pieces. There were four large boxes filled with information about CAM art, so I went through and sorted and re-filed the original pieces. After I found the original pieces, I began contacting towns through their local Chamber of Commerce, historical societies and libraries to find information about the image used for their town. With the information I gained, I did a write up containing a description of the piece of art, of the route and of the chosen image.
With my project I have been involved with different aspects of museum work. I was able to work with the actual objects in conservation and also work on research for the curatorial side. I have enjoyed working with both aspects- being close to the objects but also seeing how the objects relate to history. This project has put me in contact with many people and led to interesting discoveries about small town America. From the Corn Palace in Mitchell, South Dakota to the Swan Lake Pageant in Bend, Oregon, there are some amazing things here in the United States!
My time as a National Postal Museum intern has been amazing. Everyone on the staff has been friendly and helpful, always willing to answer my questions about the museum world. The National Postal Museum Rocks!