Can Stamps Be Groovy?
09.02.2009
Blog
By MJ Meredith, Museum Technician
As a cataloger for the modern United States postage stamp collection I've seen a lot of stamps. In fact, I've seen every single stamp issued by the United States, all 4,967 of them! Looking at the collection one thing that strikes me is the difference in design across decades. In the same way you can sometimes tell when a work of art was produced just by looking at it, you can often tell what decade a stamp was made based on the distinctive design.
As an example, let's look at the stamps from the 1970's. Some of these are exactly what I would expect from this period; they're pretty groovy. A few of my favorites are this 1974 World's Fair stamp displaying that year's theme "Preserve The Environment." Love the bellbottoms and surreal design!  Another great example is this 1974 ZIP Code stamp:
Both stamps utilize a common color pallet, rounded edges and psychedelic design typical of the 1970's. These stamps couldn't be mistaken for any other decade. What's interesting to me is that alongside these bold and colorful designs, the Postal Service issued traditional stamps like this Harry Truman stamp and Marquis de Lafayette stamp.
Beyond the design, the subjects chosen for stamps of this decade reflect many of the major issues and events that occurred. For example, stamps chronicle the growing awareness of social issues like the rise of the environmentalism movement (18 stamps), the expanding space program (8 stamps) and the bicentennial of the American Revolution (a whopping 48 stamps!)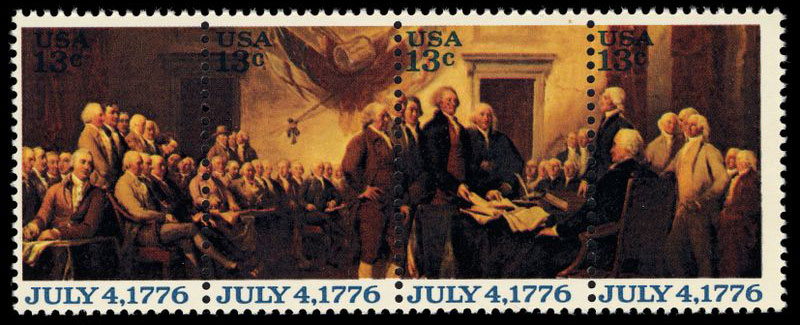 One of my favorite things to do is browse our online collection of stamps by decade and look at the range of designs. Do you have a favorite decade?