Cite Your Sources! An Impassioned Plea from an Exasperated Intern
08.09.2016
Blog
By Caly McCarthy, Curatorial Intern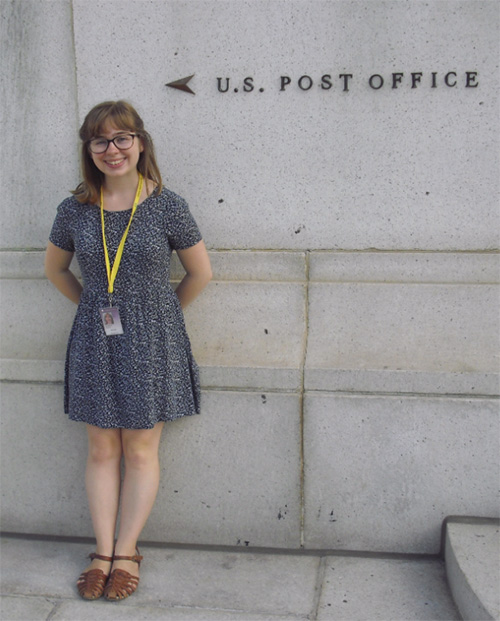 In elementary school, I learned what a bibliography was. In middle school, I practiced citation formats for books, and newspapers, and journal articles. In high school, I adopted different citation styles for different academic disciplines. In college, I began to fuss about periods in bibliographies and commas in footnotes. This summer, I am interning at the Smithsonian's National Postal Museum, and because of the trials-and-travails of research I have a new appreciation for the importance of citations.
My topic of study for the summer is mail-order brides in America. Initially, my supervisor and I thought that my research would be limited to the mid-late 19th century in the American West. I have come to learn, however, that domestic and international mail-order brides (being defined as women whose introduction to their husbands was facilitated by the Post Office Department, through letters, personal ads, matrimonial newspapers, etc.), were a feature of the American past throughout the mid-nineteenth and early-twentieth centuries, predominantly on the West Coast, but also in the Midwest, and even a little bit in the East.[1] Much of the information surrounding this historical phenomenon is shrouded in myth and exaggeration. The topic has been popularly represented in children's literature, musicals, television series, and movies.[2] One of my goals this summer was to separate the fact from the fiction with the larger objective of better understanding what motivated men and women to marry strangers.
Mail-order brides have been a fascinating topic of study. I have truly enjoyed learning the context that surrounded mail-order marriages and identifying the factors that facilitated such a seemingly peculiar practice. I have, however, struggled to find reliable sources on the topic. Specifically, I have experienced difficulty in procuring the individual stories of women who were mail-order brides. How old were they? What motivated them to marry a man found through the mail? Where did they come from, and where did they move? Local newspapers have been helpful in identifying the nature of personal ads, but beyond that, they tended to feature sensational stories that lacked detail (for example, a mail-order bride left her betrothed at the train station when she realized that he was a red head), and certainly gave no indication as to the outcome of the marriage.[3] Despite being a confluence of women's and western history, mail-order brides seem ignored by scholars.[4]
Although scholars have not written much about mail-order brides that does not mean that no one has written about them.[5] A handful of amateur historians who have an interest in western and women's history have dedicated time and effort in combing through archives, books, and personal collections. They have shared their findings through books and websites. Even better, they feature specific stories of women who were mail-order brides. The problem is, their citations are pretty paltry. At best they offer a spotty bibliography, but never a footnote, or a precise indication of where they got their information.
I don't mean to rag, or sound pretentious. I am grateful for their contributions to the body of knowledge on the topic, but I would like to know where they got their information so that I can make sure I am citing a credible source. Furthermore, there is bound to be information from the original source that was not relevant to the secondary author, but could be to me.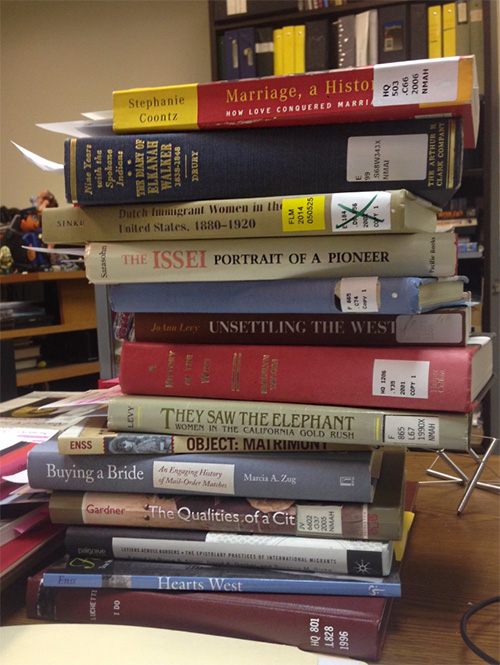 Scholarship relies upon the work of others, but in order to avoid reinventing the wheel, scholars need to trust each other. Citations are a tool that help facilitate trust among strangers, essentially, providing a road map of their research. Citations say of the scholar, "You can trust me. I've read all the key materials; I'm not just making this stuff up." Beyond simply ensuring that researchers are not fabricating sources, however, citations point scholars in the direction of new material for their own research endeavor.
Although mail-order brides married throughout the United States, they were more prevalent in the American West and Midwest. As such, archival materials pertinent to mail-order brides (that is, diaries, letter collections, and personal ads) tend to be concentrated in collections of libraries and museums of the West Coast. Let me remind you that the National Postal Museum is located in Washington, DC, and my internship does not include a travel budget. The good news is that the powers of the internet help connect researchers across the country. The bad news is that without specific collection names (which, conveniently, would be included in proper citations), archives are unable to help me access primary source materials that would enrich my research. I have tried to make use of databases and search engines, but online queries regarding "mail-order brides" yield historical fiction romance novels, and offers to marry Russian women.[6]
My options, then, are to repeat the same stories that have made the cut for the book that I read, dedicate hours of time to perusing digitized collections from museums in the West without knowing if the museum even has materials that pertain to mail-order brides, or stick to larger trends instead of including individual details. Repeating the story does not appeal to me because I'm not convinced that I can trust its veracity given the lack of citations, and also because I'm sure that there are other stories, and I think that it would be more exciting to include them. I don't feel that I'm adding anything to the scholarship on mail-order brides if I'm simply rearranging stories and statistics that others have garnered.
I close, then, with a plea; cite your sources. Not because of the carrot-stick motivation of avoiding plagiarism. Not because you feel an obligation to subscribe to every marker of professionalism. Rather, cite because you recognize that in citing you are facilitating a conversation between curious people and making it easier for them to access information that might help to create a more engaging, comprehensive, and reliable narrative.
If I have inspired within you a newfound motivation to cite your sources, please make use of the following websites to help with formatting (These are Chicago Style):
Chicago Manual of Style Online
---
About the Author
Caly McCarthy is a rising senior at Dickinson College where she is double-majoring in environmental studies and history. She is originally from northwestern New Jersey (and loves her state, thank you very much!). In her spare time, she enjoys cooking with beautiful vegetables, singing to the radio, and playing low-stakes ping-pong.