Imagine opening your mailbox to find a coconut inside! That's what Mrs. Marie Boudet encountered one day in early 1944. It was sent through the mail all the way from Hawaii from her husband, Raymond, a Navy Seabee who was stationed there during WWII. The postage cost 37 cents and was canceled by the U.S. Navy, the Navy Censor, and the U.S. Department of Agriculture. The stamps are from the 1938 Presidential Series: a seven cent Jackson and two fifteen cent Buchanan stamps.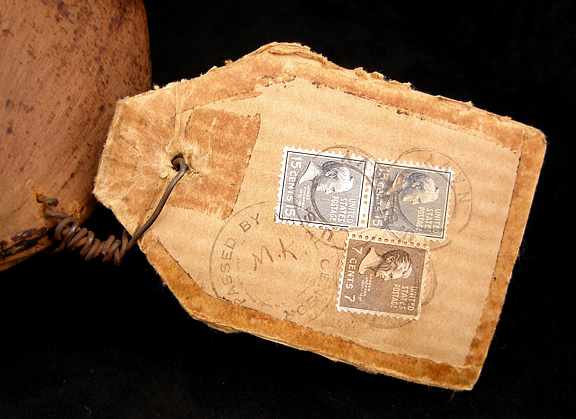 An unusual love letter from Marie's husband, the back of the coconut bears a heart pierced with an arrow, inside which is carved "Ray" and "Marie." The back is also carved "Seabees Hawaiian Islands 43-44." A paper decal of a scantily clad hula girl playing a ukulele embellishes the message.
The front of the fruit is addressed to "Mrs. R. Boudet" in Springfield, Massachusetts. A Seabee decal is affixed above, depicting a bee with hammer, wrench, and drill surrounded by anchors. The Seabees are the construction battalions of the Navy, building and repairing naval aviation bases and shore facilities. Raymond Boudet was a member of the 99th Naval Construction Battalion, Company A. He was stationed in Hawaii for a year and a half, then in the Philippines on the island of Samar. His battalion built a hospital camp in preparation for attending to wounded American soldiers returning from a possible Japanese invasion.
Raymond wired the postage stamp tag to the coconut himself. The return address indicates that the giant seed pod was sent by Naval ship, care of Fleet P.O. San Francisco, California.
Many unusual objects have been sent through the mail since the advent of parcel post in 1913. These include food, animals, and even small children! When it was cost prohibitive for one family to buy train fare to send their daughter to a relative's house, they found a cheaper alternative in the postal service. Although regulations against sending people through the mail were quickly enacted following Pierstorff's trip, it is still legal to send an unwrapped coconut! Coconut parcel post is an enduring novelty in the Hawaiian Islands, especially among tourists, who send their "wish you were here" notes via coconut postcards to mainland recipients.
Mrs. Boudet enclosed this note with her donation: "This coconut has lasted a long time, luckily our marriage has also lasted as long. We married in 1942 when we were both 19 years old. . . . My husband and I have been one of the lucky couples. He returned safely from the war and we have been married now for 53 years."
For further reading
May Pierstorff's time as a parcel post package
Written by Kate Diggle
Additional Imagery