The first transcontinental airmail route was 2,629-miles long, stretching between San Francisco, California and New York, New York. In order to keep mail flying around the clock, the postal service had to ensure the safety and success of night flight. To do this, the Post Office Department mounted airmail beacons, such as this one, along the route. This string of beacons helped guide pilots to emergency and regular landing fields. By the summer of 1924, enough beacons had been placed along the western route to light the 1,912 miles between Cleveland, Ohio, and Rock Springs, Wyoming, and the postal service was able to begin regularly scheduled transcontinental airmail service using night flights. The airmail service had 18 terminal fields, 89 emergency fields and more than 500 beacon lights in operation that year.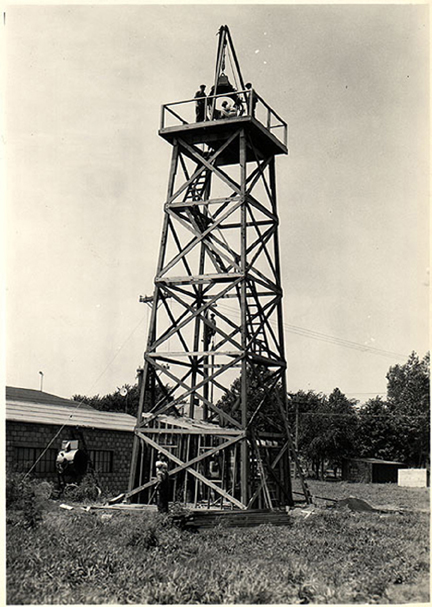 The ground navigation support system beacons were 5,000 candlepower acetylene-gas powered lights. They were installed at three mile intervals, visible for about 10 miles out. Some beacons were harder to position than others. The beacons had to be mounted on high ground for optimum visibility. Some locations could be reached only by mules, which were used to haul in materials and equipment. Despite the challenging geography of the mountainous west, mounting beacons was more difficult along the more heavily-populated eastern portion of the route. Before beacons were completed along that route, night flights were regulated to the comparatively flat 885 miles between Chicago and Cleveland. Since towns and cities were closer together in the east, beacons did not need to be set up every three miles as they were along the western segments of the route. Instead, those that were put up were attached to the highest point in designated areas.
Emergency landing fields were set up every 25 miles and were equipped with rotating 18-inch incandescent electric beacon lights mounted on 50-foot towers. These lights were set to sweep the horizon approximately six times per minute, at .05-degrees above the horizon. On clear nights, emergency field beacons were visible 60-75 miles away from the field.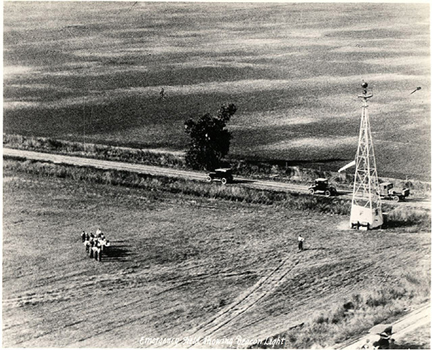 The Post Office Department continued to use the reliable de Havillands for the night flights. The planes were equipped with landing and navigation lights, and most critically for the pilots, illuminated instrument panels. Of the ninety-six DH-4Bs still in service, 61 had been equipped for night flight by 1925 when the New York, New York to Cleveland, Ohio portion of the transcontinental route was equipped with beacon lights.
Written by Nancy A. Pope