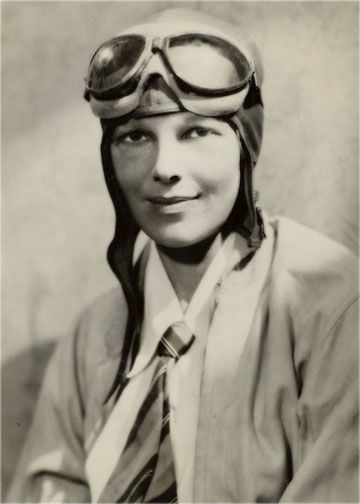 On May 20-21, 1932, Amelia Earhart (1897-1937) became the first woman to fly solo across the Atlantic Ocean, flying between Newfoundland and Ireland. The feat ensured her not only worldwide acclaim but a place in the annals of aviation history. May 2007 marks the 75th anniversary of this milestone flight, which set speed and women's distance records. On the flight Earhart carried fifty pieces of "unofficial" mail (the flight was not authorized by the post office), each postmarked before and after landing, cacheted, numbered, and autographed to document the historic event.
After her successful landing in Ireland, Earhart toured Europe and crowds thronged to catch a glimpse of her. Dignitaries and heads of state honored her with receptions and dinners and showered her with medals of honor. After visiting London and Paris, she and her husband, George Putnam, flew from Milan to Rome in a plane supplied to her by the Italian Ministry of Aeronautics. Premier Benito Mussolini, interested in promoting Italian air power as a symbol of his regime, feted Earhart with a reception and bouquet of roses. During their two day visit, General Italo Balbo hosted a dinner in her honor, they lunched with the crown prince and princess, visited the American ambassador at the embassy, and had a private audience with Mussolini in his office. Mussolini listened to her tale of adventure and noted congratulations to her on special event covers, signing them in green with his distinctive autograph. The couple then visited Belgium before returning to accolades in New York City and to being decorated by President Herbert Hoover in Washington D.C.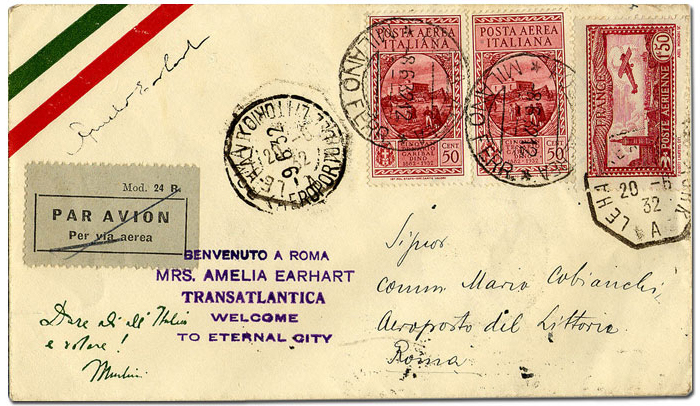 Philately supported Earhart's career in a variety of ways. The sale of her flown philatelic souvenirs helped offset the expenses of her aeronautic adventures and further ensured her legacy in aerophilately. She personally collected examples of her mail and exhibited them at TIPEX, the May 1936 international stamp exhibition, where she also spoke and distributed exhibitor awards.
Amelia Earhart enjoyed celebrity status worldwide. She captured the public's imagination as an exceptional woman who broke barriers not only in the air but also as a role model for women in America. She reached an astonishing number of milestones during her brief career. She began breaking flight records in 1922, the year after she bought her first plane, by flying to 14,000 feet and thereby shattering the women's altitude record. In 1927 she became the first woman to cross the Atlantic eastbound, but as a passenger, not a pilot. After the publication of her book 20 Hours 40 Minutes, she worked as the aviation editor for Cosmopolitan magazine. While she continued breaking speed records, she helped organize a new airline, New York, Philadelphia and Washington Airways. After her 1932 solo transatlantic flight, she wrote For the Fun of It, became the first woman to fly nonstop coast-to-coast, and was elected president of the "Ninety Nines," a new women pilots' organization.
Mexico honored Earhart by overprinting one of its airmail stamps with "Amelia Earhart Vuelo de Buena Voluntad Mexico 1935" (Amelia Earhart Flight of Good Will Mexico 1935) to commemorate her 1935 Mexico City visit. Immediately after printing, the plates were destroyed. Four hundred eighty of the 780 stamps were sent with the additional overprint "Muestra" (Specimen) to the Universal Postal Union for distribution to postal administrations worldwide. This action defined the Earhart overprint as a legitimate stamp despite the outcries of some philatelists who claimed that it was not created for postal purposes. About one hundred of the remaining three hundred stamps were used on the mail carried by Earhart to New York City (some in blocks of four). Ten unused stamps were distributed to diplomats, and the remaining examples were sold to local collectors and the public. This stamp remains a rare and desirable item both unused and on flown mail.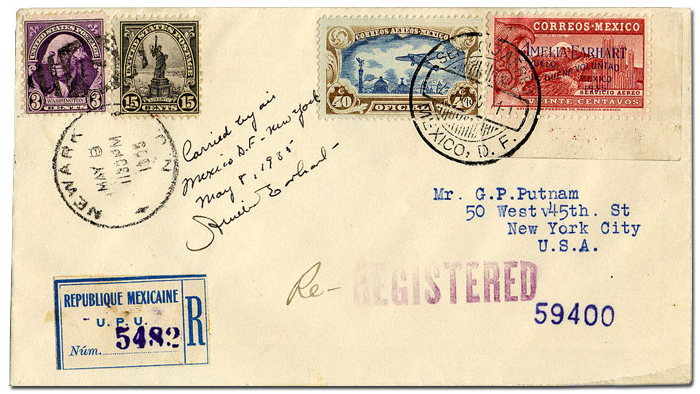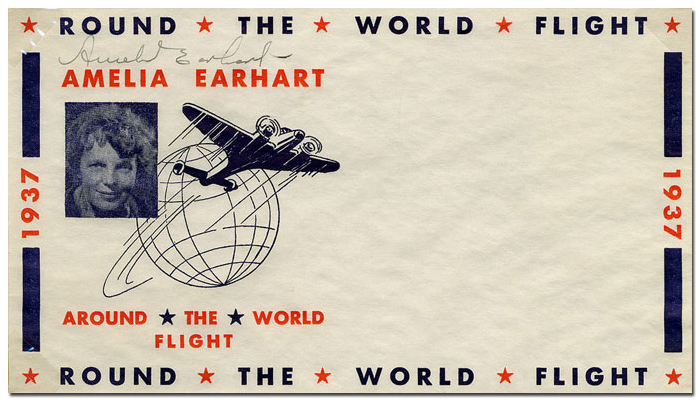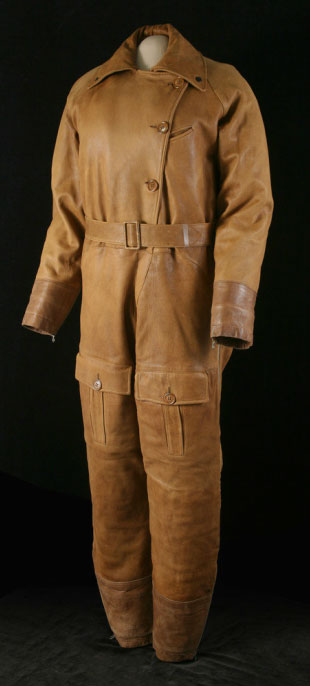 On her ill-fated 1937 flight around-the-world, Earhart and her navigator Fred Noonan carried approximately 5,000 souvenir covers in the nose cargo compartment of her Lockheed Electra airplane. Collectors had ordered and paid $5 each for an autographed, cacheted cover through Gimbels stamp galleries in advance of the flight. Earhart was to add stamps and acquire postmarks along the route, and reports indicate that she did receive postmarks before take-off in Oakland and again in Karachi. Rescuers found no trace of Earhart after her plane ran out of fuel on July 2 and went down during her desperate search for Howland Island. Enthusiasts still debate whether she and Noonan might have made it to an island, and some believers still search for evidence of their survival.
In 1968 Elsie M. Williamson, assisted by stamp dealer Jacques Minkus of Gimbel Galleries, donated Amelia Earhart's personal collection of flown mail with photographs and a leather flight suit to the Philatelic and Postal History Division of the U.S. National Museum. Williamson had acquired the collection directly from Earhart's husband, George Palmer Putnam.
Written by Cheryl R. Ganz
For further information
George Palmer Putnam Collection of Amelia Earhart Papers »
Additional imagery