The officially sanctioned airmail flight marked its 150th anniversary in 2009. On August 17, 1859, the balloon Jupiter, piloted by professional balloonist John Wise, attempted a 'transcontinental voyage' from Lafayette, Indiana, to New York City. Although his flight was cut short by unfavorable weather conditions, Wise earned a place in history by having arranged with Lafayette postmaster Thomas Wood to carry a mail bag containing 123 letters. Previous attempts to carry mail by balloon had not been sanctioned by the Post Office Department.
Two days prior to the Jupiter flight, the following notice appeared in the Lafayette Daily Courier:
Balloon Mail.

Prof Wise will take a Balloon mail from this city to-morrow. All persons who wish to send letters to the seaboard, will place them in the Post office before twelve o'clock to-morrow, properly stamped, and directed "via. Balloon."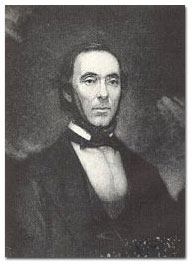 The letters were placed in a 'brass- locked' mail bag marked 'New York City.' Wise was originally scheduled to ascend on August 16 at 3:30 p.m., but unfavorable conditions forced him to delay his voyage by one day. On August 17, at precisely 2:00 p.m. , the Jupiter ascended from a vacant lot near the Lafayette gas works. It was Wise's 233rd voyage by balloon. The local newspaper referred to the crowd as "the largest ever assembled at Lafayette on any occasion." Wise claimed "not less than 20,000 persons" gathered in the town square.
In addition to the mail bag, Wise carried what he referred to as a "good Smithsonian barometer," which had been given to him by Joseph Henry, the Smithsonian's first Secretary. Wise was a member of Henry's small army of weather observing volunteers, faithfully reporting his weather observations back to the Smithsonian.
As the Jupiter rose high above the city of Lafayette, the winds grew still and the balloon seemed scarcely to move at all. Although the Jupiter ascended to 14,000 feet, Wise still could not find an air current to carry him east. Finally, the balloon started to drift south and Wise was forced to throw most of his ballast overboard. Knowing that the small amount of ballast that remained would not "suffice for a whole night's sail," Wise was forced to land a few miles south of Crawfordsville, just thirty miles from Lafayette. He had been in the air five hours and seven minutes.
In an article published a few days after his Jupiter flight, Wise wrote:
Knowing that if there were no currents below I could land safely and easily land in the town, and in order to make the arrival more interesting I concluded to send my letter mail ahead; and to effect this in a systematic form, the following expedient was adopted: having with me a muslin sheet nine feet square, I attached to each of its corners strings of about five yards in length. These were tied together at their lower extremities, and to this knot was attached the mail bag, and then I dropped it overboard. It made an admirable parachute. A few minutes travel informed me that it would drift a considerable distance to the south of Crawfordsville, as there was a slight breeze below drifting it in that direction. I pulled the valve of "Jupiter," and followed, and soon overtook the mail. We kept near together all the way down, as I could regulate the descent of the parachute, and both aerial machines landed within fifty feet of each other on the public road six miles south of Crawfordsville, their descent being very slow.
The forced landing led the local newspaper to wryly refer to Wise's "trans-county-nental voyage." Upon landing, Wise handed over the mailbag to a postal agent for the New Albany & Salem Railroad. The letters were then taken to New York by train. Although Wise's flight had been documented as the first airmail flight, nearly a century passed before one of the letters Wise had carried about the Jupiter was discovered.
In the February 16, 1957 issue of Stamps magazine, F.W. Kessler published an article on "a major philatelic find." Kessler had recently acquired a cover with the inscription 'via Balloon Jupiter.' The date '1858' had clearly been added later, using a different ink, and was off by a year. The embossed cover was postmarked 'Lafayette Ind. Aug 16, 1859' and addressed to William H. Munn of No. 24, West 26th Street in New York City.
Included with the discovery was a letter, which appears to be in a hand writing different than that on the cover. The letter reads: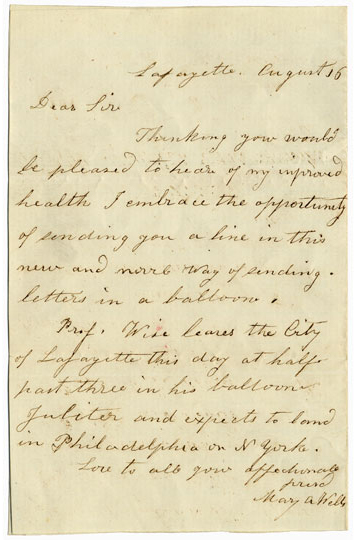 Lafayette, August 16

Dear Sir 
Thinking you would be pleased to hear of my improved health I embrace the opportunity of sending you a line in this new and novel way of sending letters in a balloon.

Professor Wise leaves the City of Lafayette this day at half past three in his balloon Jupiter and expects to land in Philadelphia or N. York.

Love to all your
affectionate friend,
Mary A. Wells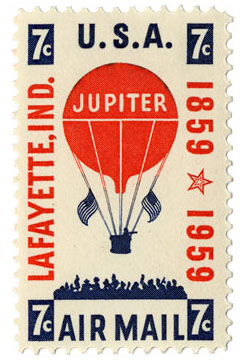 Kessler's timing could not have been better, coming just two years before the hundredth anniversary of the balloon Jupiter flight. To commemorate the anniversary, the Post Office Department issued a commemorative stamp designed by Austin Briggs. Five years later, on November 4, 1964, the cover and letter were auctioned by H.R. Harmer of New York. The Smithsonian, recognizing the unique nature of the items, successfully bid on them. The Balloon Jupiter cover and letter have been exhibited numerous times at the Smithsonian and were chosen for the inaugural philatelic rarities exhibition when the National Postal Museum opened on July 30, 1993. They are considered to be among the most important items in the national philatelic collection.
Further reading
Owen Edwards, 'Airmail Letter,' Smithsonian, August 2006
H.R. Harmer, Sale No. 1593, November 4, 1964
F.W. Kessler, 'A Major Philatelic Find,' Stamps, February 16, 1957, pp. 242-3.
Lafayette Daily Courier, August 15-26, 1859
Ken Lawrence, 'The Jupiter,' Scott Stamp Monthly, April 2003
John Wise, Through the Air: A Narrative of Forty Years Experience as an Aeronaut, To-Day Printing and Publishing Company, 1873; Reprinted by Arno Press, Inc., 1972
Written by Ted Wilson
Additional Imagery