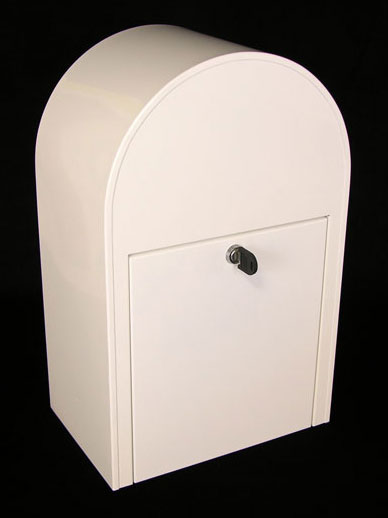 Even though mailboxes have been around for over 150 years, their designs continue to evolve. The National Postal Museum already has a large collection of mailboxes, and so curators must justify each new accession. When looking for additions to the collection, the museum considers boxes that show a substantially different design, tell a compelling story, or represent a specific need outlined in the museum's collecting plan.
Bonbobi style limited access mailbox
This Bobi mailbox tells a modern story of community accessibility. When the Southern Oaks Community of Santa Clarita, California, discovered their curbside mailboxes were not in compliance with the Americans with Disabilities Act (ADA), they went in search of a better mailbox. Their number one concern was to find a mailbox with proportions that would allow a wheelchair to pass along the sidewalk without interference. Traditional tunnel-style mailboxes were too deep and violated the city building codes.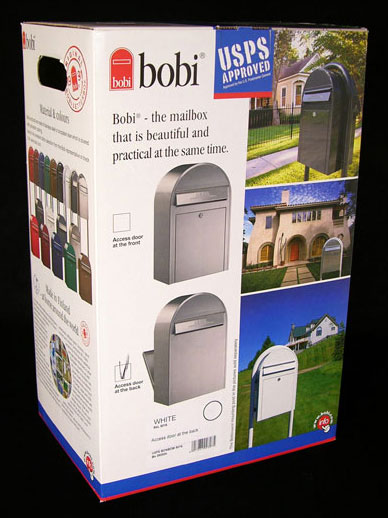 This mailbox's vertical design offered ADA compliance as well as a large capacity. It has a locking feature that reassured residents who were concerned about mail fraud and identity theft.  Finally, the community appreciated the design – the curb appeal.
The Southern Oaks Civic Association replaced 279 mailboxes in their community with Bobi mailboxes. They used modified posts to mount two mailboxes per post. The mailbox replacement project spanned approximately 1 ½ years. It was completed in the spring of 2006.
The museum acquired this Bobi mailbox in 2007. It was one of the boxes ordered for the Southern Oaks project, although it was never used in the community.
The Bobicompany was founded in 1991 by two brothers in Finland. Bobi mailboxes are limited access boxes designed for mail drop off only. They do not have indicator flags. They are intended for postal customers who do not want letter carriers to pick up outgoing mail.
Bobi mailboxes come in eight different styles and eight different color options. The one in the museum's collection is a white Bonbobi model. The mailboxes are made of 20-gauge (1 mm) stainless or zinc plated steel covered with a polyester coating. All of the Bobi designs are approved by the USPS.
The Bobi mailbox is the first mailbox manufactured in the 21st century to be added to the museum's permanent collection. It is a reminder that collecting is an ongoing process: Curators must preserve today's history for tomorrow's museum visitors.
Written by Allison Marsh