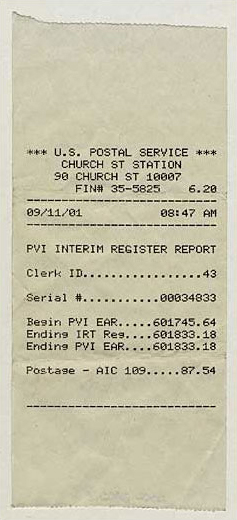 Among the most somber objects in the museum's collection are a collection of artifacts retrieved from New York City's Church Street Station post office following the September 11, 2001 attacks on the World Trade Center. The Church Street postal station, located at the corner of Church and Vesey, faced World Trade Center building 7 to the west and buildings 5 and 6 of the complex to the south-southwest. Building 7 collapsed the afternoon of September 11. Buildings 5 and 6 sustained critical damage and were demolished. The Church Street Post Office sustained damage from the debris of the fallen buildings and the force of the explosion but remained structurally intact.
The mail sorting unit is a staple in every US post office. This unit simply consists of a table with a mail sorting wing hinged to its proper left side and an attached sorting case with a light fixture to illuminate the shelves. This unit was last used by U.S. Postal Service employee, Emma Thornton, of the Church Street Station Post Office, New York, New York, on September 11, 2001. Thornton was one of ten carriers whose daily rounds were inside the World Trade Center buildings. She sorted mail for various companies, including Cantor Fitzgerald, Nishi Nippon Bank, and "Windows on the World" restaurant.
The morning of the attack, the employees of the Church Street station were busy at work inside the building. Window clerks were serving a steady stream of customers, as the register report from one window shows - recording transactions up to 8:47:22 a.m. Thornton and the other carriers were still preparing their mail for delivery when the airplane struck the first tower. No one in the Church Street building was hurt, as the building had been successfully evacuated by the time the south tower fell.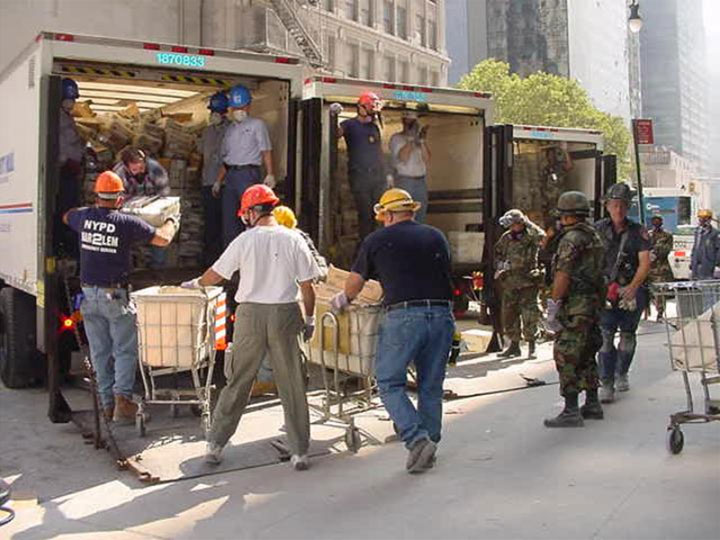 Mail left at the Church Street post office that day was retrieved by US Postal Inspectors, aided by the National Guard and local police. The mail was taken to the main post office at 33rd street, also known as the Farley building, for processing. Because of the severity of the damage to the Church Street building, its employees were detailed out the next day. Delivery and customer service employees were re-assigned to the Farley building. Processing staff were told to report to the nearby Morgan processing center. The Church street employees managed to set up a functioning version of their old office in just two days. New Yorkers stood in lines that weaved around the Farley building, divided by ZIP code, to get their mail for weeks following the attacks.
Learn more
September 11, 2001: Collecting and Exhibiting a National Tragedy
By Nancy A. Pope