A little over a week after the April 9th surrender at Appomattox Courthouse ended the Civil War, Private Isaac Walters mourned the death of his younger brother, David, in this condolence letter to his sister-in-law, Rachel. The family had learned that David starved to death at the Prisoner of War camp in Florence, South Carolina. Reportedly, he had been captured on May 15, 1864 at Resaca, Georgia, with five other members of Company I, 5th Calvary, 90th Regiment Indiana Volunteers.(1) Private David Walters, a farmer before the war, died on February 28, 1865 about 25 years of age.(2)
David Walters was one of the estimated 620,000 service men who died because of the war. Isaac Walters' letter was one of the countless expressions of grief from a nation in mourning. The letter came at the end of the long and "cruel war." Isaac clearly struggled to reconcile his family's tremendous loss and the life to come for him, his family, and the nation.
Camp in the Field V.A.
              April 17th/ 65
Dear Absent Sister & Friends
I am happy to Say to you to day that my life & health is Spared to See the close of this cruel war which has brought So many of the braver Sons of the North to their graves it has pleased the Almighty to Spare my life & bring me Safely through the last Struggle while many have breathed their last on the Field of Battle & in their horrible Prisons in the South which I think is the worst of all Deaths I would ten times rather be killed in battle than die there in Filth & dirt with Starvation This is horrible in the extrem to think of let lone to Suffer as those poor Soldiers have done thanks be to the name of him who has guided & protected me through this awful rebellion. but Alas! for my poor brother who has fallen a victim to their cruel hands. Oh! what a Sickening thought that Such a near Friend Should perish in Such a way & Such a place as one of those Southern Prisons are represented to be. it Seems as though I never could get over it in the world. I know I never can forgive them for their wicked deeds while I live when I was home it Seemed to to me that I never would See David any more Something Seemed to tell me So but of course I wouldnt tell you So for I thought you had trouble enough without me causing you more. but I hope he is better off than we are I hope he has gone where war & Starvation will never come nor Sickness nor Death but where he can Sing Songs of praise to God & the Holy Angels forever & ever. I hope we Shall one day meet him in that bright clime never to part again. I hope that we may live So that we will meet with the kind approbation. Enter in to my joys & Sit down on my throne. we are now lying on the Railroad running from Petersburg to Lynchburg about 55 miles from Petersburg I think we are Staying here waiting for the roads to dry & become good then I think we will be Sent to washington or Some place to do garrison duty there are many rumors afloat about where we are going & what we are going to do but nothing that can be relied on as true. we will have to wait with patience until things are further developed before we can tell what will be done but I hope I Shall See home in the course of a few months Yesterday we received Intelligence that Abe Lincoln Secretary Seward & his Son were all Assassinated. This is awful if true but I hope it is not if this is true it is very likely we will be held 5 or 6 months longer than we would have been otherwise I close for the present hoping Soon to get an Answer remaining as Ever your Sincere Friend
Isaac Walters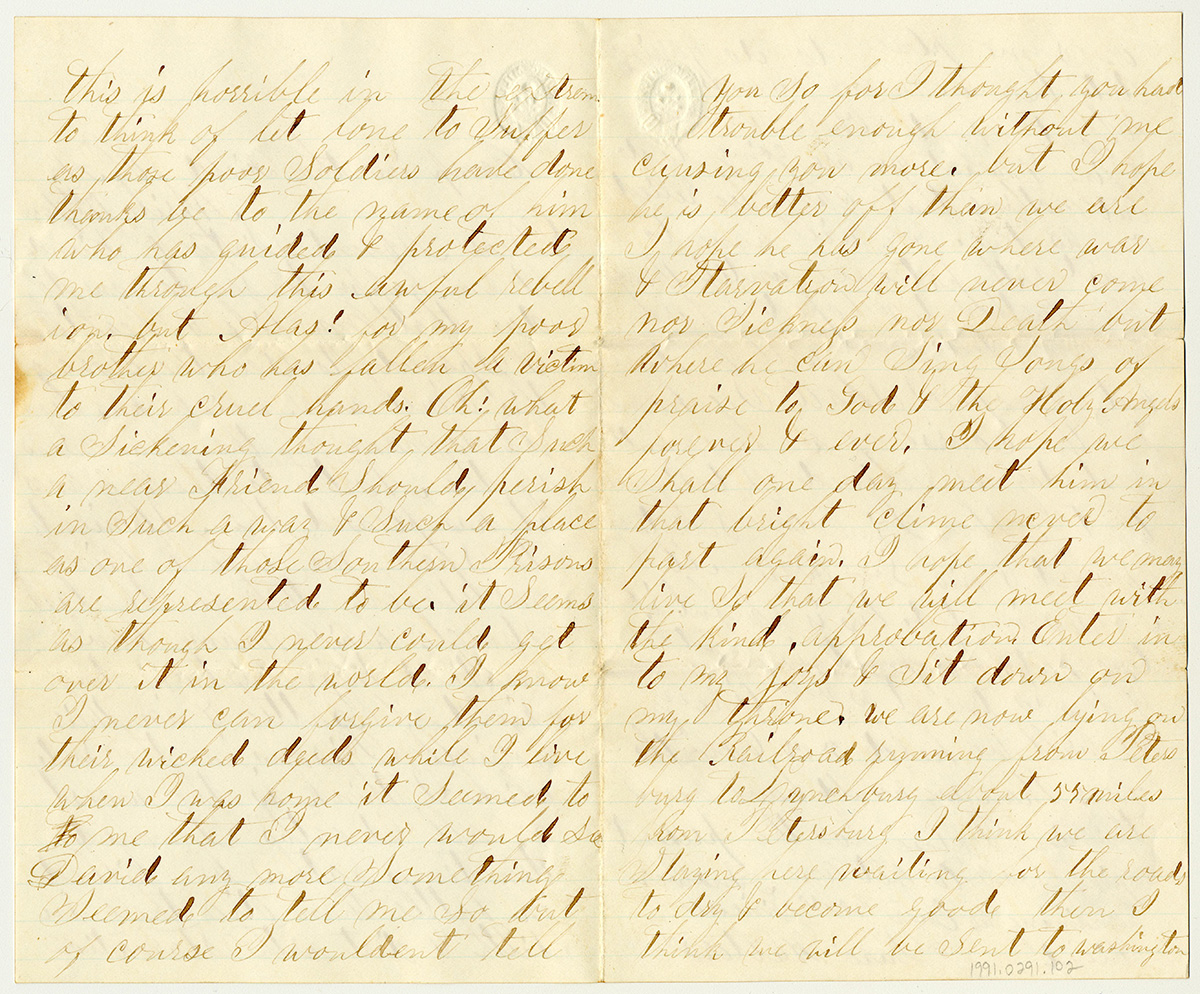 Isaac lamented the suffering inflicted upon his brother as a POW. He also had profound gratitude for his own survival: "This is horrible in the extrem[e] to think of let [a]lone to Suffer as those poor Soldiers have done, thanks be to the name of him who has guided and protected me through this awful rebellion." Isaac's next duties with the 20th Indiana Infantry were still undetermined as he wrote this letter. He speculated that his return might be delayed. Uncertainty arose from the information about the April 14th assassination of President Abraham Lincoln, Secretary of State William H. Seward and his son Frederick. He was also uncertain about the accuracy of this news, and it would eventuate that the Sewards survived their injuries.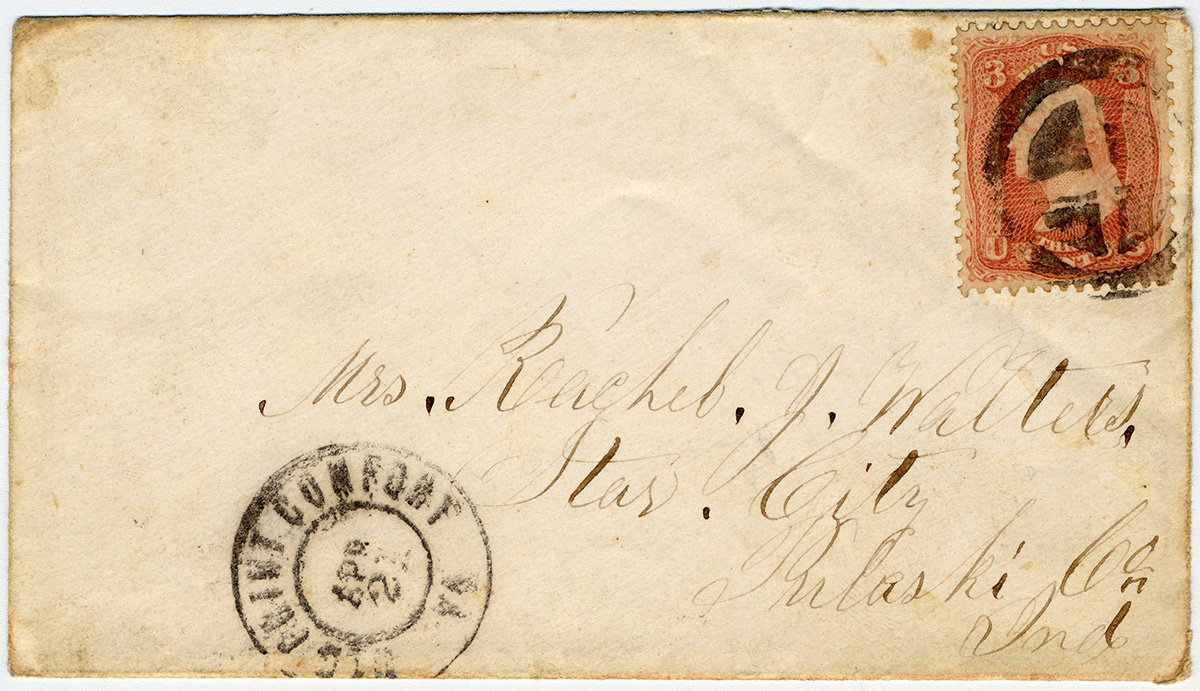 The cover that carried Isaac's sympathy letter was postmarked at Old Point Comfort, Virginia. This had been the North's principal site to exchange flag-of-truce mail with the South. Had his brother David ever written a letter while a POW, his mail likely would have traveled through Old Point Comfort. None of David's 21 letters in the museum's collection date from after his imprisonment.
Isaac's next letter to his sister-in-law came from Washington, DC. He told of waiting there to participate in the Grand Review parade to take place on May 23 and 24.(3) His regiment returned to Indiana and mustered out on July 12, 1865.(4)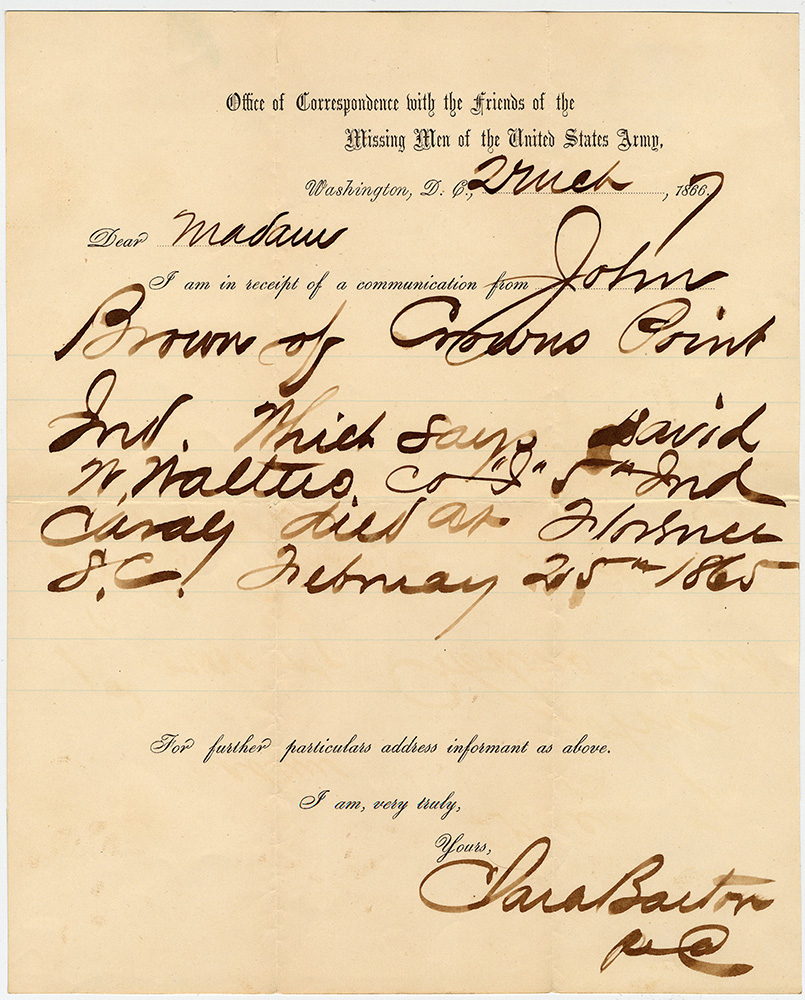 Rachel spent the next few years gathering details of David's death. With the help of Clara Barton's Missing Soldiers Office, Rachel compiled documentation to obtain David's pension.(5) Upon her death on December 15, 1868, the pension went to support their orphan son, Willard, under the guardianship of Rachel's father, Samuel Ward.(6)
The Walters family correspondence in the collection of the National Postal Museum consists primarily of letters to and from Rachel during the Civil War. In total, there are 95 covers, 81 letters, and 8 associated documents. It remains a mystery as to how Rachel's 17 letters sent to David were returned to the family.
Of Further Interest
Letter from David Walters to his wife Rachel written upon enlisting with the Union Army, September 29, 1862
Letter from Rachel Walters in response to her husband David, October 7, 1862
A selection of Civil War topics and objects at the National Postal Museum
Endnotes
Written by Lynn Heidelbaugh with letter transcription by Thomas Paone.