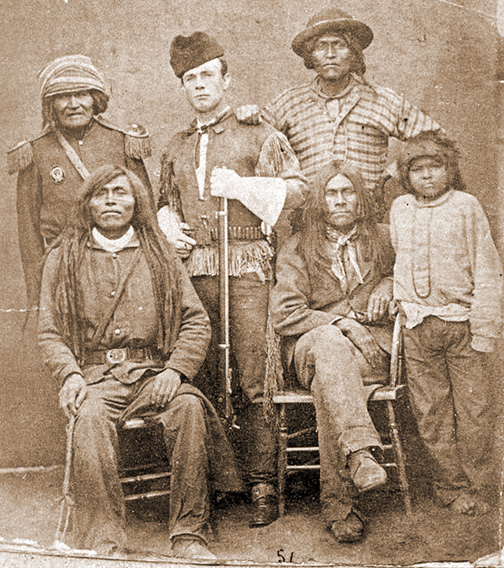 John P. Clum (1851-1932) was born in New York state and attended Rutgers University. In 1871 he joined the U.S. Army Signal Corps, which sent him to Santa Fe, New Mexico to record weather conditions. Three years later, he was tapped by friends at Rutgers to head the San Carlos, Arizona, Indian reservation. By that time, Clum had fallen in love with the west, and would return to it often in his life, including a stint in the 1880s as Mayor of Tombstone, Arizona, and editor of the Tombstone Epitaph newspaper.
Postal Inspector John Clum's Retirement Watch Fob
During a short break from his west coast life, Clum became a clerk in the Post Office Department's Inspection Service. It was an organization he would return to when back east again in 1891. Ever mobile, Clum spent the next few years working as a Postal Inspector in Texas and the American South.
In the summer of 1897, the gold strike in the Canadian Yukon/Alaska region set off a nation-wide rush to riches. The sudden, extraordinary population influx overwhelmed Alaska's tiny post offices and left the stampeders without a reliable mail service. Postal officials sent Clum to Alaska as a special inspector. His job? Make the Alaskan mail system work.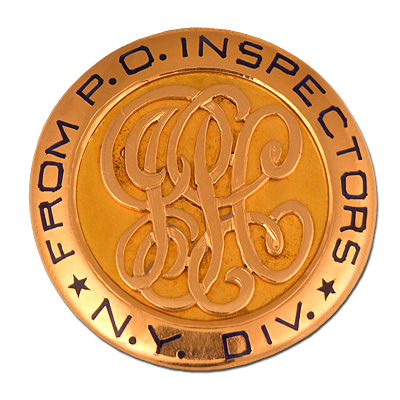 Clum worked for the Inspection Service off and on until 1911. In honor of his retirement, his fellow inspectors surprised him with this gold and diamond locket with the U.S. Post Office Department seal. Inside the locket are the names of his fellow inspectors.
Along with the locket came a letter from the inspectors touting their admiration and respect for Clum, noting that "We have ever found you genial, courteous and high-minded, faithful in the discharge of every duty assigned to you in the many years of your service, loyal in every respect to that which loyalty is due, marked with a calmness, serenity and certitude in action and urbanity in speech, that has made your name proverbial."
In his later years, Clum traveled the country giving lectures on the American west. He retired in 1920 to life on a farm in California. In his last decade, Clum kept in touch with surviving old friends, including Wyatt Earp, and worked to record the history he had viewed firsthand. He began work on his autobiography but had not finished by the time of his death. Woodworth Clum turned his father's recollections of the San Carlos years into a book, Apache Agent, published in 1936. At his funeral, friends mourned John Clum's death as a "sign of the passing of the Old West."
Written by Nancy A. Pope
Additional Imagery