On August 12, 1918, the Post Office Department took over full operations of the nation's Airmail Service. From May 15 to August 9, 1918, the Department was in charge of the service, but used Army Air Corps pilots and airplanes to fly the mail. Former Army Captain Benjamin Lipsner was hired by the Department as its first superintendent of the airmail service.
Airmail Schedule Dispatch Board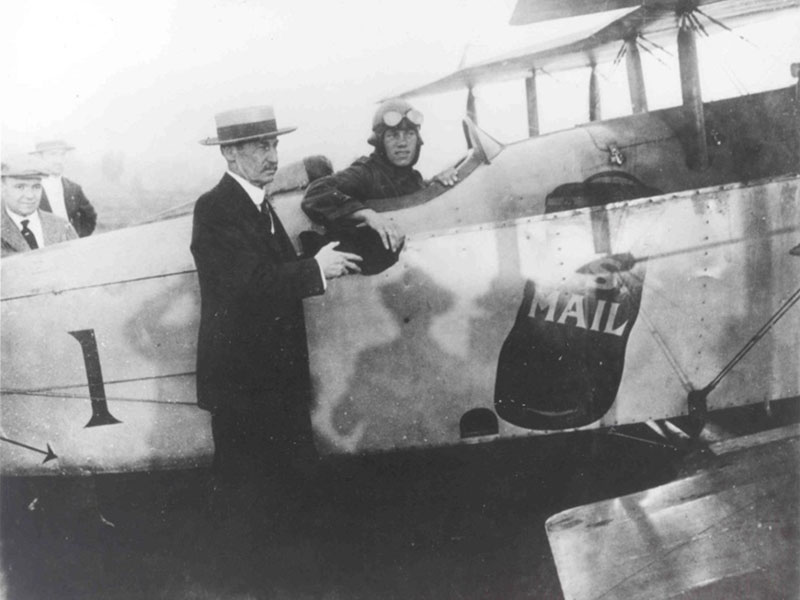 In 1918 the nation's airmail service was so tiny that Lipsner could use this single dispatch board to keep track of airplanes and pilots. He tracked each airmail flight by placing a marker into appropriate slots marking field, pilot and aircraft locations. The three locations served as airmail fields for the three cities served. College Park, Maryland served Washington, D.C., Bustleton, Pennsylvania served Philadelphia, and Belmont Park, Long Island, served New York City.
The rows are marked on the left side with the names of the three airfields. The columns at the top are marked Aviators; Hangers; College Park; Bustleton, PA; and Belmont Park. Additional columns offered officials the opportunity to show if aircraft were in shop, had a forced landing, or was making an extra trip. Weather conditions were a critical part of each day's service, and this board shows that by allowing for a wind direction indicator and symbols for a variety of weather conditions – fair, snow, wind, fog, rain, or haze.
Red markers with pilots' names on them were used to show flight progress. The flags for airmail pilots Eddie Gardner and Max Miller are still attached to the board. Unaccounted for on the board are Robert Shank and Maurice Newton, the other two pilots hired by the Post Office Department to fly the mail in the first days of the August service.
Written by Nancy A. Pope
Additional Imagery