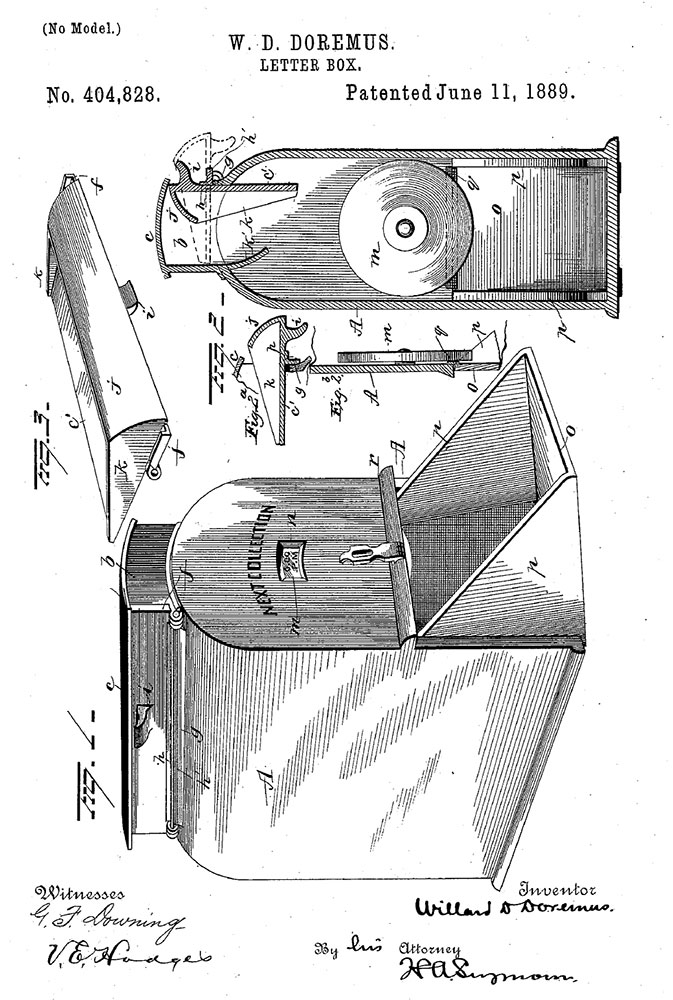 The Doremus mail collection box (or letterbox, as they were known in the 19th century) was a common sight on American city streets from the 1890s through the early 1900s. This box was patented in June 1889 and manufactured by the Reading Stove Works in Pennsylvania. The museum does not have a record of the city in which it was used. The box was designed by an inventor named Willard Delmont Doremus. Doremus registered patents for a range of inventions, from an improved faucet in 1879 to a device for dispensing sugar in restaurants that was filed by his wife Effie, Doremus in 1918. Doremus had died three years earlier after suffering a heart attack.
Willard was born in October 1852 in New York. By the 1880s he had moved south to the nation's capital where, in 1891, he married Effie F. Daily and supported himself by selling his patents to existing companies. In 1889 he patented a pair of locks, assigning the patent to the Corbin Lock Company of New Britain, Connecticut. In 1892 his patent for a "paper-file holder" was assigned to Edmond Woodruff, a file and cabinet maker. In 1901 he patented a case to hold a vending machine as well as a coin-controlled dispenser for items. He assigned both patents to the Rex Cigar Vending Company. Other patents included a lighting mechanism for lamps in 1891, an autograph time recorder to keep track of workers in 1908, and a stamp cancelling and marking machine in 1911.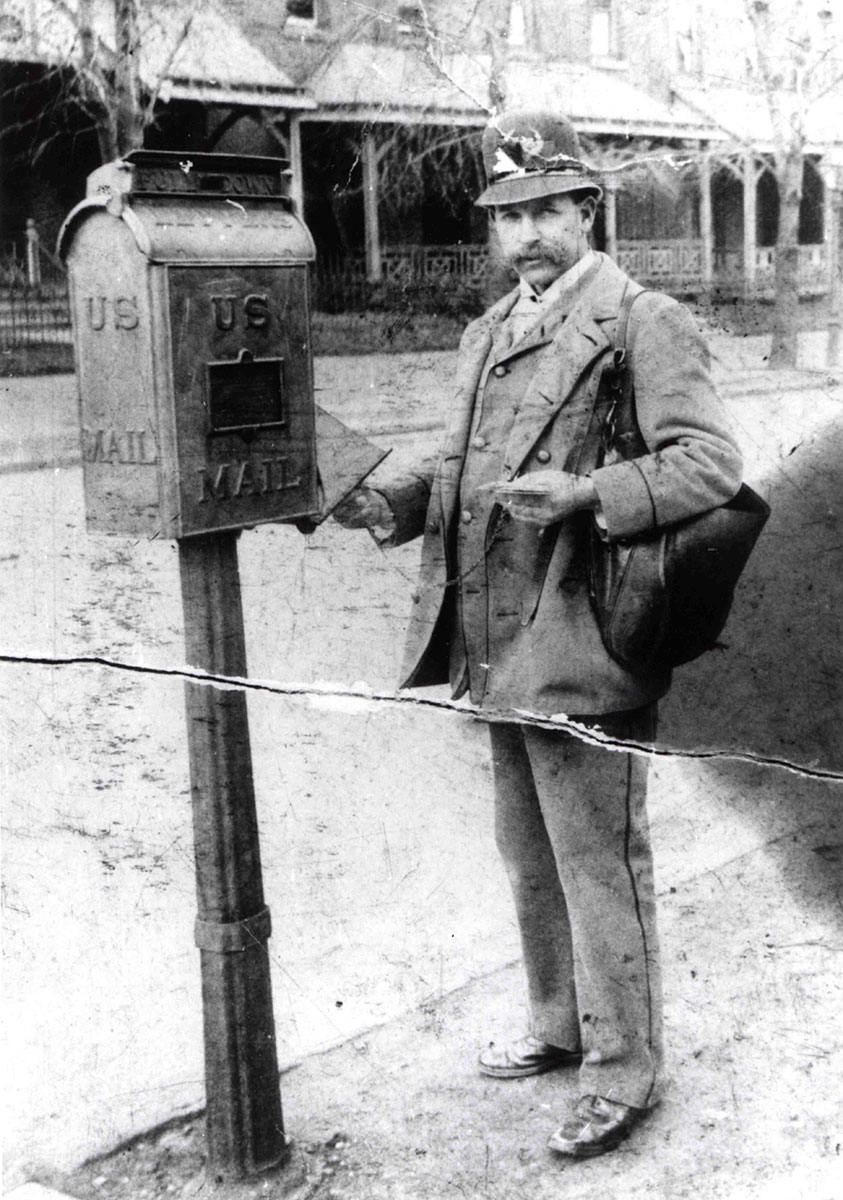 Doremus patented this collection box design in 1889. In his application (#404,828, June 11, 1898), Doremus noted that "the object of the invention is to provide against unwarranted and unauthorized tampering with the mails while awaiting collection, and, further, to provide against any exposure of the contents to rain, fire, or other calamity." This design was one of hundreds of applications sent to the patent office in response to a circular sent out by postal officials in 1888 looking for a better public collection box. The Post Office Department began using these boxes in the 1890s. At the time, collection boxes were not the familiar four-footed square boxes we are so familiar with today. Instead, they were much smaller and attached to lamp and other posts along city streets.
The Doremus collection box was manufactured in three different sizes. The #1 box had a 750 cubic inch capacity, the #2 box 1,180 cubic inch capacity, and the largest box, the #3, had 2,360 cubic inches of capacity. Patrons would use little nobs to "pull down" and open the lid to insert mail. Carriers collected mail by unlocking a lower door on the side of the box. A Los Angeles Times reporter noted that the box design could fool people at first. "I saw a well-dressed young man approach one of these boxes the other day to mail a letter, doubtless addressed to some fair one far away. He looked for the customary slot on the side of the box, but it wasn't there. The young man was surprised, and his surprise visibly increased when the opposite side was discovered equally devoid of an opening of any kind." After the man raged against the box for several minutes, the reporter notes that a young girl approached him, noting "if you will pull one of those side knobs at the top of the box you can drop your letter."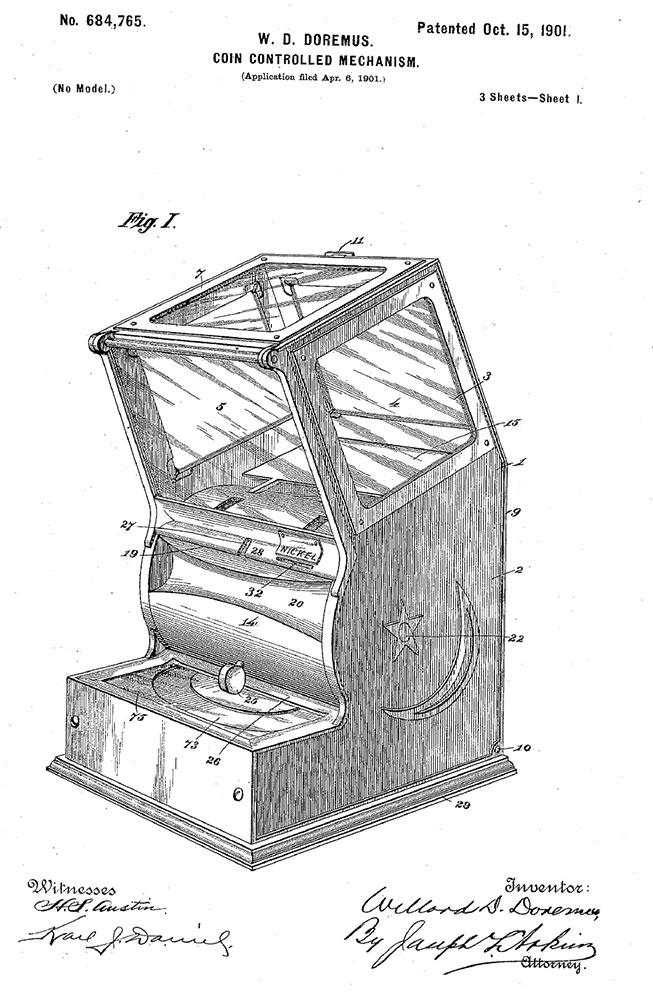 Doremus used this success to promote his other inventions. In 1902 he published a series of ads in newspapers selling shares in the "Doremus Automatic Vending Machine." The ad noted the machine was "the latest and greatest invention of WILLARD D. DOREMUS, The Mail Box Inventor." If that was not enough, the advertisement included a drawing of his mailbox with notations that "there are now 100,000 of the Doremus Letter Boxes in Use by the Government."
A few years later Doremus found himself in hot water when he was indicted along with New York state senator George Green and former postal official George Beavers on charges of conspiracy and bribery. The government accused Doremus and Green of bribing Beavers to purchase canceling machines invented by Doremus. They were tried in 1906, charged with offering Beavers a kickback of $25 for each canceling machine the government purchased through the Doremus Machine Company. After a four week trial, Doremus and Green were found not guilty. Doremus died in 1915 at 62 after suffering a heart attack in the patent office. He was survived by his widow Effie and a son, Cornelius. He was buried in Washington, D.C.'s Rock Creek Cemetery.
Written by Nancy A. Pope