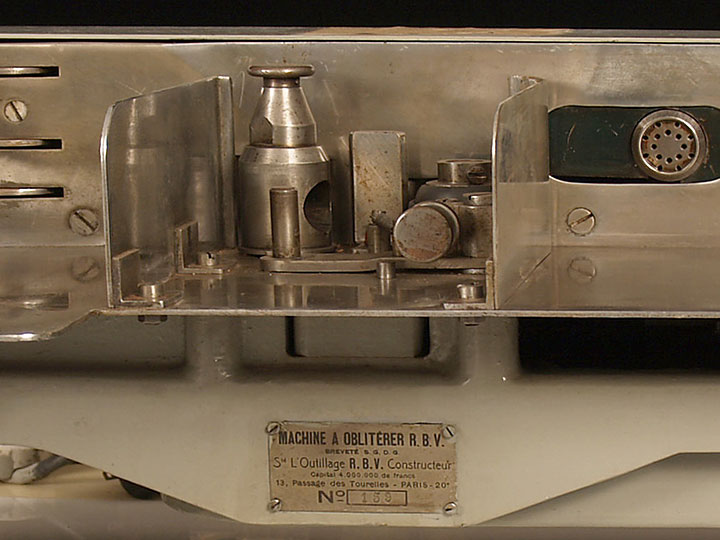 Exploring NPM's Offsite Attic
What is this object? It is a cancelling machine manufactured in France, although it has an American-made motor. It was possibly used at the Benjamin Franklin Station, but that location has not yet been verified and there is some conflicting evidence that points to other spots. It is 13 inches high, 28.5 inches wide, and 29 inches deep, and it weighs 185 pounds. Beyond that, we know very little about it.
What is its significance? When was it used? Why does the Smithsonian own it? As a curator, part of my job is researching the objects in our collection, and sometimes that means being a detective to track down lost information.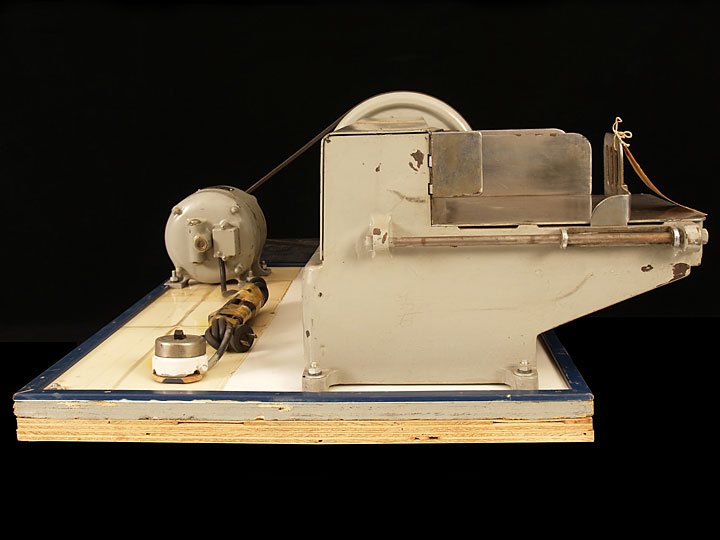 My first lead is the label "Sté. L'Outillage R. B. V. Constructeur." This is the imprint of a company founded in 1913 by three engineers, Monsieurs Roux, Braconnier and Vorms. It also gives a potential date of manufacture for the machine, because this style was produced between 1932 and 1951, although it could have been kept in use for long after that.
Next I am going to search postal purchasing records to see if there is any information about foreign-made machinery. Was this a cancelling machine used in a military post office in Europe? Then I am going to look at the curious General Electric motor. Was it original to the design or was it a replacement part? Was the motor a modification for use in America, which runs on a different power standard than France?
Museums usually only have a small percentage of their collections on exhibit at any given time. At NPM we have less than 1% of our collection currently on display. The rest of our objects are in storage. Although we keep many objects in our collections storage areas at the museum, many of our larger objects have been scattered among several offsite storage facilities maintained by the Smithsonian for decades.
As for the French cancelling machine, museum technician Rebecca Johnson was surprised by the contents of the first box. "It was the heaviest object I've ever had to move!" she remarked. Other members of the museum have stepped in to help.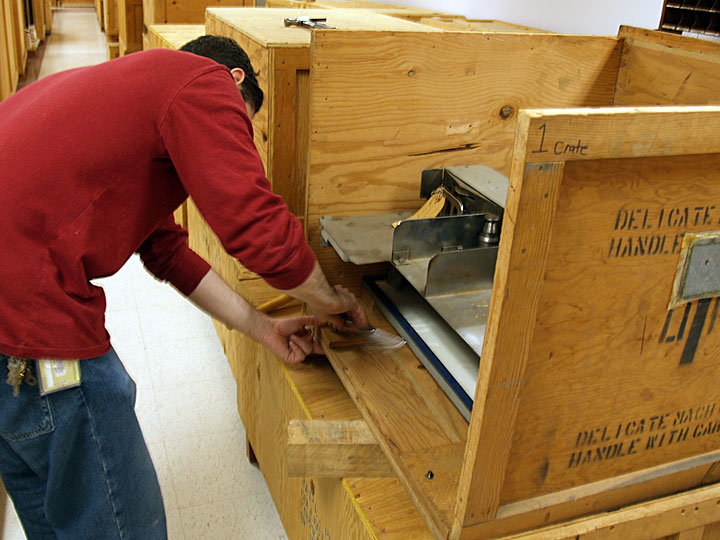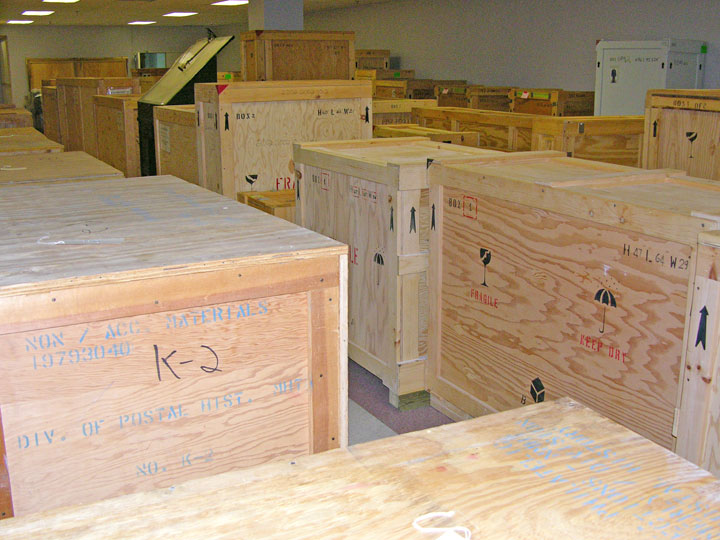 Resources
Early cancelling machine patent models
Cancelling Machine Data. Industrial Engineering Division, Office of Research and Engineering. (Washington: U.S. Post Office Department, 1964)
Perspectives on Object-Centered Learning in Museums.  Ed. Scott G. Paris. (New Jersey: Lawrence Erlbaum Associates, 2002)
Written by Allison Marsh