Herb Morrison, WLS Chicago radio reporter, and engineer Charlie Nehlsen captured the Hindenburg disaster on lacquer disc.
00:00
It's starting to rain again; it's… the rain had slacked up a little bit. The back
00:05
motors of the ship are just holding it just enough to keep it from…
00:10
It's burst into flames! … Get this, Charlie; get this, Charlie! It's fire… and it's
00:14
crashing! It's crashing terrible! Oh, my! Get out of the way, please! It's burning
00:17
and bursting into flames and the… and it's falling on the mooring mast. And all the folks
00:22
agree that this is terrible; this is the one of the worst catastrophes in the world. … Crashing,
00:26
oh! Four or five hundred feet into the sky and it… it's a terrific crash, ladies
00:32
and gentlemen. It's smoke, and it's in flames now; and the frame is crashing to the
00:36
ground, not quite to the mooring mast. Oh, the humanity! And all the passengers screaming
00:41
around here. I told you; it — I can't even talk to people, their friends are out
00:47
there! Ah! It's… it… it's a… ah! I… I can't talk, ladies and gentlemen.
00:52
Honest, it's just laying there, a mass of smoking wreckage, and everybody can hardly
00:58
breathe and talk… I'm sorry. Honest, I can hardly breathe. I'm going to step inside
01:06
where I cannot see it. Charlie, that's terrible. I… Listen folks, I'm going to have to
01:15
stop for a minute, because I've lost my voice… This is the worst thing I've ever
01:18
witnessed.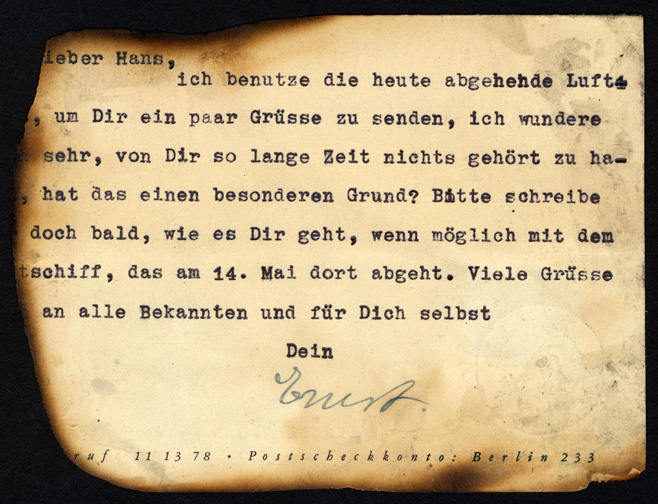 The German zeppelin Hindenburg made sixty-three flights, including ten roundtrips to the United States in 1936. It met tragedy May 6, 1937. Attempting to land at Lakehurst, New Jersey, the giant airship burst into flames near the mooring mast. In only thirty-two seconds, the zeppelin was smoldering wreckage. Amazingly, nearly two-thirds of the passengers and crew survived (thirty-five people on board died plus one member of the ground crew; sixty-two survived). The zeppelin was 803'10" long—almost three football fields end-to-end. The cause of the disaster has never been determined. However, the prevailing theory is that a discharge of electricity from the storm that evening ignited some leaking hydrogen. Sabotage has been ruled out as a possibility due to lacking evidence of any kind.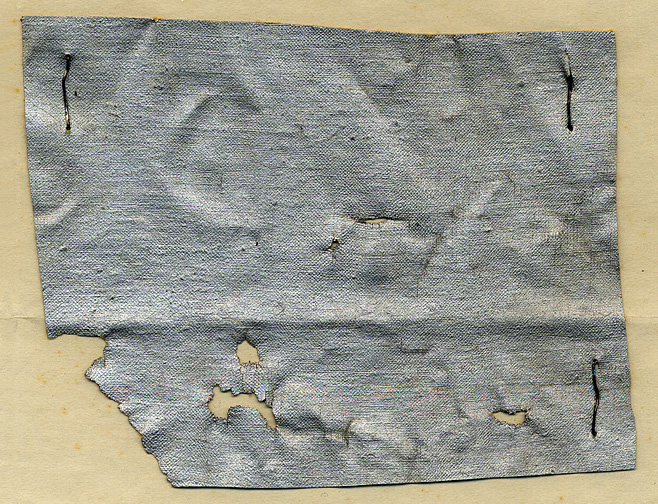 This postcard was part of the mail salvaged from the wreckage. The U.S. Post Office Department enclosed the fragile, charred remains in a glassine envelope and officially sealed it before delivery to the addressee. This folded postcard, also known as an 'economical folded business card', allowed the sender to type the address and message without turning the card over. After typing, the address portion was folded to become part of the card face and then glued into place. This card, addressed to John Schoonbrod in New York City, has a typed message on the reverse in which Ernst wrote that he was sending greetings by air, asked why he had not heard from Hans for awhile, and suggested a reply on an upcoming return flight of the Hindenburg. The international postcard rate was 15Rpf and, therefore, the rate is overpaid by 10Rpf. Though 10 Rpf was the required rate for airmail service in the U.S., no airmail was needed for a New York City destination.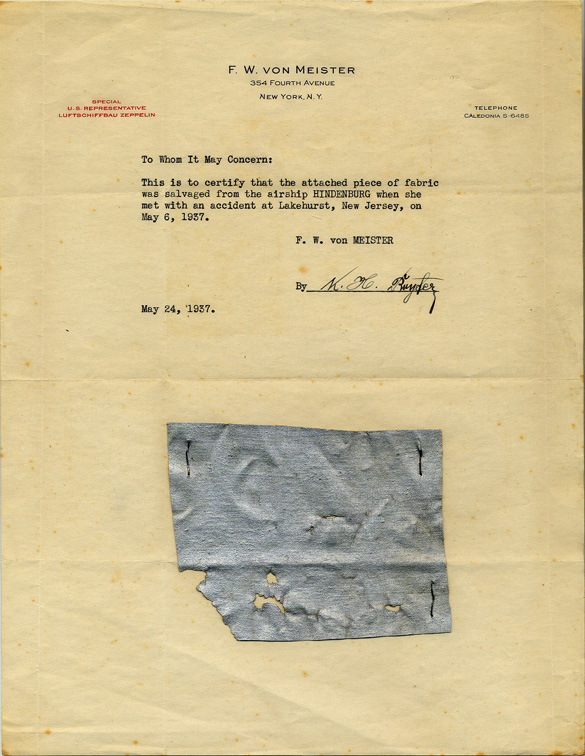 Postal officials salvaged approximately 358 pieces from the 17,609 estimated pieces of mail on the flight. Of these, 176 salvaged items were unburned (with a few exceptions) because they were stored in a protective, sealed pouch awaiting postal service on the return flight, and they later received a paquebot postmark. Several other varieties of Hindenburg crash mail exist from the final flight, including mail dropped over the city of Cologne in Germany, mail posted onboard (two cancel types) by passengers and crew, mail transmitted from other countries (Danzig, Netherlands, Austria, and Switzerland), mail found in the wreckage after the postal inspectors left, and mail intended for the return flight. Forgeries exist.
This philatelic gem is from the John P. V. Heinmuller collection, a collection including over two thousand zeppelin covers that Heinmuller donated to the National Postal Museum.
Suggested Readings
Harold G. Dick with Douglas H Robinson, The Golden Age of Passenger Airships: Graf Zeppelin & Hindenburg (Washington DC: 1985).
John Duggan, LZ129 Hindenburg - The Complete Story and Zeppelinpost: LZ129 Hindenburg (Ickenham GB: 2002, 2004).
Arthur Falk, Hindenburg Crash Mail: The Search Goes On (New York: 1976).
Martin Feibusch and Cheryl Ganz, "Hindenburg Crash Cover Forgeries and Passenger Moritz Feibusch," The Zeppelin Collector (July 1988): 51-54.
Cheryl Ganz, "Come Take a Ride on the Hindenburg: Creating an Aerophilatelic Display Class Exhibit," The Airpost Journal (February 2003): 67-74.
Dieter Leder and Siegfried G. Scheike, "Forgeries of the Lakehurst Mail," The Airpost Journal (June 1988): 217-219.
Michel Zeppelin- und Flugpost-Spezial-Katalog 2002 (2nd ed.) ( München, Germany, 2002).
Sieger Zeppelinpost Spezial-Katalog (22nd ed.) (Lorch: Germany, 2001).
Historic Airplanes: Hindenburg 
Written by Cheryl R. Ganz