On the sixth westbound flight of the zeppelin Hindenburg to Lakehurst, New Jersey, August 5-8, 1936, two famous personalities were aboard: actor Douglas Fairbanks, Sr., and boxer Max Schmeling. Captain Albert Sammt asked the two passengers to sign this picture postcard on the second day of flight over the Atlantic Ocean. He addressed the card to himself in care of Hindenburg at its destination. The card received the special onboard postmark that translates "German airmail Europe – North America, Airship Hindenburg, August 6, 1936, 6th flight." It also received the special red circular cachet as evidence that it was posted on this flight. Finally, after landing, the card was sent to New York for processing and then returned to Lakehurst, where Sammt received it. Neither passenger could have predicted that one day their portraits would appear on postage stamps.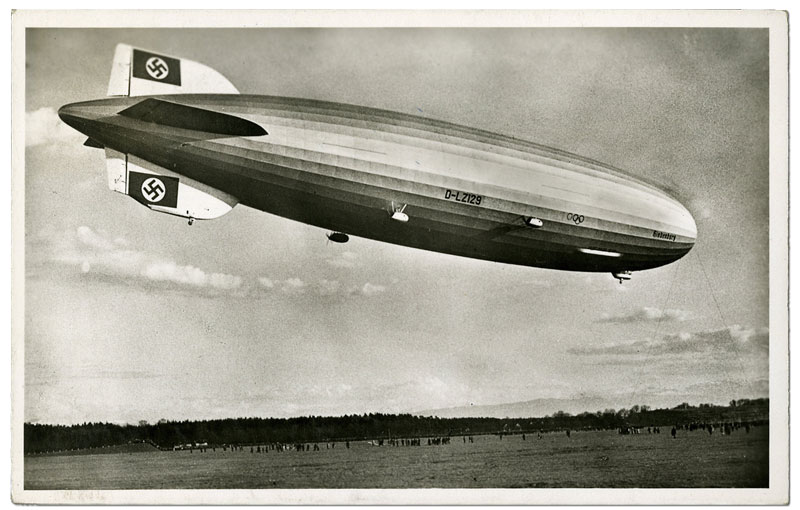 Fairbanks traveled with his bride, the former Lady Sylvia Ashley, a British musical comedy actress. He also brought the first animal aboard Hindenburg, his sixth-month old Scottie dog, named Bobby Burns, who moved freely about the passenger quarters. The couple spent time visiting with other passengers over cocktails and working a jigsaw puzzle in addition to watching out the promenade windows, enjoying sumptuous meals, and taking a guided tour of the interior of the zeppelin.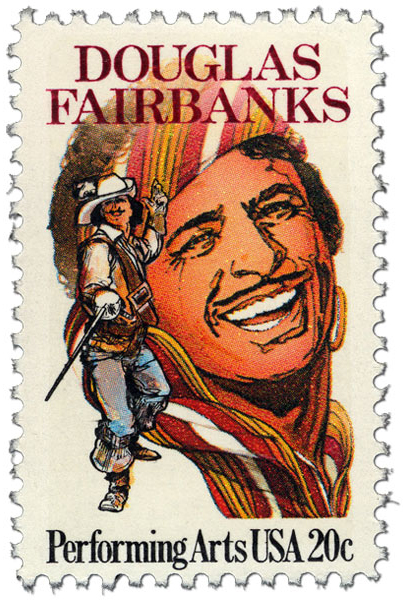 Schmeling, world heavy weight champion from 1930 to 1932, stayed alone much of the trip, reading and writing. After his knockout win over Joe Louis earlier that summer, Schmeling had traveled by Hindenburg from Lakehurst to Frankfurt. After this second zeppelin flight he planned to begin training for his next bout. The next year, after Hindenburg's disaster, Schmeling told reporters that he had booked travel on the ill-fated trip but had changed plans. Wanting to reach New York sooner than the zeppelin's scheduled arrival, he had traveled by ship instead.
The sixth North America crossing of 1936 was uneventful. While flying over New York City, Hindenburg dropped a parachute with pictures of the Olympic Games and Spanish revolution. Strong winds, however, forced a delay in landing at the naval air station. As a result, passengers enjoyed a sightseeing flight over Atlantic City, Baltimore, Washington, and Philadelphia before a late evening landing. After Hindenburg landed and was docked inside Hangar One, the passengers disembarked and continued on their way while an American Airlines plane carried Hindenburg mail to New York City for further distribution.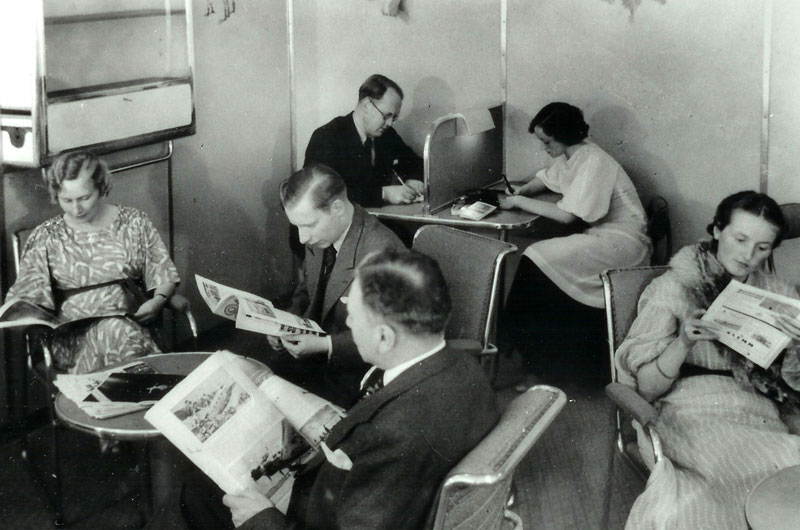 As the largest, fastest, and most glamorous airship ever built, Hindenburg offered travelers elegant accommodations and provided postal services. The ship made ten round trips to North America in 1936, as well as flights over Europe and to South America. Hindenburg's passengers, primarily business professionals and occasionally their families, enjoyed lavish onboard service and comforts.
Hindenburg, a sub-post office of the Frankfurt post office, underwrote expenses by carrying mail. It provided the first regularly scheduled, entirely by air post service between Europe and North America. Located across from the radio room, the post office operated only during flight. Postmasters Kurt Schönherr (1936) and Max Zabel (1937) changed the date stamp daily to postmark mail from passengers and crew with the special onboard marking.
The Zeppelin Company of Friedrichshafen, Germany, completed the 804-foot-long LZ-129 Hindenburg in 1936. Financed in part by the Nazi regime, the rigid airship, designed to use non-flammable helium for lift, confirmed Germany's technological prowess as Adolf Hitler prepared for war. The U.S. refused to sell helium to the Zeppelin Company, which instead used highly flammable hydrogen for Hindenburg's lift. On May 6, 1937, carrying ninety-seven passengers and crew, the giant ship burst into flames at Lakehurst, New Jersey. The disaster destroyed the ship in thirty-four seconds, ending the magnificent era of lighter-than-air commercial travel.
For further reading
Fire & Ice: Hindenburg and Titanic
"Max Schmeling on the Hindenburg" 
"A Flight on the Hindenburg: One Passenger's Account"
Written by Cheryl R. Ganz