After the introduction of the postage stamp in 1847, the Post Office Department had to ensure that the stamps were not reused by wily customers. Marking, or canceling, the stamp by hand was a labor intensive process. As mail volume increased, hand-canceling proved to be impractical.
Leavitt cancelling machine patent model
Beginning in the early 1870s in Pittsburgh, Pennsylvania, inventors began designing machines to improve the efficiency of canceling stamps. One of the challenges of postal mechanization is accommodating letters of different size, shape, and thickness. Because of their limitations, the early canceling machines were used primarily with postal cards.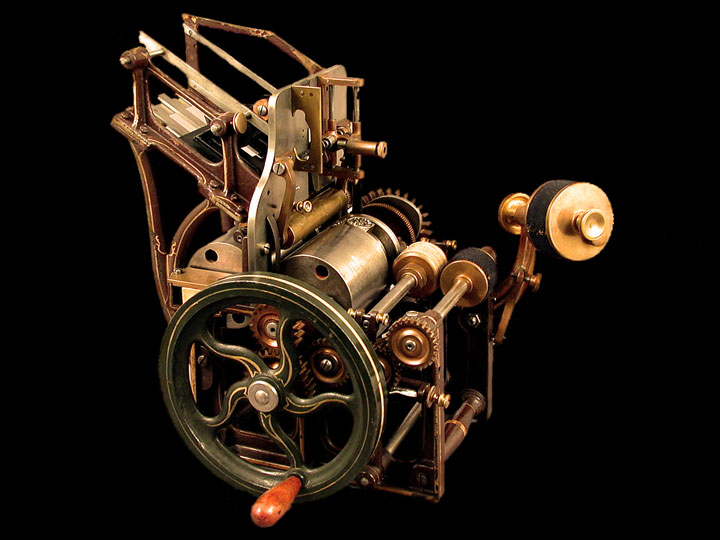 In 1875 Thomas and Martin Leavitt were granted patent 175,290 for a mechanized canceling machine. The brothers tested their hand cranked, hand fed machine at the Boston Post Office, although there was no formal agreement between them and postal officials. Their first design was a failure, but after several modifications they submitted a second patent. Patent 192,519, is often credited as the first practical device for mechanized canceling.
Although Martin Leavitt passed away in 1877, Thomas continued to improve the invention, enlisting the help of his relative Elijah Leavitt Howard to construct the machines. Thomas Leavitt eventually received five patents for improvements to post marking and canceling machines.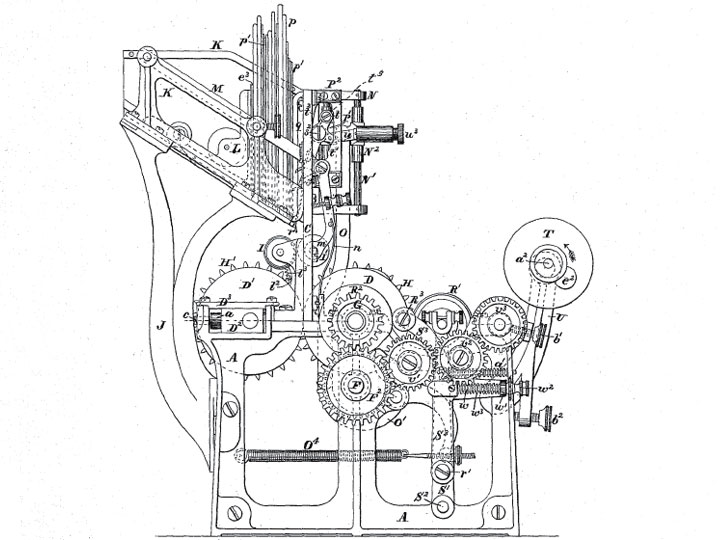 The National Postal Museum has two of Leavitt's original patent models in its collection, as shown in the images to the right. Patents 219,586 and 219,587, awarded on September 16, 1879, improved the feeding mechanism for separating a stack of letters or cards and individually pulling each mail piece through the rollers for canceling.
The feeding mechanism specified in patent 219,587 was similar to a toothed claw that grabbed the mail piece. Philatelists who have examined canceled cards dating from 1879 have not found examples with tooth marks, and have concluded that it is unlikely the improvements in patents 219,586 and 219,587 were widely implemented.
Miniature Machines
From 1780 until 1880 the United States Patent Office required each inventor to submit a working model of his or her invention. According to the Patent Act of July 4, 1836: "The model, not more than 12 inches square, should be neatly made, the name of the inventor should be printed or engraved upon, or affixed to it, in a durable manner."
Unfortunately two major fires, one in 1836 and one in 1877, destroyed many of the early models. In 1912 Congress attempted to sell the patent model collection, but most of the models were simply put into storage. In 1925 Congress donated 2,500 patent models to the Smithsonian, selling the remainder. Patent models are showcases of inventive minds and offer great examples of the evolution of technology.
Additional information
Payne, Robert J. Thomas Leavitt His History and Postal Markings 1875-1892. United Postal Stationery Society, 1999.
Stratton, Frank B. Descriptive Catalog of the Leavitt Machine Cancellations. United Postal Stationery Society, 1985.
Written by Allison Marsh