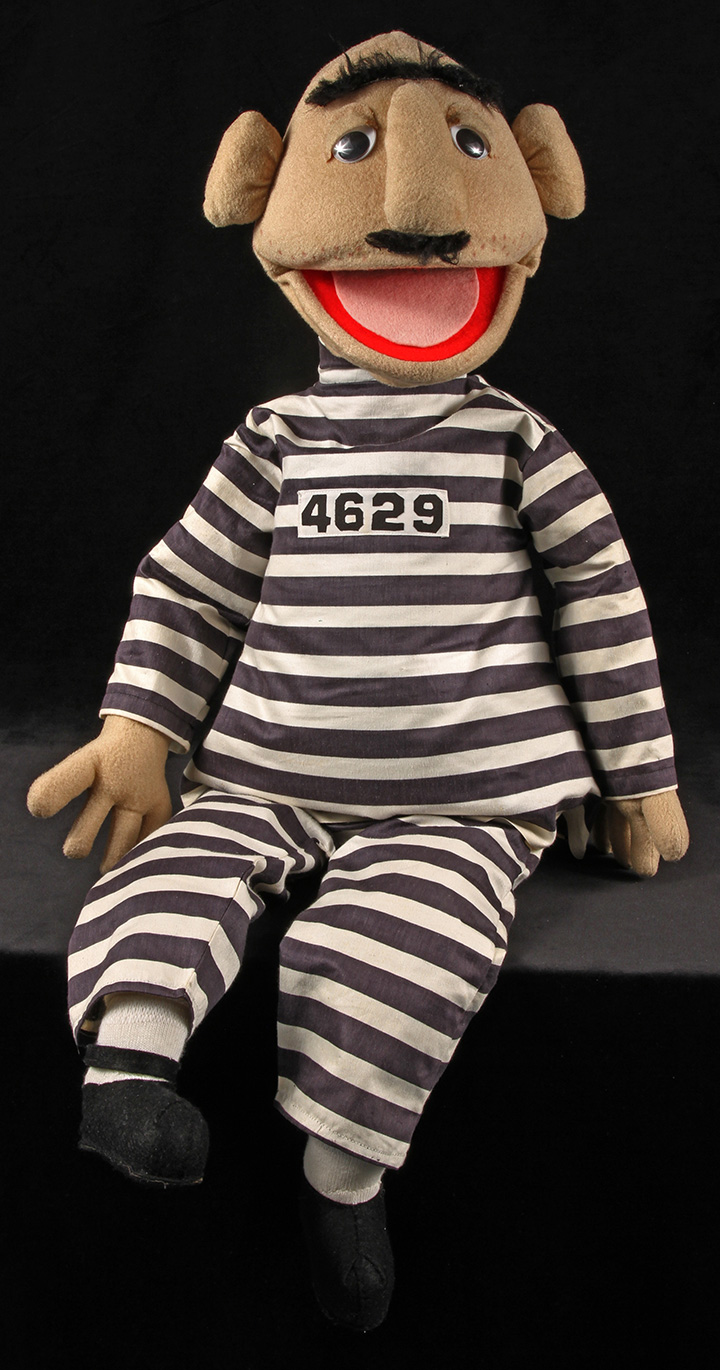 In 2013 the museum took custody of the puppet known as the criminal Elwood P. Zap, aka Mr. Zap. This hand puppet had a brief, but lively, career with the U.S. Postal Inspection Service. The Mr. Zap character made appearances at the five regional conferences for 1979's National Postal Forum series.
The use of the Mr. Zap puppet was developed to be innovative and to breathe life into the Postal Inspection Service's educational programming for the annual mailing industry conference. The concept for the puppet grew out of brainstorming meetings between five postal inspector program managers: Al Dockus, Jeff Taylor, Bob Krut, Dick Metz, Jim Hanney, and Barry Smith. The team hired professional puppeteer Mike Cotter to give voice to Mr. Zap's stories as "a legendary villain notorious for his first-hand knowledge of postal crimes" (Postal Inspection Bulletin, Spring 1979, p. 16). The team produced a film featuring Mr. Zap and created a script for the panel of regional chief inspectors to read and interact with the film.
"I will zap you," was the puppet's cheeky catchphrase. This was part of the play on the puppet's name, which, according to Al Dockus, also derived from the Post Office Department's Mr. ZIP character. Mr. Zap's tagline in the film, along with stories from actual cases, encouraged the audience to be vigilant against potential postal crimes. The presentation was augmented with slide shows on mail fraud, mail theft, and mail room security, which was particularly important for the businesses in attendance.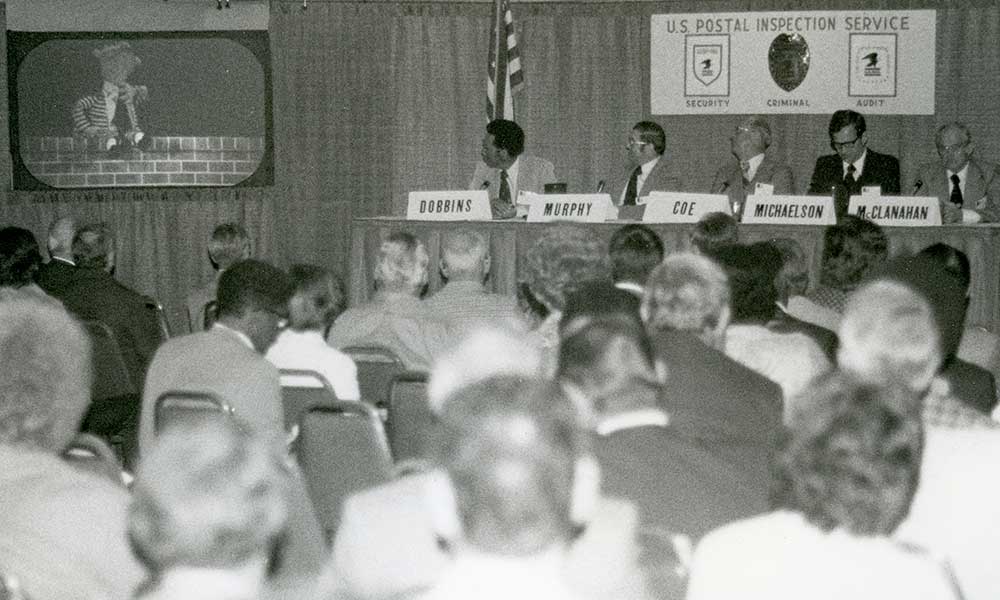 The Postal Inspection Service has a long history of educating the public and continues with enlivened programming today. Through outreach efforts and publications, the Postal Inspection Service strives to inform and advise postal workers, the mailing industry, and patrons. Empowering employees and customers with information about mail security and safety can be a front line defense to curbing postal related crimes.
The educational duties for the Mr. Zap puppet were suspended for good following his 1979 conference appearances. The Postal Inspection Service decided that the gig was over for Mr. Zap. All five copies of the puppet were furloughed.
Mr. Zap's four known associates may still be on the loose, though they are not considered dangerous. They look exactly like him, even with the same identity number on the chest – 4629. A group photograph shows one of the puppets measured about half size. Postal Inspector Tripp Brinkley reported, "Rumor has it that at least one scrounged up a change of clothes before disappearing with some guy named Jim Henson, but that's just a rumor."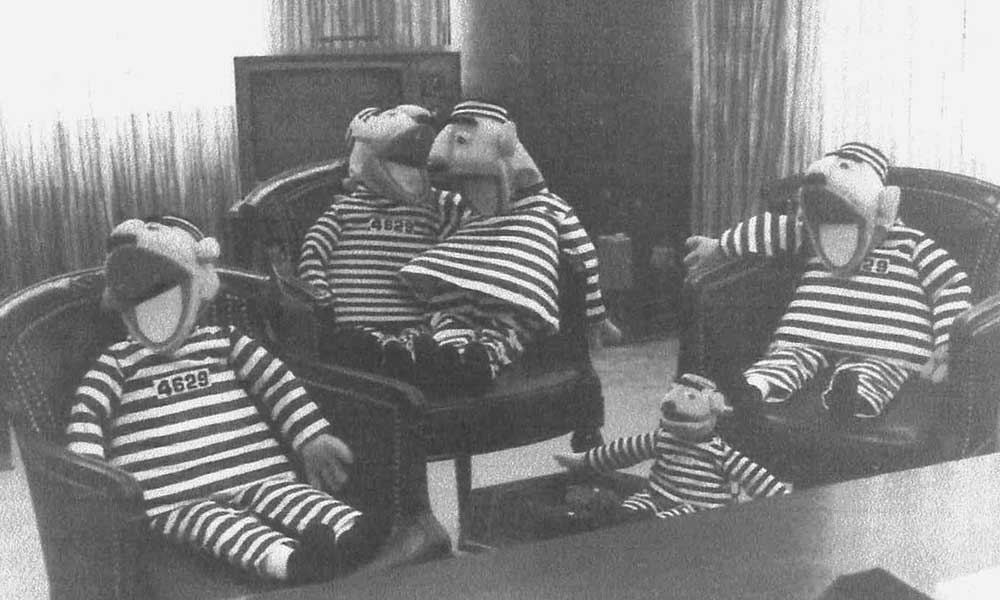 This Mr. Zap puppet was apprehended, hiding in plain sight, among archival boxes and historical artifacts in the Postal Inspection Service's storage site. He was one of over 500 items from the Postal Inspection Service's collection that were transferred to the National Postal Museum. The selection of the puppet and other items were part of a collaborative effort to evaluate, preserve, and exhibit the Postal Inspection Service's extensive collection of historic materials. Many documents, photographs and books were retained by the historian's office and library of the U.S. Postal Service. The National Postal Museum accessioned educational ephemera, such as posters and brochures, along with objects from closed cases, as varied as counterfeit stamps and a safe burned during the burglary and arson of a post office.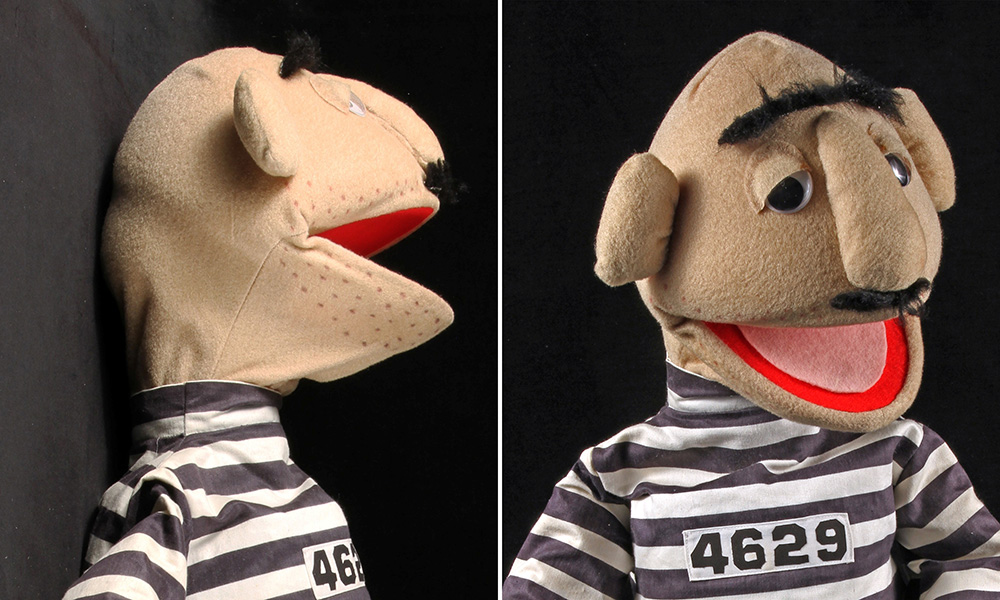 When he arrived at the museum, Mr. Zap underwent a full body search and was assigned the tracking number 2013.2011.74.­ He received careful conservation for his well-being. This included transplanting the degraded foam in his torso. An acrylic form was added inside to help position his mouth. A fabric anklet is still present above his right foot; at some point in the past, Mr. Zap broke free and lost the ball and chain accessory that had been attached. Extensive investigations also failed to locate his missing hat, which had matched his striped prison uniform.
In the summer of 2014, Mr. Zap resumed his educational activities while he is confined to an exhibit case at the museum. He can be seen in the Behind the Badge exhibition during the museum's visiting hours.
For Further Information
U.S. Postal Inspection Service
References
"At the Regional Forums with Elwood P. Zap." Postal Inspection Service Bulletin. Spring 1979. P. 16.
Brinkley, Tripp. "Elwood P. Zap." Email to Nancy Pope. November 4, 2013.
Dockus, Al. Phone conversation with Lynn Heidelbaugh. October 10, 2014.
Written by Lynn Heidelbaugh
Additional Imagery
The ball and chain, now missing, is visible with Mr. Zap as he works with part of his creative team, Jeff Taylor (left) and Al Dockus. Courtesy U.S. Postal Inspection Service.

Mr. Zap has a high perch above Program Managers Don Higgenbotham (left) and Barry Smith at the Postal Inspection Service's information booth, National Postal Forum, 1979. Courtesy U.S. Postal Inspection Service.