[Owney] has traveled the length of every railroad in the United States and has seen the inside and enjoyed the hospitality of more post offices than the oldest inspector of the service. - Hopkinsville Kentuckian, January 4, 1895
On July 27, 2011, one of the museum's most interesting objects was commemorated with a United States postage stamp. During his lifetime a scruffy mutt named Owney was the nation's most famous canine. From 1888 until his death in 1897 Owney rode with Railway Mail Service clerks and mailbags all across the nation.
Forever Owney the Postal Dog stamp
Owney's story begins in 1888 with his attachment to the mail clerks and mailbags at the Albany, New York, post office. His owner was likely a postal clerk who let the dog walk him to work. Owney was attracted to the texture or scent of the mailbags and when his master moved away, Owney stayed with his new mail clerk friends. He soon began to follow mailbags. At first, he followed them onto mail wagons and then onto mail trains, beginning an almost decade-long story of travels far and wide. Owney's journeys took him across the United States, into Canada, and possibly Mexico. On August 19, 1895, as part of a publicity stunt for the town of Tacoma, Washington, Owney left that city on a mail steamer and spent the next few months traveling around the world. He docked back in at New York City harbor in late December, returning by train to Tacoma on December 29, 1895.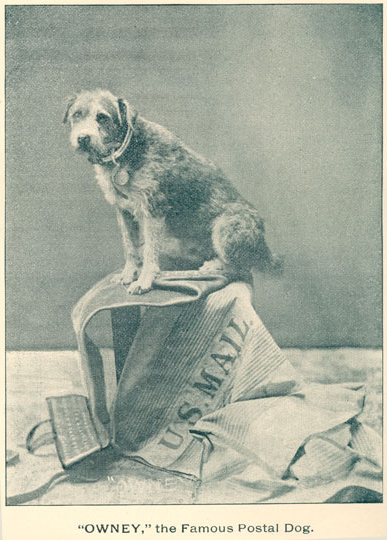 Among the first to visit the dog upon his arrival in town was often the local reporter, eager to learn where the dog had been, and share his travels with readers. This far-traveled canine would have achieved fame for his travels alone. But he also gathered attention for his fashion sense. Postal workers were the first to attach tokens to the dog's collar, but soon just about anyone and everyone who had the opportunity to give Owney a little souvenir of his trip did so. Before long the poor dog was carrying so many tags on his collar that he could barely keep his head upright. His mail clerk friends began shipping excess tags back to the Albany post office, where the postmaster soon put them on public display. Postmaster General John Wanamaker had a special harness built for Owney to wear, so his tags could be spread out evenly all over his body. A writer for the Brooklyn Daily Eaglereported that "Nearly every place he stopped Owney received an additional tag, until now he wears a big bunch. When he jogs along, they jingle like the bells on a junk wagon."
By the spring of 1897 Owney was in poor health. He had been "retired" from traveling and was living with a postal worker in St. Louis, Missouri. But the trains and the dog could not be separated and by June he was again riding the rails. On June 11, 1897 Owney was in the Toledo, Ohio post office. As usual, he'd followed the mailbags into the office where he was warmly greeted by postmaster Tucker and clerks.
Owney had often seemed reluctant to let people look at his tags, and on this day that reluctance took a violent turn, attacking and biting a mail clerk. The postmaster called for the town's marshal, who shot and killed the dog. The Toledo clerks refused to bury their beloved mascot. Clerks across the country asked that the dog receive the honor they considered he was due by being preserved and presented to the Post Office Department's headquarters. Owney was kept on display by the Department, and then forwarded to the Smithsonian Institution in 1911.
Owney's travels continue to enchant new generations and finally, 123 years after Owney rode his first mail car, his place in America's postal history will be cemented with his appearance on a postage stamp. The stamp features a profile of Owney's face against a backdrop of a few of his many tags. Now Owney's fans can celebrate this most fascinating postal pup in a most postal way.
Further reading
All About Owney the Railway Mail Service Mascot
Written by Nancy Pope