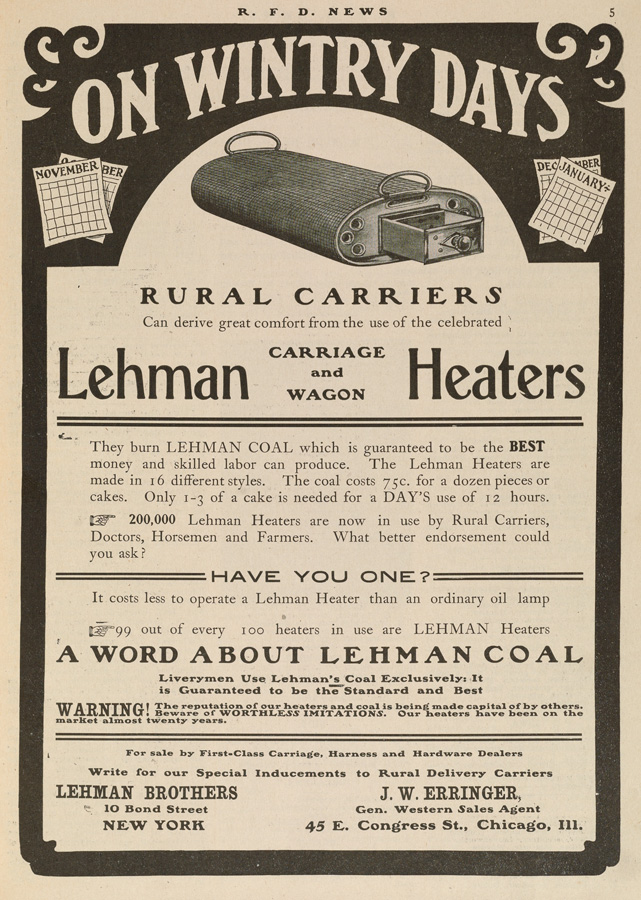 Most people are familiar with that old saying, "Neither snow nor rain nor heat nor gloom of night stays these couriers from the swift completion of their appointed rounds." It's not actually the postal service's motto, but has been closely associated with them ever since the architects constructing what became known as the Farley Post Office in New York City added the phrase to the outside of the building. The phrase, often repeated (usually in a mangled version) by carriers and patrons, recognizes the work carriers do to deliver the mail, regardless of the weather.
Rural letter carrier's carriage heater
Rural carriers as a group have often had the biggest weather challenges. In the decades before automobiles they were out in their wagons and sleds, plowing through snow or through mud from house to house. In frigid winter months carriers kept warm as best they could. For several, metal heaters were a great help. The slope of this triangular-shaped heater's top made it a comfortable resting spot to warm freezing feet. The side drawer held hot coals to fuel the heater. This heater has seen decades of use. When it was new it had a carpet that covered the metal case.
This heater was used by rural carrier Arthur J. Bessen for his route in Prairie du Rocher, Illinois. Bessen remembered that he purchased the heater "a short time after" he started working as a rural carrier on October 29, 1917. Bessen retired in October 1965 with forty-eight years of service.
A number of companies manufactured carriage heaters in rural carrier newsletters and magazines.  Lehman Brothers (not to be confused with the present day, recently bankrupted financial firm), the Chicago Flexible Shaft Company, and the H.T. Hearsey Vehicle Company were among those who advertised on a regular basis to carriers in the early 20th century. The companies often also sold coal for use in the heaters, arguing of course in their ads that only their brand of coal worked the best in any heater.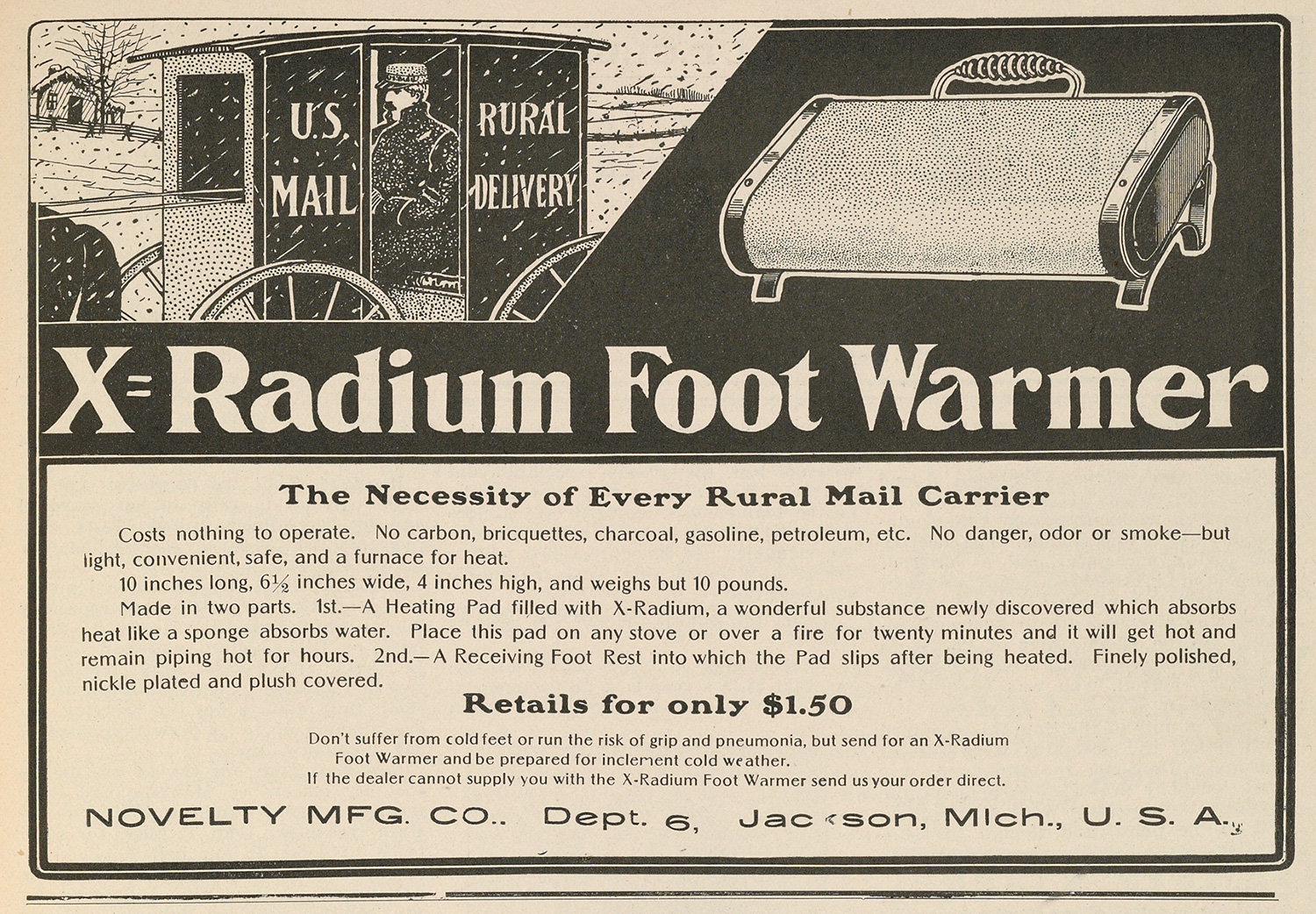 The most interesting heater advertisement from the early 20th century came from the Novelty Manufacturing Company of Jackson, Michigan. Their advertisement offered something much better than the old coal standby. Novelty advertised its "X-Radium" heater as the best and latest heating technology. An advertisement boasted that "one of its chief advantages is the fact that it requires no fuel. . . . the heating pad consists of a stamped steel receptacle filled with a substance which will attract itself heat rays and retain the heat attracted for several hours. The substance they used was radium.  Radium was an intriguing new material to manufacturers, who found a spot for it in a number of products, even toothpaste! In the first years of the 20th century the deadly power of radium was not yet understood and the idea of resting one's feet on a container of radioactive material did not sound as terrifying as it does to today's consumers.
By Nancy A. Pope