At 5:12 a.m. on April 18, 1906, an earthquake devastated San Francisco, California, and shook nearly the entire west coast of the United States. Ruptured gas lines ignited fires that burned for four days afterwards, destroying much of the city, including many post office sites. Since the quake and aftermath damaged wire communications connecting San Francisco with cities worldwide, news of the devastation did not spread until 10:05 a.m. U.S. Post Office telegraph operators transmitted messages until 2:20 p.m., when, with fires fast approaching, authorities ordered them to leave their posts. They transmitted their last message at 2:20 p.m. The earthquake and fires caused hundreds of deaths and millions of dollars in losses. Fortunately, the gorgeous United States post office at 7th and Mission, opened in 1905, survived. The natural catastrophe ranks among the worst in United States history.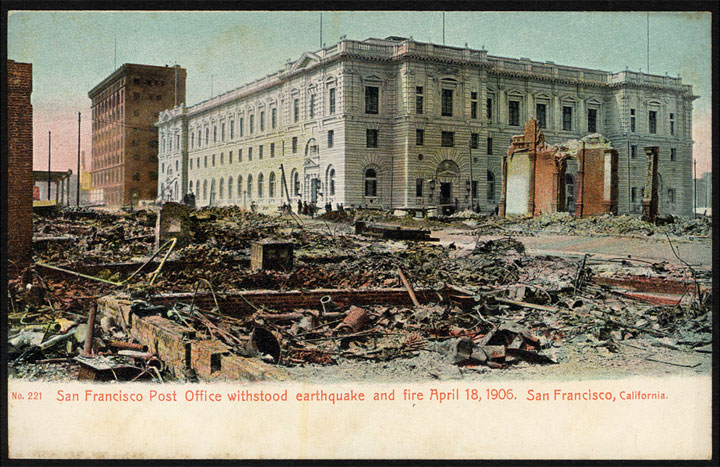 Emotionally and financially devastated citizens began rebuilding the city immediately. Despite bewilderment amid reconstruction efforts, postal services soon resumed at make-shift sites. A general delivery system was initiated so people could call at a post office and pick-up and deliver mail. Many postal workers remained at work during the crises, working to rescue post office mail and assets and to provide as much service as possible.
As an emergency measure, mail without stamps was accepted until the sale of stamps was possible at the main post office on April 25. Mail was postmarked in San Francisco and sent to the receiving post office, where postage due was assessed, postage due stamps affixed, and the fee collected from the recipient of the letter. The envelope featured here was postmarked at San Francisco on April 24, 1906. It arrived in Washington, D.C., where the recipient paid 4¢ postage due on April 30, 1906. The postal clerk applied the two 2¢ stamps. The obverse is handstamped "Rec'd April 30, 1906."
San Francisco Postmaster Arthur G. Fisk later reported to the postmaster general, "During the height of distress, much mail was received in this office without being properly prepaid in stamps. A feeling of humanity necessitated their receipt and handling, but I have stopped the wholesale receipt of such matter and have issued instructions and published in the newspapers the information that all mail matter must be properly stamped." His Post Office Report of 1906 notes that postage stamp sales resumed on April 25, only a week after disaster struck. 
Rapid resumption of postal services sent a powerful message to the country and world: San Francisco might be laid low, but its heart—its business and personal relationships—still beat. Civilian and military authorities speedily took other steps toward reconstruction and restoration of order. The city fire chief sent an urgent request to the Presidio of San Francisco, an army post on the edge of the stricken city, requesting dynamite to help smother the fires. Further, Mayor E.E. Schmitz ordered the temporary halt of all gas and electric utilities in a further attempt to suppress fires. With looting and other criminal activities a threat, Brigadier General Frederick Funston, commander of the Presidio (recipient of the Medal of Honor for his actions in the Philippine War) had already decided the situation required troops and had informed the mayor of his decision to assist. Although martial law was never declared, Funston, in cooperation with civilian authorities, assumed command of damage control and rescue operations.
References
Randy Stehle. "Auxiliary Markings - "BURNED OUT" in the 1906 San Francisco Earthquake & Fire,"  La Posta 20, Dec-Jan, 1989-1990: 7-11.
Randy Stehle. "1906 San Francisco Earthquake and Fire - Recent Discoveries, Part 1." La Posta 32, 2001 Jun-Jul 2001: 47-51.
Arthur G. Fisk, Postmaster. "1906 Post Office Report," San Francisco: April 26, 1906.
Written by Marvin Murray
Assistant Curator of Philately
Smithsonian National Postal Museum