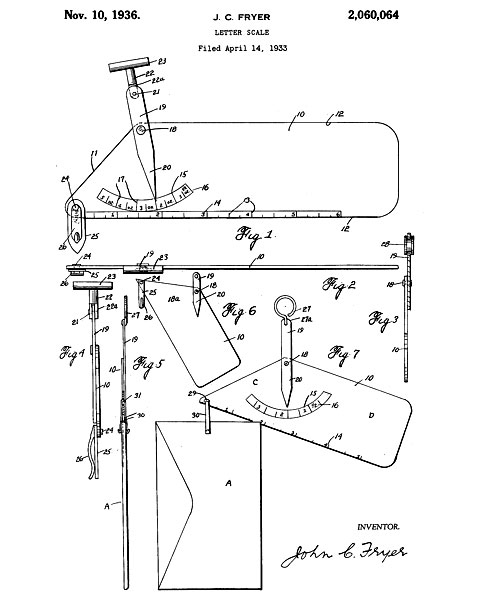 The amusingly named Sav-A-Stamp scale could weigh items up to four ounces. The attached clip held letters or small mail pieces to be weighed by the pendulum balance. The scale bears a postage rate chart that places its manufacturing date between March 26, 1944 and September 30, 1946, when the U.S. airmail rate was eight cents per ounce. This scale was from a machinery company owned and operated by manufacturer Anson Browne of Pasadena, (and later, Long Beach, California).
John C. Fryer of Los Angeles, California submitted the original design for the Sav-a-Stamp scale for a patent on April 14, 1933. He received patent #2,060,064 on November 10, 1936. The original design also included a four-inch ruler on the long side of the scale, which the application noted could also be used as a paper weight. During the period between 1933 and 1936, Thorne-Foster Inc. of New York City manufactured Sav-a-Stamp scales that included the four-inch ruler and were yellow in color. The Thorne-Foster versions of the Sav-A-Stamp included information for three cent letter rates and six cents airmail rates, making the scale useable between July 1, 1934 and March 25, 1944.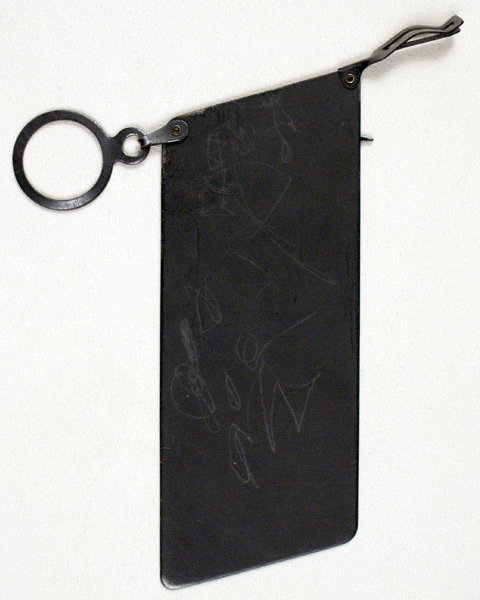 Manufacturers in the U.S. and other nations produced letter scales for use at home. Personal letter scales were popular through the mid 20th century. They could be purchased for relatively low prices. The Sav-a-Stamp scale sold for 69-cents in the early 1940s. Businesses purchased items such as this to give to current or prospective customers. It is unknown if this Sav-a-Stamp scale was purchased from "A. Browne Co." or received as a gift. Of course, individuals were relying on manufacturers to ensure the scales were accurate. This seems to have been the case, as no large-scale recall or problems were reported with letter scales.
This scale was donated to the museum in 2008. It had been used by a Long Beach, California baker and his wife. Scales such as this made it easier for individuals to ensure they used the correct amount of postage for letters, instead of over-estimating and "wasting" a stamp.
By Nancy A. Pope