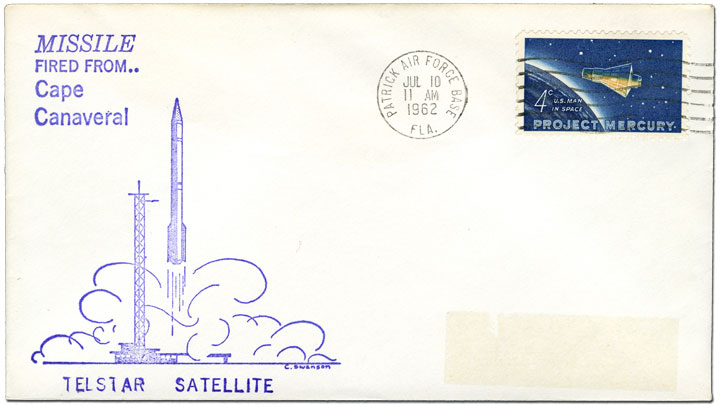 "Space mania" gripped philately in 1962. Several early catalogues of space stamps were printed; the American Topical Association released its first space-related handbook; and albums designed specifically for space-themed stamps appeared on the market. In November, 20,000 collectors packed New York City's Fourteenth National Postage Stamp Show to view Friendship 7 and a full-sized model of the now little-remembered Telstar 1, the world's first commercial communications satellite.
Telstar's owner, AT&T, paid NASA $3 million to launch the satellite from Cape Canaveral Air Force Station, a detachment of Patrick Air Force Base, on July 10, 1962. The two souvenir covers above were postmarked at Patrick on the launch date. One cachet (purple) depicts the Thor-Delta rocket lifting off from the pad while the other (multicolored) features an image of the satellite itself.
Designed to orbit Earth at an average height of 2,000 miles, Telstar relayed television, telephone, and data transmissions among three ground stations in America and Europe. The American station at Andover, Maine belonged to Bell Labs while the British and French stations belonged to their respective post offices (at that time, many European postal administrations claimed a monopoly on telecommunications as well as on mail).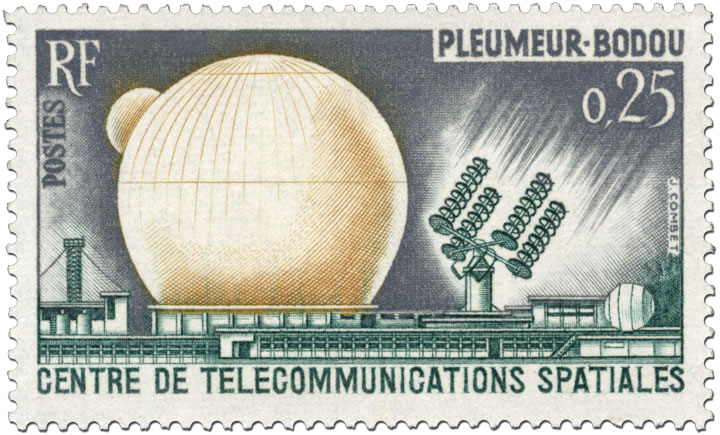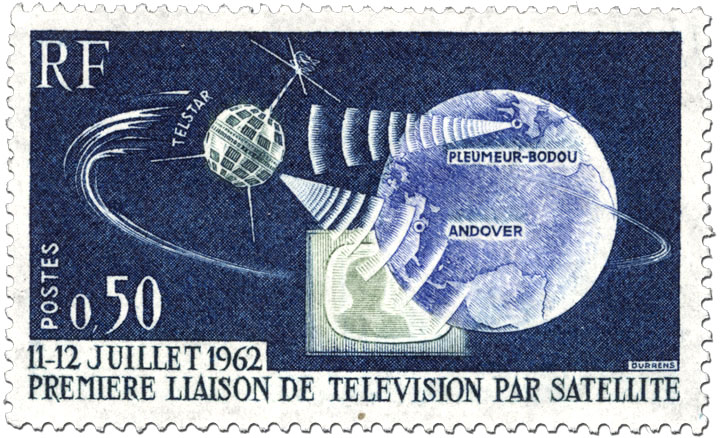 Postage stamps can be a potent medium for nations to celebrate their technological achievements. France issued these stamps, above, in 1962 to inform the world that a facility owned by their post office had made the first satellite television broadcast.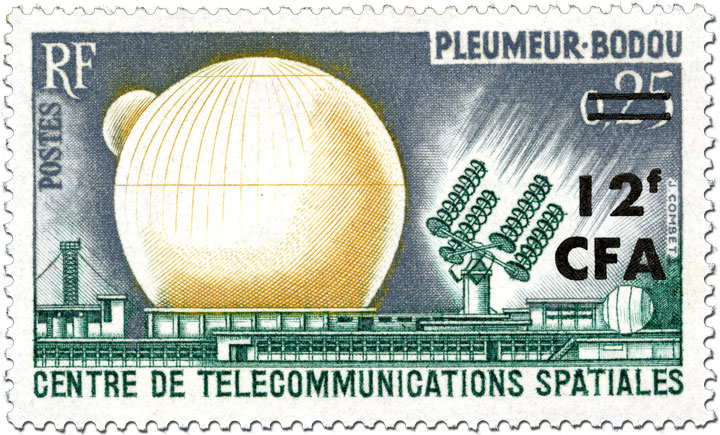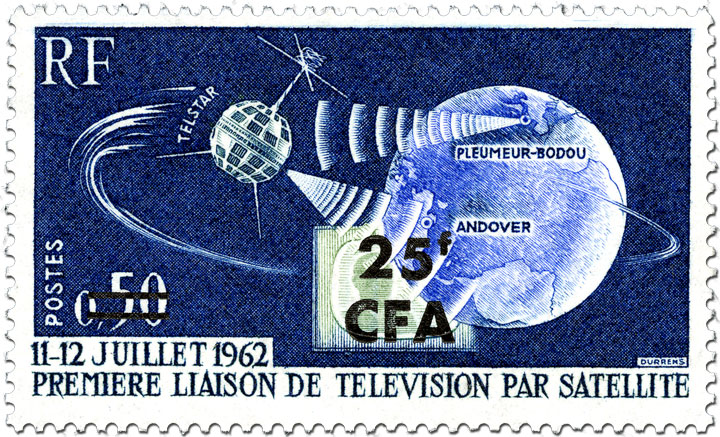 The same French stamps, overprinted the following year for use in the French Indian Ocean colony of Réunion.
Test transmissions were carried out on July 11, the day after Telstar's launch. The French station (at Pleumeur-Bodou in Brittany) reported pictures and sound as clear as if they had originated only "twenty miles away," while Britain received only a picture. Further tests were scheduled and July 23rd was agreed upon for the first exchange of satellite television broadcasts between Europe and America.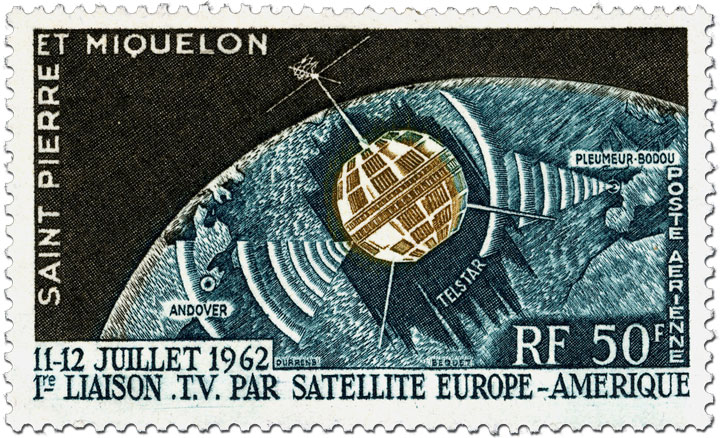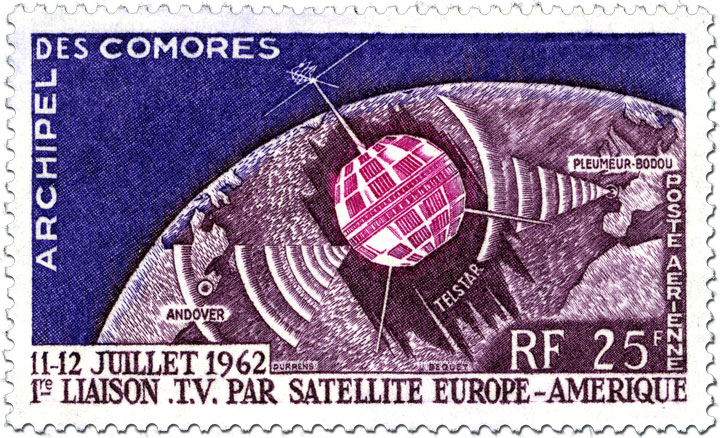 A number of French overseas territories feted the mother country's achievement by participating in an omnibus issue—a set of stamps that is released by multiple countries but features the same design and commemorates the same event.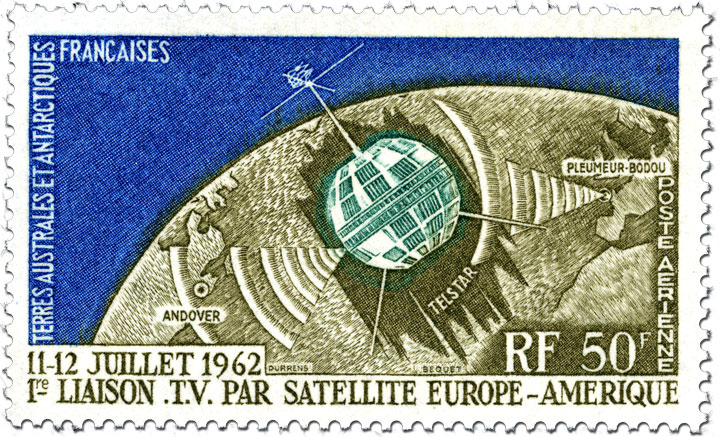 Buoyed by their initial success, however, the French could not wait. On July 12, Pleumeur transmitted a seven-minute program that was carried by the American networks. It opened "Relax, you are in Paris!" and featured the popular singer Yves Montand. The British scrambled to get their own program out while complaining that France had violated the broadcast agreement.
On September 29, 1962 France released a 25-centimes stamp depicting the Pleumeur station and a 50-centimes value with an artistic rendering of Telstar 1 in orbit. The high value carried the pointed inscription "11-12 July 1962 / First Television Relay by Satellite." The French stamps were overprinted for use in the colony of Réunion, while other French dependencies celebrated the achievement (and catered to the burgeoning philatelic market for space-themed stamps) with Telstar issues of their own.
As for the satellite itself, Telstar 1 began behaving erratically after it passed through the radiation belt of a high-altitude nuclear test. It finally went dark again forever on February 21, 1963. According to the U.S. Space Objects Registry, Telstar 1 still circles Earth as "space junk" object 1962-029A—but its memory lives on in thousands of stamp albums.
Glossary
Topical Collecting - a strategy for collecting stamps which uses subject matter as the organizing theme
Cachet - a printed, embossed, or hand struck inscription, with or without illustration, impressed usually on the left side of an envelope face or postal packet to advertise the special circumstances under which the item was mailed, perhaps first or last day of issue, first flight, or any other commemorative situation. Cachets can be produced by the postal administration or by private parties and applied independent of postal authority.
By Daniel Piazza