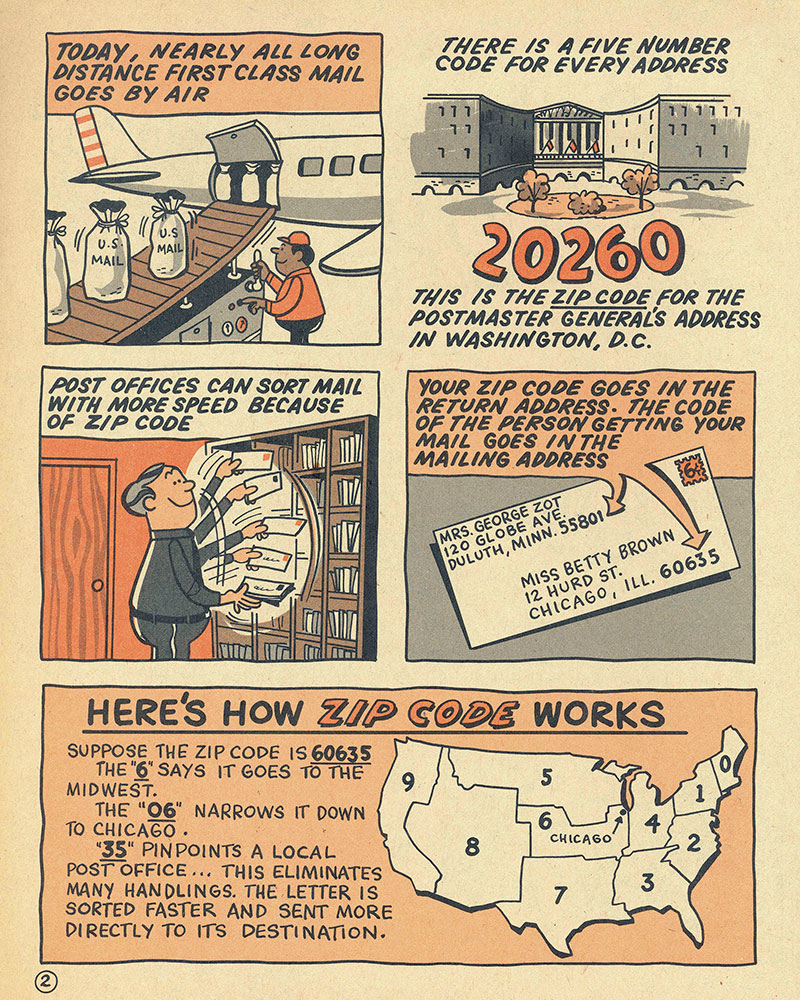 July 1, 2013 was the 50th anniversary of the Zone Improvement Plan, a.k.a. the ZIP Code. The Post Office Department launched an advertising campaign in support of the new service, encouraging Americans to adapt the practice of adding five numbers to each mailing address. ZIP Codes appeared at a time when Americans were already juggling the new area codes and needing to remember their social security numbers on a more regular basis.
Understanding that the public would be reluctant to add more numbers to their daily memory banks, the Department planned a multi-stage publicity campaign aimed at making Americans more comfortable with the new coding system. A major part of the campaign was the use of Mr. Zip, an odd, yet friendly cartoon character who was used to personalize the ZIP Code campaign.
The Department continued to use a variety of advertising media to sell the American public on using ZIP Codes through the 1960s. One of the more unusual advertising pieces was this four-page comic book that appeared in 1968. The comic book utilized some of the Department's tag lines for the ZIP Code campaign, "Mail moves the country, ZIP Code moves the mail" and "don't tie up mail service." It explains how coded mail can be processed more quickly and easily than regular mail and includes a map that demonstrates what the ZIP Code numbers mean.
The Department was aided by work from the Advertising Council, an organization created to promote public service advertising across the U.S. and abroad. The Ad Council partnered with New York advertising agency Wunderman, Ricotta & Kline (WR&K) to produce posters, mailing advertisements, radio and even television spots supporting the use of ZIP Codes. Mr. Zip was partially retired by the USPS in 1983.
The Department's campaign was effective. In September 1966, 44 percent of all first class mail was sent with ZIP Codes in the mailing address. A mere year later that number had jumped to 63 percent. Three years later 84 percent of American mail included ZIP Codes. By the 1970s, compliance was almost at 100 percent. By the time the new ZIP+4 zoning system appeared in 1983, Mr. Zip was being retired, his work at an end. ZIP Codes have long been useful for more than moving the mail. Those magic numbers have been, and continue to be, used by government agencies and private businesses to gather demographic statistics or target public outreach.
Further reading
Mr. Zip and the ZIP Code Promotional Campaign
By Nancy A. Pope