Congressional Stamp Exhibit a BIG success!
08.23.2012
Blog
By Ian Gibson-Smith, National Postal Museum Council of Philatelists
Over 800 people of all ages attended this year's Congressional Stamp Exhibit, held July 24-26 at the Rayburn House Office Building in Washington, D.C. The vast majority spent a significant amount of time playing with and learning about stamps. (This figure does not count the large number of people who stopped by the table in the hallway to look at and play with the stamps and the folks who came by in the evening while we were not there, which we estimate was at least an additional 200!) Eight members of Congress participated, and 15 members came by to see the exhibit. Dr. Wayne Clough, Secretary of the Smithsonian, a member of the UK Parliament and a number of other dignitaries stopped by as well.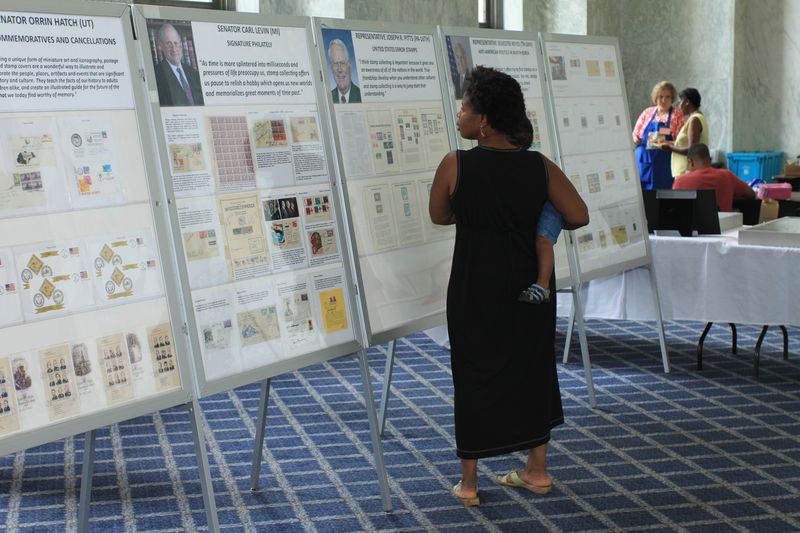 Between the displays of material from members of Congress, the National Postal Museum frames, the Stamp Collecting 101 exhibit, the U.S. Postal Service educational display, the Stamps Teach table, StampCampUSA participants and the free stamps, we seemed to have had something that appealed to everyone.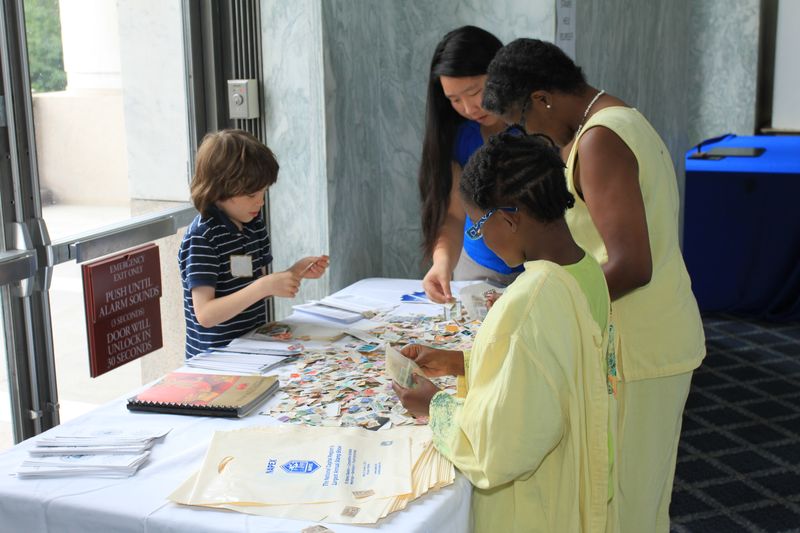 The response was uniformly and overwhelmingly positive and we were asked constantly if we could make this an annual event. We received positive press in the Washington Post, Roll Call and a number of blogs.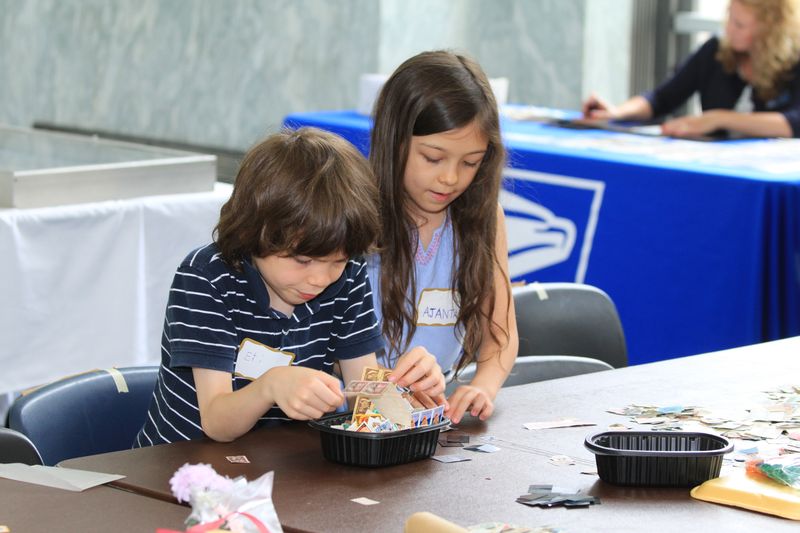 The response we received seems to me to validate our belief that the way to win new collectors and reignite the passion of folks who previously collected as children is to simply get stamps back in their hands. We hope this idea can be duplicated and perhaps implemented in other ways—perhaps by setting up "free stamp" tables in malls, libraries and other events or places.
It was a joy to watch peoples' reactions to the exhibit. They would pop their heads inside, look around the exhibit and then, as they walked by one of the tables of free stamps, idly pick up a stamp or two for a closer look. They would stop strolling and start looking more closely at the stamps.
Once one of our volunteers would talk to them, they would either pull up a chair or would continue to play and stay for a significant amount of time—in many cases for hours! We had attendees who got so excited that they left behind their briefcases or meeting materials. We even had a few folks who missed hearings and work-related obligations entirely due to their excitement over the stamp exhibit.
This effort could not have happened without the help, kindness, and enthusiasm of many supporters and friends who share a love and passion for philately.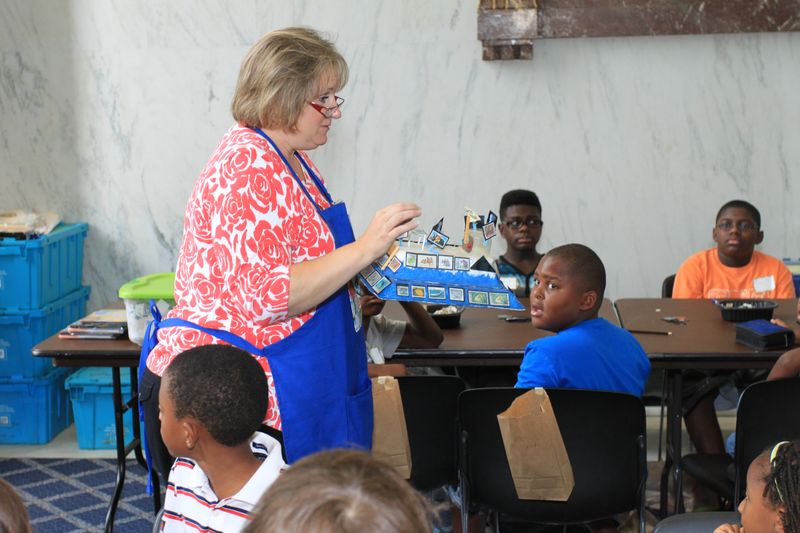 So many individuals and organizations came together to make this event effortless. I have to thank the National Postal Museum and their stellar staff, the kind donation of the Stamp Collecting 101 exhibit by an anonymous donor, the materials and time offered by the American Philatelic Society and their education department, the frames and bags from NAPEX, the stand of materials from the U.S. Postal Service, the extraordinary dedication and energy of StampCampUSA and their volunteers, the National Postal Museum Council of Philatelists volunteers, Members of the House and Senate, the energy and hard work of Philip LoPicollo from the Smithsonian's Government Relations Office, Frank Haught, who took a great deal of his personal time to make this a reality, and others.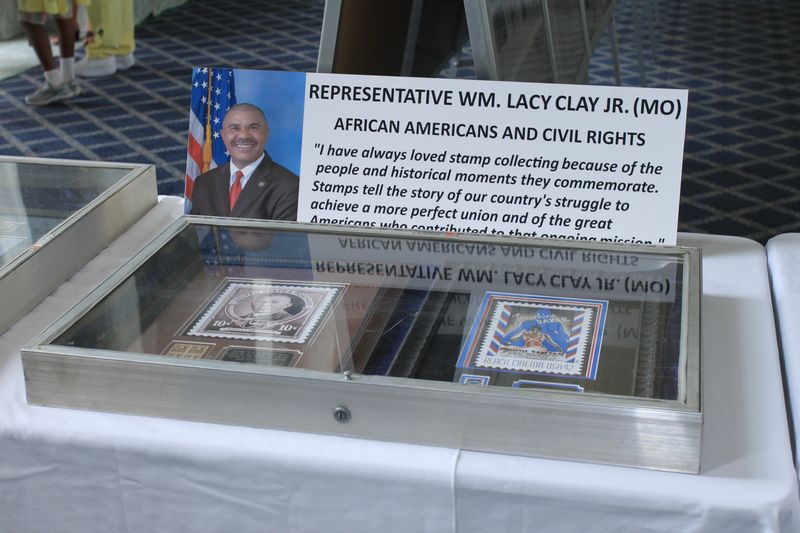 I had a great deal of fun doing this and look forward to doing it again!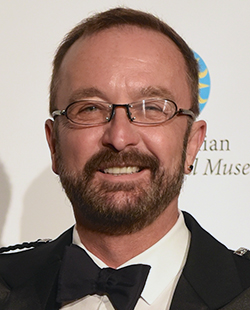 About the Author
Ian C. Gibson-Smith is president of Allied Defense Industries, Inc., a defense consulting company specializing in the provision of spare parts, purchasing, and logistic services. Born in England, his family moved here in his youth and he attended the College of William and Mary. He is dedicated to the arts, human rights, and community support. He is the founder and chair of the IanThom Foundation, a public charity established in memory of Thomas G. Martin. As a philatelist, he specializes in the issues of Great Britain.