Counting Owney's Tags
09.10.2010
Blog
By Erin Blasco, Public Programs Coordinator
Owney the dog, unofficial mascot of the Railway Mail Service, has spent about 17 years lording over the Postal Museum atrium, proudly guarding the train car and eliciting murmurs of "Mom, is that a real dog?" Today Owney, (yes, a real dog) will take a rare excursion away from his post and will return to his usual spot tomorrow morning.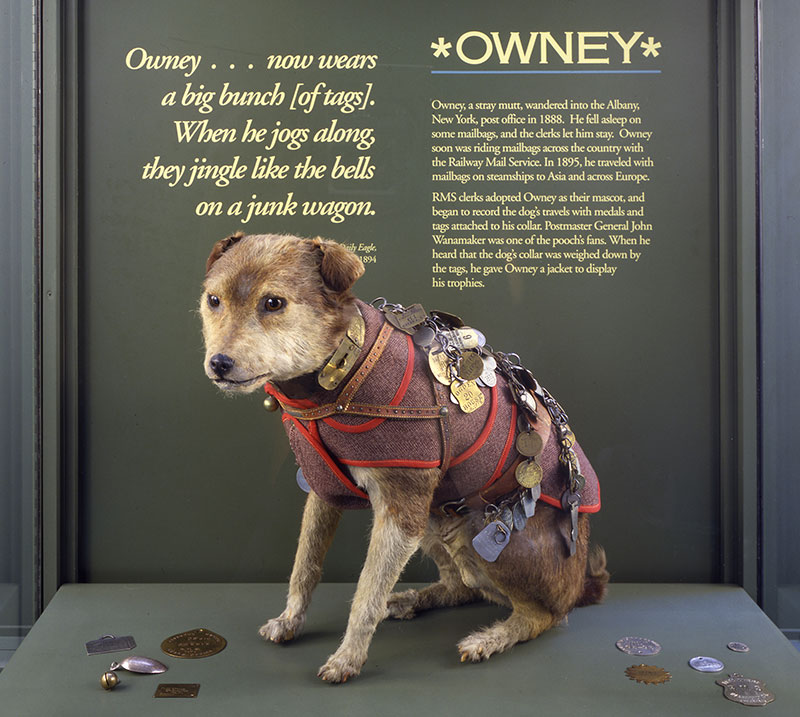 Behind the scenes, the many tags adorning Owney's jacket will be counted and photographed for the first time. Collected during his travels on mail trains, these tags tell us of the locations he visited and the people he met, but are difficult to count while Owney is on display.
Staff members have an informal contest to see who can come closest to guessing the correct number of tags. Linda Edquist, head of preservation, guessed 103 while Education Department staffers have tended to guess within the low 50's. Looking at this photo of Owney, what's your best guess? We'll congratulate the person with the closest answer on Facebook and Twitter, thereby entitling the winner to bragging rights for the whole weekend. Send us your guess before 4 p.m. ET today via Facebook, Twitter, or in the comments below.
Before the museum opens to the public, members of the Preservation and Exhibits Departments will don lab coats and gloves, carefully open Owney's case, remove the tags on the platform around Owney, remove him from the case, and carefully transport him to the Conservation Lab where he'll sit on a soft, padded table while his tags are carefully counted and his case is cleaned. The last time Owney's case was opened was in 2005 when his commemorative spoon was put on display.
Today's excursion kicks off a series of exciting changes for this famous mutt coming in 2011, including renovation of his exhibition, family festivals, and more. Be the first to find out about doggy updates, postal history trivia, and fun events by following Owney on Facebook or Twitter. Stay tuned to find out how many tags adorn Owney's jacket and see photos of his big day!