Crash of Airmail Plane 249
12.15.2010
Blog
By Historian and Curator Nancy Pope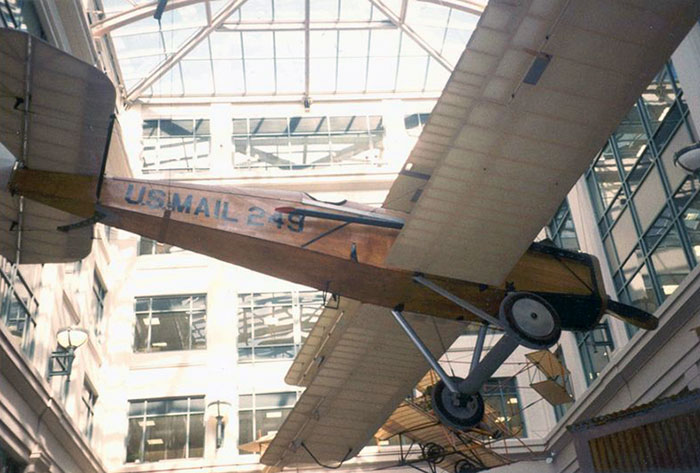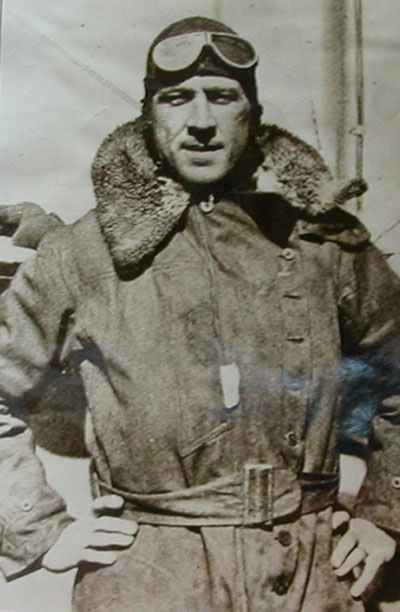 The Post Office Department was in charge of the nation's first regular airmail service. The Department purchased the airplanes, hired the pilots, and determined the routes they would fly. A centerpiece of the National Postal Museum's atrium is a deHavilland airmail plane is plane, #249, was used in the early 1920s to carry mail primarily in the western U.S.
On December 15, 1922, Henry G. Boonstra departed Salt Lake City, Utah at 7:30 a.m., heading for Rock Springs, Wyoming in #249. He was flying low, under a solid layer of clouds, and trying to stay at least 200' from the ground. Without warning a gust of wind pushed his airplane into Porcupine Ridge southeast of Coalsville, Utah.
As the airplane smashed into the ground at flying speed, the landing gear collapsed and the aircraft slid on its belly to a stop on the ridge. Boonstra was on an almost inaccessible mountain range 9,400' high and away from civilization. He had to walk for 24 hours through snow that occasionally reached to his waist before finding shelter and help at a cabin. Although he received aid there, he was unable to contact anyone else as the cabin had no telephone. Without any knowledge of what had happened, postal officials began a search when it became apparent the plane was lost. The search lasted two days before Boonstra was finally heard from. Once Boonstra was discovered, the airplane was quickly located and the mail was brought down by hand, loaded onto a sled and taken to the Coalsville train station.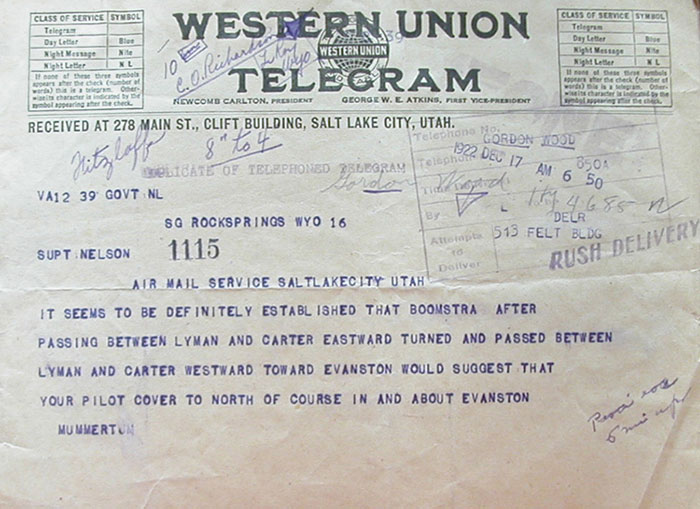 [1] The National Postal Museum thanks the Smithsonian National Air and Space Museum for the loan of this aircraft.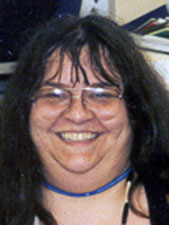 About the Author
The late Nancy A. Pope, a Smithsonian Institution curator and founding historian of the National Postal Museum, worked with the items in this collection since joining the Smithsonian Institution in 1984. In 1993 she curated the opening exhibitions for the National Postal Museum. Since then, she curated several additional exhibitions. Nancy led the project team that built the National Postal Museum's first website in 2002. She also created the museum's earliest social media presence in 2007.