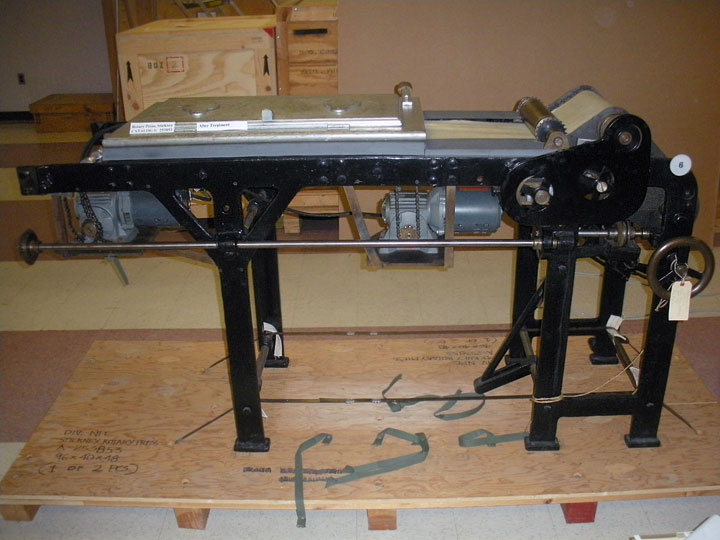 The Collections Care Preservation Fund (CCPF) is a Smithsonian program created to fund critical collections care and preservation projects around the Institution. Funds are distributed on a competitive basis each year. In 2010, the museum received an award to fund the conservation treatment and custom crating of several postage stamp production machines in our collection. They include a rotary intaglio web press, a coiling machine, a rotary perforating machine and an engravers table. ;These machines were originally used at the Bureau of Engraving and Printing (BEP).
The first stage of the project was to bring in a contract conservator to clean the machines and their components. ;Cleaning off years of oil and grime from use and storage at BEP was essential; dirt and grime is one of the major elements of deterioration for cultural property. ;Some parts of the machines had been removed at some point but with the help of employees from BEP, the conservator and the preservation staff were able to re-attach the disassembled pieces.
The second stage was to contract with a professional fine arts firm that specialized in designing and building crates for long-term storage of museum objects. The fine art craters carefully measured all of the objects to prepare for any soft packing inside the crates. They constructed four large crates at their workshop which were then transported to the museum's storage facility. ;The fine arts team arrived armed with glue guns, ethafoam, straps, and drills to get the objects securely into their crates. ;Placing these objects in crates will protect them from any future elements of deterioration, therefore preserving them for many years.
For more information: NPMPreservation@si.edu