Air Mail Service Began:
June 17, 1919
Air Mail Service Ended:
September 2, 1919
Assignment:
Belmont Park, New York
Crozier was recommended to the service by Lieutenant Colonel Leslie MacDill, an Air Service Military Aviator, on June 5, 1919. While under his command, Lt. Crozier had served as a pilot and ferry pilot of de Havilland airplanes.
On July 10, 1919, Crozier was flying de Havilland #17 out of Belmont Park, New York. He was flying south southwest at 500 feet over Long Island when he ran into a storm over Raritan Bay that cut visibility down to 200 feet. Crozier attempted to fly to the main line of the Pennsylvania Railroad, but the storm closed in, cutting off visibility completely.
His compass was not functioning correctly, so Crozier turned and flew with the storm until the ground became visible, landing at Englishtown at 12:30 pm. He called the Bustleton, Pennsylvania field and was advised to takeoff as soon as possible. He had considerable trouble getting started, as he couldn't keep the distributor dry during the hard downpour of rain. "I attempted taking off at about 2 pm, but engine lost power as machine left ground and came down in a potato patch, breaking propeller and doing considerable damage to the potato patch."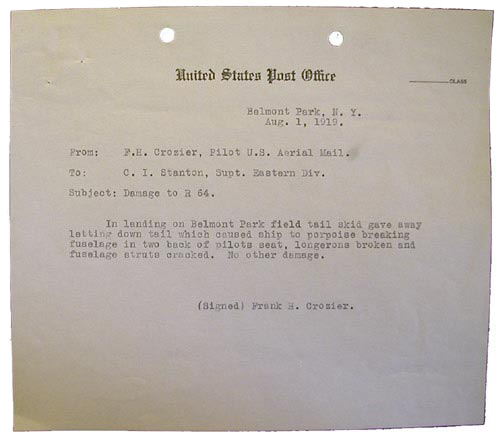 Telegram from Frank H. Crozier to Charles Stanton, Superintendent of the Eastern Division. Crozier advises Stanton of the damage done to Curtiss-R mail airplane #64.
- Courtesy of the National Archives & Records Administration