Deinstalling The Delivering Hope Exhibit
06.18.2010
Blog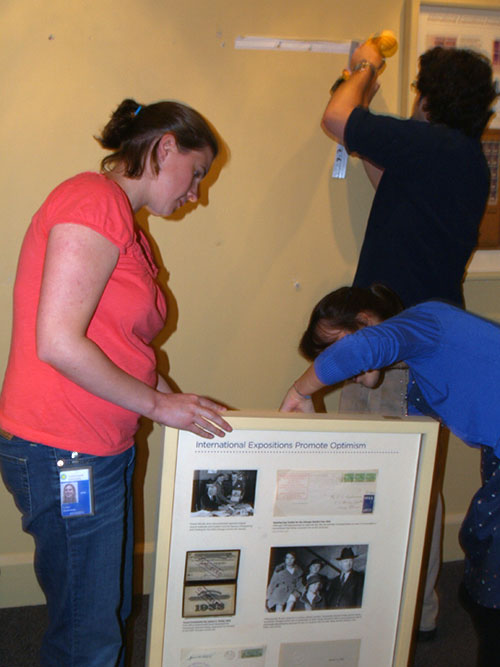 Last week the Preservation Department, Collections and Exhibits Department came together and lent a helping hand to help de-install the temporary exhibit Delivering Hope: FDR & Stamps of the Great Depression. We removed over 150 artifacts from 35 wall frames, 4 floor cases and 6 rarities panels including two portrait paintings.
As a Preservation Technician, preparing, maintaining, installing and removing exhibited objects is my main responsibility at the National Postal Museum. And I love it! My job is a nice mix of hard labor (lifting frames that weigh about 35 pounds is a good work out) and analytical thinking as encapsulating and mounting paper-based artifacts for exhibit requires a lot of organization, documentation and lots of measuring and re-measuring (cut once, measure twice!).
So I am fortunate that at the Postal Museum I have the opportunity to collaborate with staff from other departments as well as interns to facilitate the process. This summer we have a fabulous intern, Irene Dominguez Jimenez, who will return to Barcelona, Spain to complete a fellowship with the Department of Conservation and Exhibition a the Centre de Cultura Contemporània de Barcelona (CCCB). She has been essential in making the de-installation a success.
Before we started removing objects from the gallery, Irene and I used a light meter to take final light level readings of the objects on display. Irene then entered this information into our museum's database, The Museum System (TMS) so we can track the accumulated light exposure of the objects. Light levels are also taken during the installation and coordinated with the Exhibits Department to make sure all lights illumining the objects are not too high or too low, finding a delicate balance. We then do a follow-up about halfway through the exhibit.
After this was complete, we began removing the objects from the exhibit. Over several days the wall frames, rarities panels and objects in the floor cases were taken out of the gallery and loaded onto carts and brought back in the Preservation Office.
The frames and panels were opened and the objects were removed, checked off our inventory list and put into their folders and boxes for further processing by the Collections Department. We then reassembled the frames and panels and returned them to the Exhibits Shop to be reused for the next exhibit, "Collecting History: 125 Years of the National Philatelic Collection" opening in August.
The portrait paintings were taken off of the walls and put on to A-frame carts, wheeled back into storage and re-hung. Soon they will be crated and sent off-site for permanent storage.
This week Irene has begun encapsulating the objects for the upcoming exhibit in August and we hope that you are able to visit the museum and see the objects for yourself!