Edgar Allan Poe's The Raven First Published...January 29, 1845
02.02.2010
Blog
By Adam M. Rosenfeld, Web Team Intern and Alexander Haimann, Collections Specialist, Smithsonian National Postal Museum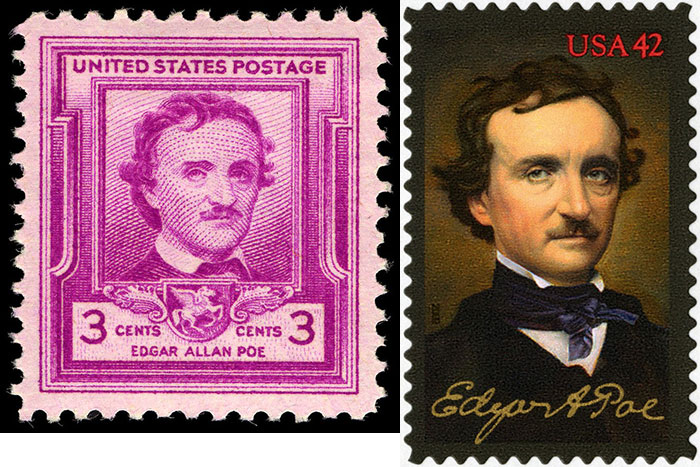 © United States Postal Service. All rights reserved
Once upon a midnight dreary 165 years ago, while he pondered weak and weary, Edgar Allen Poe authored one of the most famous poems of all time, The Raven. The timeless work was published on January 29, 1845, and it received immediate critical acclaim and success. Edgar Allan Poe has been honored on two different U.S. postage stamps. The first stamp was issued on October 7, 1949, the 100th anniversary of Poe's death. The second stamp featuring the famous American poet and writer was issued January 16, 2009, close to the 200th anniversary of Poe's birth.
If one looks over many a quaint and curious volume of forgotten stamps, one could hear a rapping, rapping on the chamber door. Perhaps this rapping would be the famous raven who torments the narrator of the poem about his lost love, Lenore. Although we cannot confirm the raven appearing on the stamp (featured below) is the raven from Poe's work, we can be sure they look similar nonetheless.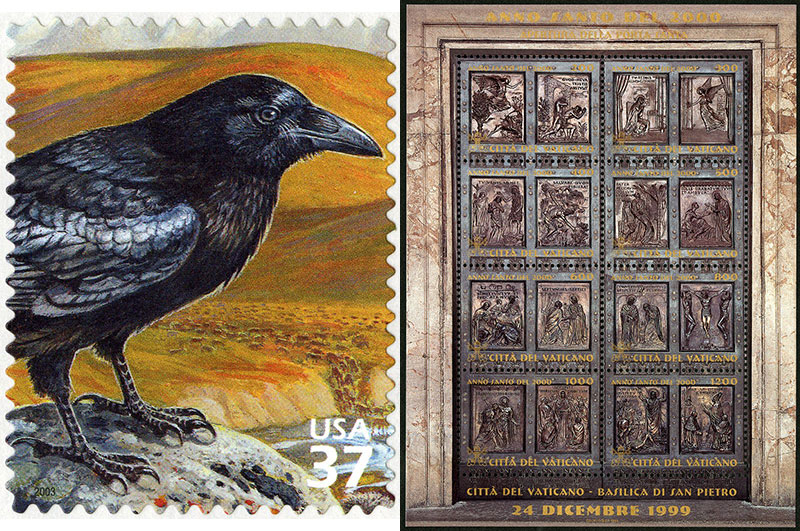 © United States Postal Service. All rights reserved.
Unfortunately, no postage stamp has featured the famous chamber door from The Raven, yet the Smithsonian National Postal Museum does posses a stamp featuring another well-known chamber door. This stamp (shown above) from Vatican City features the Holy Door of St. Peter's Basilica.
The legacy of Poe's acclaimed poem lives on in more than just the pages of a book. In 1996, the NFL awarded Baltimore an expansion team after having lost their beloved Colts to Indianapolis in 1984. The team was named the Baltimore Ravens, forever linking Poe and The Raven with the city in which he lived.