Elaine Rawlinson: first female U.S. stamp designer
04.24.2012
Blog
By Melody Parker, Intern.
Finding the "first" is a default mechanism for uncovering an interesting story. Elaine Rawlinson, first female U.S. stamp designer, was a first in more ways than one.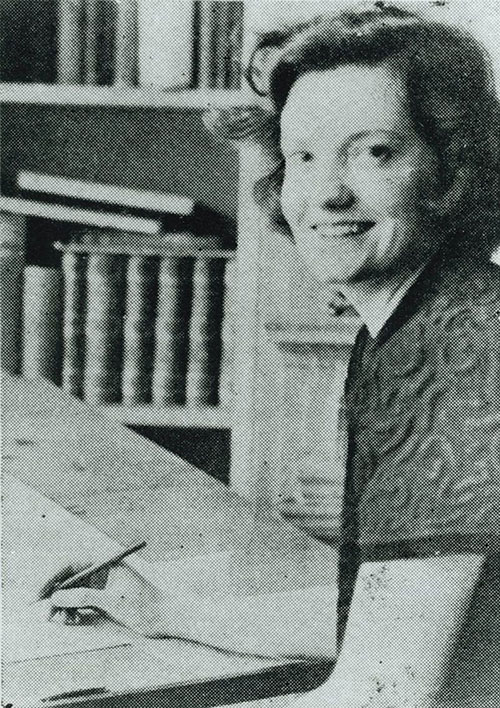 Prior to 1938, not a single U.S. stamp had been designed by a woman. This wasn't entirely unusual as the Bureau of Engraving and Printing wasn't just dominated by men; it was dominated by a handful of individuals. Flipping through a catalogue of U.S. stamps from the era, you'll find the same designers' names repeated again and again. This closed group of designers and engravers were the staff artists who worked not only with stamps, but with paper currency and other security products for the U.S. government. Engraving wasn't an easy skill to master; this wasn't a job with a high turnover rate or much entry into the field. Multiple firsts coincided to produce the first female stamp designer.
In 1933, devoted stamp collector and newly-elected President Franklin Roosevelt suggested a set of stamps honoring past presidents. The Post Office Department opened the first national competition in 1937 to gather potential designs for the first stamp in the new Presidential Series, which would feature George Washington. Though he has been pictured on more U.S. stamps than any other individual in history, it was only fitting that, as the first president, he would appear on the 1-cent stamp of the series. (For more information on FDR and stamps, visit our online exhibit Delivering Hope: FDR & Stamps of the Great Depression).
1,122 artists—some of whom were famous—were inspired to submit entries and compete for cash prizes. Many designers used modern fonts and streamlined images, reflecting an evolution from traditional designs to a 1920s trend in decorative arts with a bold, uncluttered and sophisticated efficiency.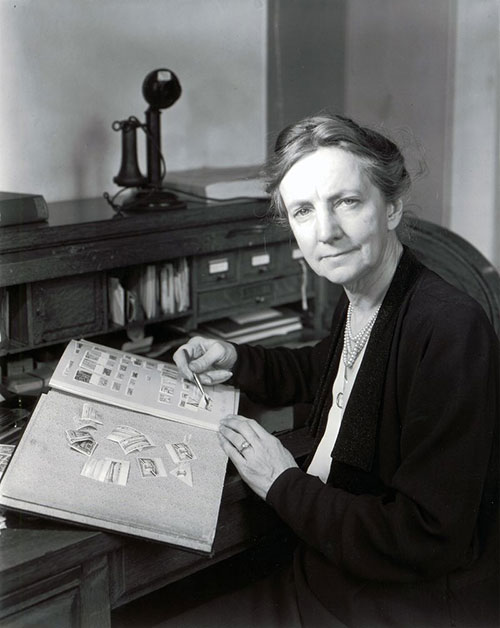 A committee, which included Smithsonian Institution philatelist Catherine L. Manning (who also broke some ground herself as the first woman outside the sciences to achieve the title "Assistant Curator" at the Smithsonian) as one of the judges, spent two days narrowing the designs down to just five. The Bureau produced an experimental plate that included the winning designs from which President Roosevelt made the final selection.
Elaine, a former student in her early twenties of the National Academy of Design School who also studied mural painting at the Beaux-Arts Institute, won the top prize and was awarded $500. She was the sole female winner among a top group of males.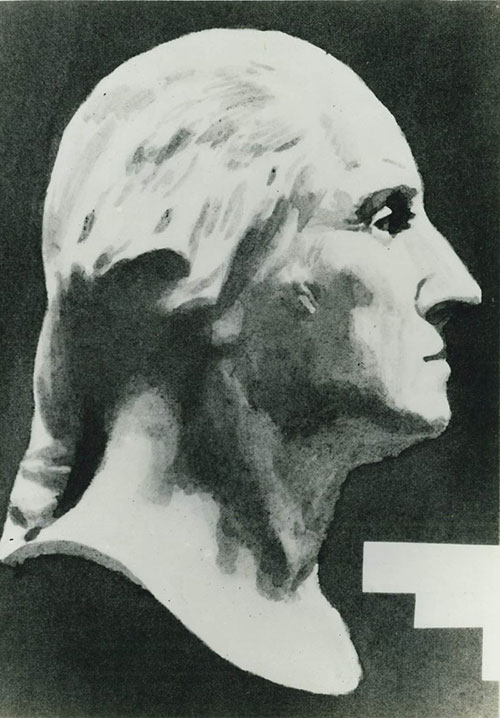 Elaine's design, which featured a side profile view of Washington from sculptor Jean Antoine Houdon's bust at Mount Vernon, stood out in its simplicity: it lacked the tiny lines that were characteristic of most stamps both in the U.S. and abroad. The specifications of the contest were that the design be a portrait of George Washington, either profile or full-faced in view. Elaine's design was dignified and straightforward; she positioned Washington's face in profile on the left side of the stamp as opposed to in the center, leaving a large area to be filled with solid green background. A New York Times headline from Oct. 3, 1937, announced Elaine's achievement as "…Something New in Philatelic History."
The Bureau of Engraving and Printing temporarily employed Elaine to design the first few lower stamp values of the series. She was the first person outside of Bureau employees to officially design a postage stamp, but Elaine is a bit of a mystery to philatelists as she seems to have disappeared from the design world after her work with this series.
Elaine's 1-cent Washington stamp, issued on April 25, 1938, became the fundamental basis for the designs of the rest of the Presidential Series, one of the most famous stamp series in history and fondly known to philatelists as the "Prexies." The series chronologically depicted all 29 presidents who had died before 1938 as well as Benjamin Franklin, Martha Washington, and the White House. The Prexies were workhorse stamps; they were simple and intended for long-term use, and were seen on everyday and wartime mail through the late 1950s. While stamps of this series are not particularly known for their beauty—though their design was quite different from the stamps that came before them—there are philatelists who collect only the Prexies for their many usages.
Ultimately, Elaine's work isn't remembered because she was a "first." The Prexies aren't collected because their designer was a female and the winner of a stamp design competition, though the legacy of Elaine's design was a memorable one in stamp history.
The next stamp designed by a woman wasn't issued until 1963, when painter Lily Spandorf designed the Christmas issue. Stamp designing remained a man's business for some time.
Photos and information courtesy of the National Postal Museum Library, Smithsonian Institution Libraries; the New York Times archive and NPM curator Daniel Piazza. Special thanks to Kathryn Burke for research assistance.