Epistolary Fiction: A Novel Affair
07.12.2016
Blog
By Olivia Haas, Curatorial Intern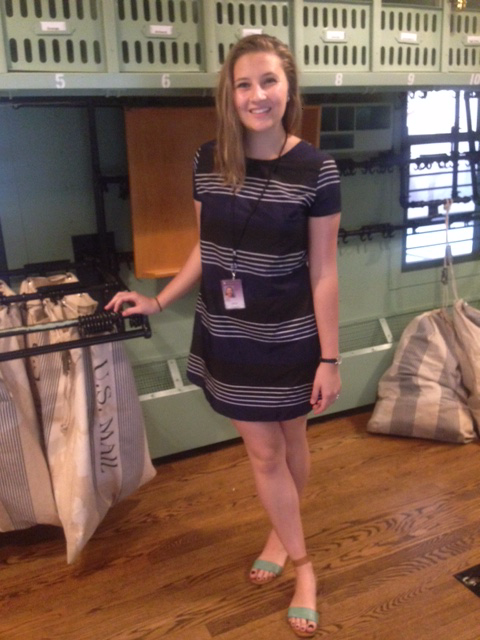 I don't think I've ever read so many novels as I have working on this project. But what book nerd could ask for anything more? I get to sit and read novels every day, plus I get to look through old newspapers and book reviews -- AKA wins. But before I started this project with the National Postal Museum, I didn't even know what the term "epistolary novel" meant (it means novels that are comprised of letters, FYI). Now, just two months later, I've perused 20 of them. And in the 20 I've read, and the 100 more that I've found, there is one that stands out, both to me and to the wider reading public. The Color Purple. Did you even know it was an epistolary novel? (Dracula is too -- unexpected, right?) Unexpected in an exciting way, though, because I've always meant to read it, but hadn't gotten around to it. This good surprise (unlike the surprise that my DC intern apartment, which I thought was four people in two bedrooms, was actually four people in one bedroom, but I digress…) made engaging in the material for my project easy and fun.
Part of the reason that I wanted to read The Color Purple was because it is renowned as great literary work. The other part of the reason is that last year, I had the spectacular opportunity to meet the author of The Color Purple -- the ever peaceful Alice Walker. First of all, she was such a hippie. And I honestly don't know of anyone else that could pull it off so gently and genuinely. I saw her speak in a historically black vaudeville theater in the town where I attend school, Athens, GA. She welcomed everyone with a "butterfly" greeting where, so she said, as she flutters her hands in front of her, she gives out her energy and takes in the energy of those around her. Secondly, she was just astounding to listen to. She talked all about her experience growing up in Georgia, and how it influenced her decision to pursue literature, and how it shaped the material she chose. It was surprising. Her character is so free and self-aware. It was crazy to me that she could have grown up in such a racially-torn and absolutely impoverished environment. What a flip from her childhood experience to her present self.
The Color Purple is set around the 1930s in Georgia, holding with Walker's personal experience of growing up in the poor, rural south. The often intimate nature of letter-writing makes epistolary novels revelatory of personal experiences. In the case of The Color Purple, the intimacy of the novel with the main character, Celie, is even greater as a result of Celie's use of letters to write her feelings and experiences to God. The first part of the novel is devoted entirely to Celie's letters to God, following the instructions of her abusive stepfather who said repeatedly to "Tell no one but God" about what happened to her. Because the letters in the first part of the novel are written to God, Walker leaves space for Celie to be extremely open with her experiences, as they are not intended for any audience other than the eyes of the omniscient God that would already know, thereby making it possible for Celie to be more personal in her letters. Not only this, but the experiences that Celie has with other characters, especially with Shug Avery, make her more comfortable with herself, and thusly begin to reveal even more about her feelings -- about her family, her sexuality, and her children, whom Nettie, her sister, raised. The evocative nature of the intimacy and honesty that the novel reveals through the letters it includes makes The Color Purple powerful.
The Color Purple also stands apart from other epistolary novels in that the novel spans a large portion of the lifetimes of the characters. At the start of the novel, Celie is a timid, fourteen-year old girl under her stepfather's abusive rule. The novel comes to a close more than thirty years later. The time span of the setting, then, gives way to even further character development as Celie ages and develops over the course of the novel. Most epistolary novels that I have encountered follow a short period of correspondence, whereas The Color Purple makes a space for significant character development in a way that, for me, was an extraordinary juxtaposition with the significant development of Alice Walker herself.
So really, this internship has given me the chance to experience this great literary work when I might not have otherwise explored it. The other novels I've explored have been great, but not in the same way of having the background of meeting the author. Who knows? Maybe I'll get more perspectives on the other works I've read through encounters with more of the authors to these books (though it might be hard considering that many of the authors are no longer living…) -- wishful thinking, I know. But at least for now, I return to my books.
About the Author
Curatorial Intern Olivia Haas hails from Peachtree City, Georgia and will start her senior year at the University of Georgia in the fall. She is double majoring in History and International Affairs and serves as the Executive Director of the Thomas Lay After-School Program, which provides individual tutoring and mentoring for elementary and middle school students in Athens, Georgia. Her research will be featured on the National Postal Museum's website later this summer.