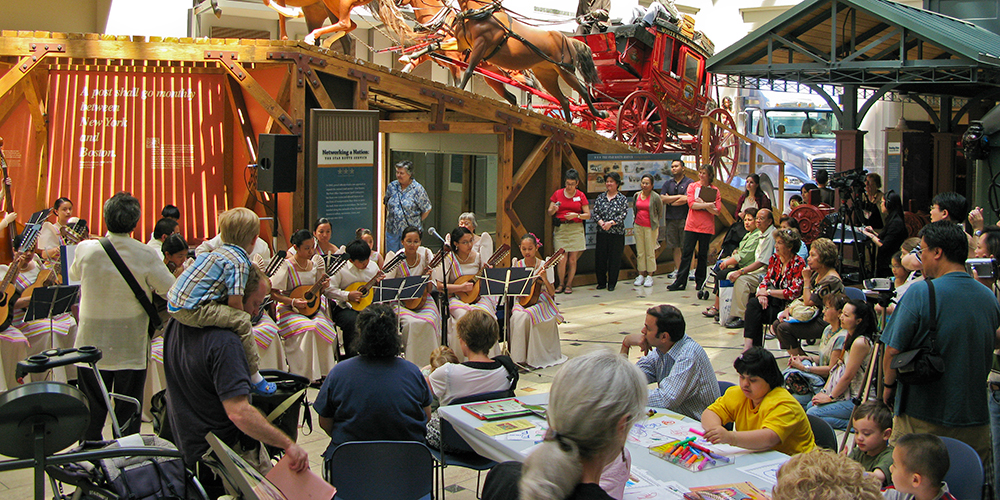 Los programas públicos del Museo Postal Nacional provocan la reflexión sobre la historia postal, la filatelia y temas relacionados para audiencias diversas.
Casi todo el contenido de los programas públicos se lleva a cabo en inglés.
Guest Artist Program
El NPM está colaborando con artistas invitados en una serie de programas educativos para niños desde el nacimiento hasta la escuela secundaria.
Hello, Museo
Únase a los educadores del Museo Postal Nacional cada dos martes para un programa bilingüe que presenta música, historias, artesanías y exploración de galerías. Diseñado para niños de 2 a 5 años y sus cuidadores, ¡pero todos son bienvenidos!
postcards with heART
Te invitamos a pensar y reflexionar sobre el alcance de la actual crisis de refugiados y las experiencias de las personas desplazadas en todo el mundo.
Postmarks & Paperbacks
Postmarks & Paperbacks es un club de lectura en línea para los amantes de los libros, las letras y el arte y la historia de la comunicación.
Story Time
El museo invita a adultos y niños pequeños a descubrir juntos el mundo que les rodea en Virtual Story Time.
Symposia and Lectures
Lista de simposios y conferencias próximos y pasados.
Wine & Design
Wine & Design reúne la hora feliz y la elaboración de temas postales trimestralmente en el Museo Postal! Si eres un amante de escribir cartas, un fanático de Etsy o simplemente estás buscando algo nuevo que hacer, ¡únete al club!