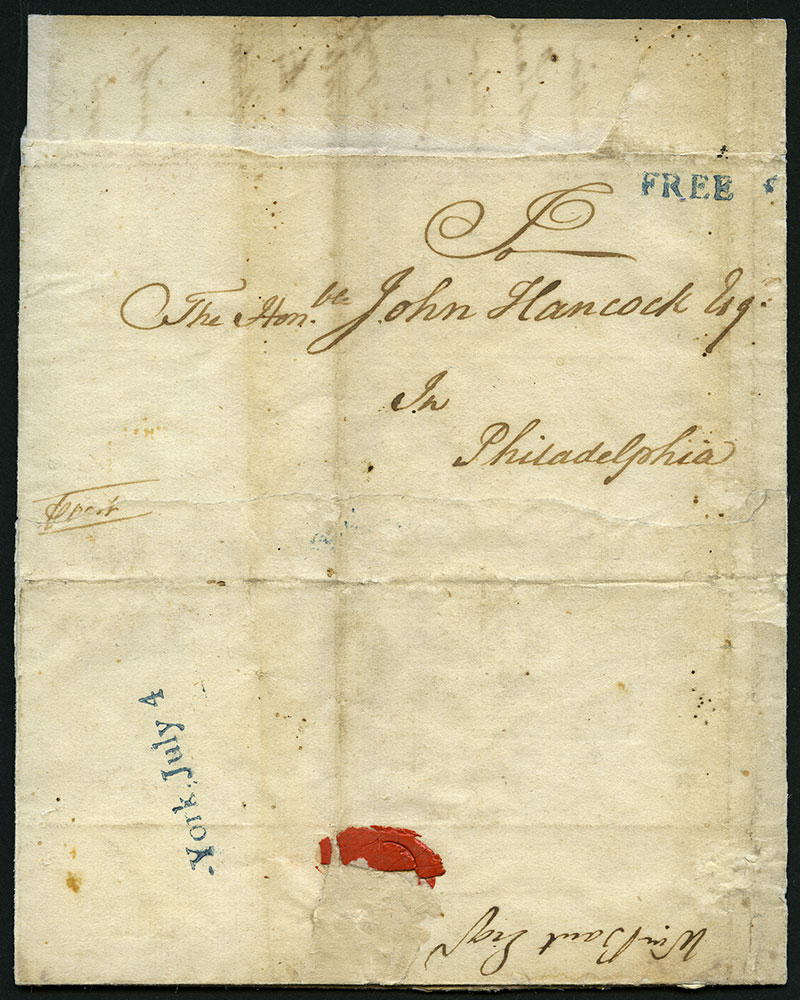 Covers—typically envelopes with postage—tell the philatelic history of communication and structured systems of mail delivery within and among countries. When a patron deposits a piece of mail into a drop box, the creation of a 'cover' begins. The term 'cover' generally refers to any item that has passed through a mail system and so is 'postally used'.
When speaking of covers and U.S. philately, one must remember that the land comprising the contiguous forty-eight states was not under unified control until 1854—i.e., following the Gadsden Purchase. The preceding eighty years had seen England with controlling interests on the east coast from Georgia and Mississippi and north to the Canadian border. France had controlled the interior from Louisiana to Canada. Spain had controlled Florida, and Mexico had held a vast territory that included almost everything west of Louisiana to the coast and north to the Oregon-Washington territory. After the Revolution, a new American system with roots in the British colonial post gradually replaced the existing systems of communication used by these countries and their colonial holdings. The new system generated covers which document the ways in which the new system responded to westward expansion, to national disunity and international wars, to the evolution of the transportation industry, to burgeoning business, and to America's own empire building.
A piece of mail receives postal markings as it travels through the system—postmarks, backstamps, transit markings, registered marks, ship marks, and so on—that testify to its routing, what postal services were used, when it was picked up and delivered, and what transportation was employed. Decoding the marks involves retracing how this piece or parcel got from point A to point B. The postage paid or due—whether a manuscript mark, a postage stamp, or a meter marking or label—documents the postal rate demanded for carrying and delivering the item for the period in which it was mailed. (Weight and delivery distance have more recently been the basic factors in determining the price.)
It is this evidence of 'postal history' that generates so much interest in collecting and studying covers. Colorful terms that relate, for example, to the type of postal service (such as 'steamboat covers', 'Tin Can Mail covers', and 'RPO covers') classify the components of this group. However, social, economic, and political events as they affect the post and are mirrored on covers and in letters also have their proponents. Terms related to these collecting groups abound. 'Adversity', 'inflation', and 'turned covers' refer to downturns in national economies. 'Quarantine' and 'disinfected covers' refer to public health crises. 'Crash', 'wreck', and 'earthquake covers' speak of disastrous events. 'Mourning covers' suggest public and private sentiments of grief. 'Patriotic', 'propaganda', 'prisoner-of-war covers', and 'V-mail' suggest ideologies. 'Blockade covers' imply the instability of governments.
The physical nature and design of the cover is yet another category of collecting. Because a cover is an enclosure for a message (or an object) or a non-enclosure (like a post card), the possibilities for size, shape, and material are endless. Physical oddities of the past such as shirt cuffs and coconuts and two-inch-long envelopes have tested the boundaries of what postal systems can process. Now automated processing technologies limit that kind of creativity but offer a new avenue of collecting based on imbedded 'intelligence'. Unused envelopes of historic significance due to design or cachet and so forth have been included in this section.
Mary H. Lawson, National Postal Museum