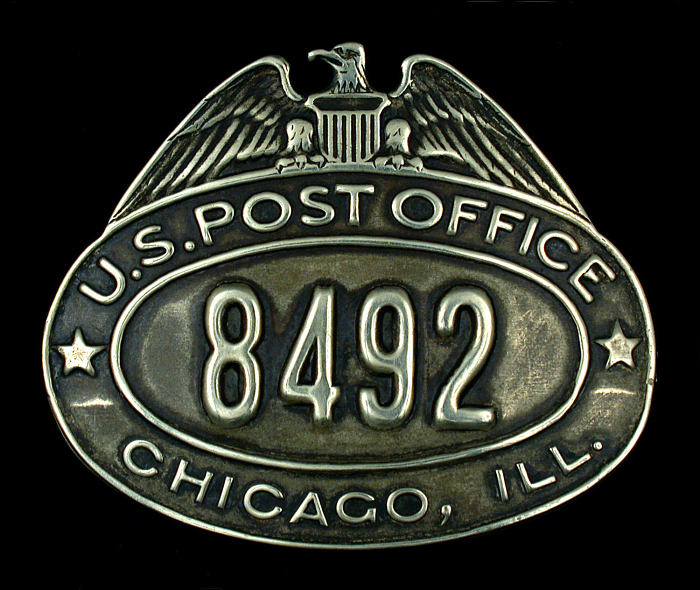 Efforts to standardize letter carriers' uniforms began soon after the Civil War. In 1868, determined to end fraud in the system, Postmaster General Alexander Randall required all city letter carriers to wear department-regulated uniforms, and in 1887 the numbered badge became an official part of the city carrier's attire. At that time, the department specified that the letter carrier was to wear a wreath-style badge on the cap, helmet, or hat. Postal regulations also stipulated that letter carriers were to purchase the badge at their own expense.
By 1922, the Post Office Department adopted a new badge to better-standardize the carrier uniform. Like its predecessor, the badge attached to the front of the carrier's headgear and was purchased by the carrier. In another nod to standardization, postal regulations specified that the new badges be manufactured solely by N.C. Walters and Sons. Each badge designated the city and state in which the carrier was employed. It was further suggested that city and village post offices purchase the badges at one time, under the supervision of the postmaster, to ensure that proper route numbers were indicated and the correct number of badges ordered. In spite of the new regulations, many carriers continued wearing badges that did not meet U.S. Post Office Department specifications, especially in larger cities such as New York and Boston.
After the Post Office Department sanctioned uniform allowances in 1955, letter carriers no longer needed to purchase their own badges. To reduce expenses, the department altered the badge to read simply "LETTER CARRIER" in place of the city and state.
The Rural Free Delivery Service (RFD), officially established in 1902, never stipulated that letter carriers wear a uniform or badge to identify themselves as employees of the Post Office Department. However, many RFD carriers believed that wearing a postal badge indicated the importance of their employment and brought dignity to the job. The demand for RFD badges aroused various jewelry and uniform companies to manufacture, advertise, and sell the insignia to rural letter carriers to wear on the cap while on duty.
References:
Mundy, James R.Postal Insignia.Easton, OH: James R. Mundy, 1992.

National Archives. Records of the Office of the Postmaster General 1773-1971.
Tim Scofield, National Postal Museum