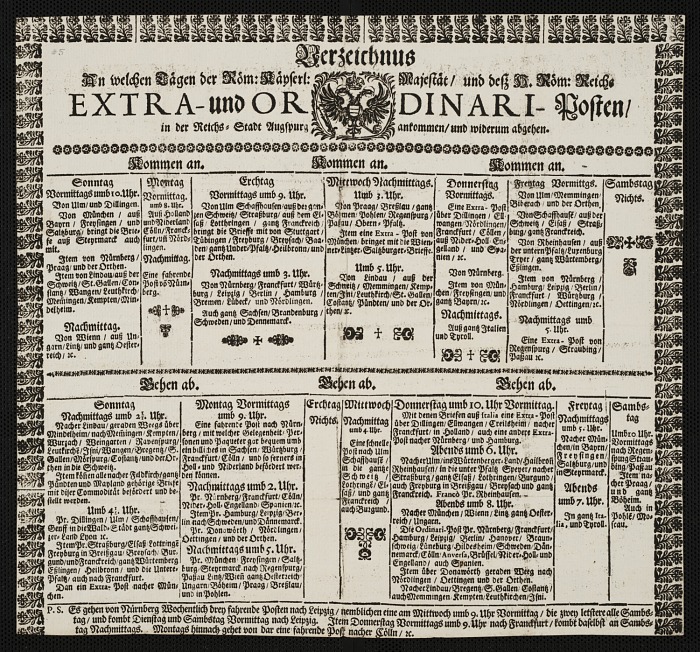 The Princely House of Thurn and Taxis operated postal systems in western and central Europe for the better part of four centuries. Operations ranged from a monopoly under the auspices of the Holy Roman Empire (HRE) to a private postal system in competition with government services.
Thurn and Taxis traces its origins to the Tasso family of Lombardy in northern Italy. Tasso translates to "badger". The family relocated to Germany and changed their name to the more-or-less equivalent Taxis. Thurn (roughly, "tower") was added to the name in the 17th century. The family coat of arms includes a badger and two towers.
The Taxis family organization was the official courier of the HRE throughout the 16th through 18th centuries. Family members served as Imperial Postmasters during most of this era. The House was accorded princely status in 1681.
In the late 18th century, as the HRE was in decline, many European states established governmental postal operations. When the HRE was dissolved in 1806, the House of Thurn and Taxis continued to operate a private postal system, which served a number of smaller German states and was in competition with government systems in larger states.
Beginning in 1852, Thurn and Taxis issued postage stamps for use on its mail. The stamps were in two designs, numeral in square frame for the northern district and numeral in circular frame for the southern district, since different currencies were in use in the two districts.
Following the Prussian victory in the Austro-Prussian War, the Thurn and Taxis postal contracts were sold to the Prussian government, effectively ending the operation of Thurn and Taxis Post. This event was followed in 1871 by the German unification, and in 1874 by the establishment of the Universal Postal Union.